Fri., Nov. 29, 2019
RV travels provide excellent opportunities to 'live the dream'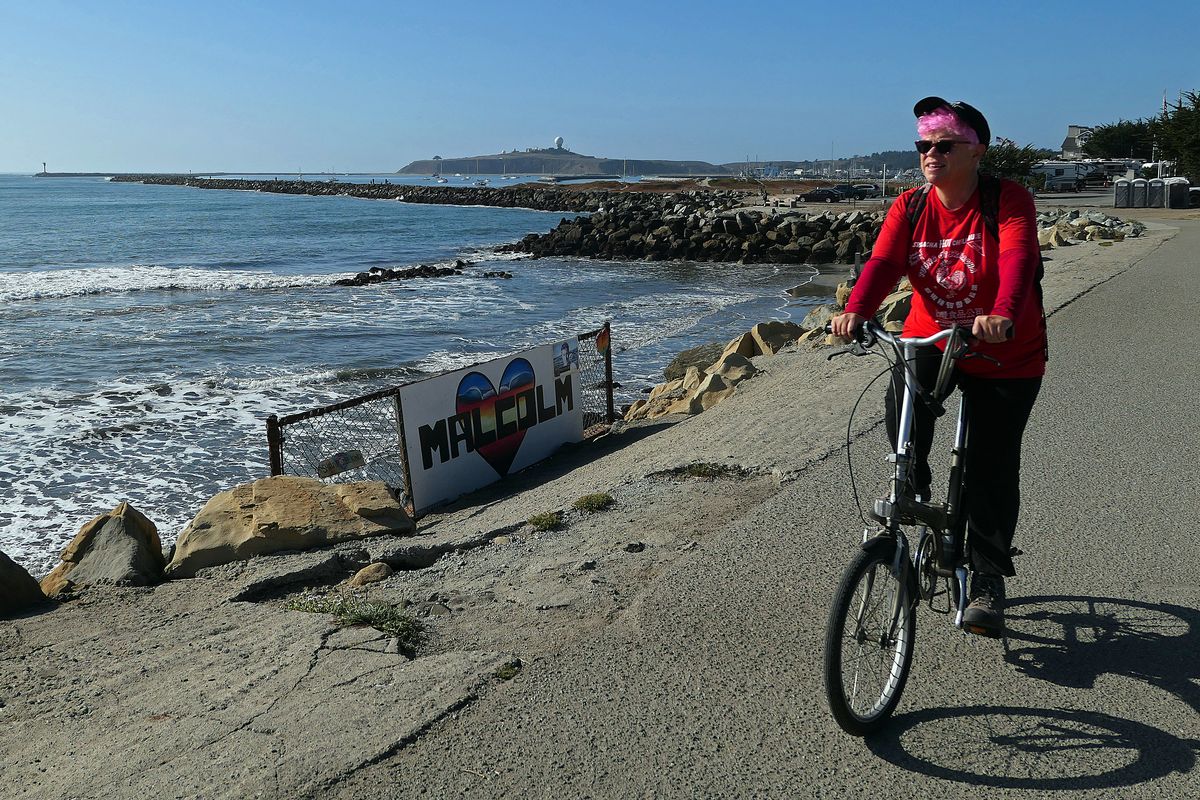 The Coastal Trail offers cyclists access to the coastal communities near Half Moon Bay without having to deal with busy automobile traffic. (John Nelson)
HALF MOON BAY, Calif. — Of all the places we've visited on our West Coast-hugging tour, where do you think we could afford to live?
That's a frequent topic of conversation while sitting around the campfire, listening to the waves crash in the distance. It's clear we're in our happiest place while near the ocean, but could we pick up and move to one of these blissful seaside towns?
A quick search on Zillow of our most recent fave, Half Moon Bay, reveals the answer: Nope, not gonna happen. Most of the listings are in the seven-figure range, considering the proximity to San Francisco.
Still, living in an RV allows us to spend a week in a place like Half Moon Bay and enjoy its surprisingly approachable small-town charm. We've had some incredible experiences hanging out on this friendly coastline.
We loved watching the surfers ride the waves near Pillar Point Harbor, steps from the very busy first-come, first-served RV park where we snagged a spot for the weekend. The waves weren't big at the world-famous Mavericks just down the road, but we still made the bike ride out to check it out and it was stunningly beautiful.
Speaking of cycling, the trail system gets you down the road on what's known as the Coastal Trail, which is helpful because traffic on Highway 1 can get a little crazy.
Our visit to Half Moon Bay started at the outstanding state park campground where we spent five days, and it was an easy ride into town to explore shops and stores. Half Moon Bay Bakery has a long history of making people happy with its Italian-style bread and pastries. We loved the artichoke focaccia, cookies and quick breads like banana walnut.
We got a kick out of the old-fashioned farm store on Main Street, where we purchased a big box of firewood. As we walked through the front door, a friendly chicken greeted us. Awwdorable!
Beach access was just as outstanding, with long stretches of sand that were mostly empty. And we took a tour of the beaches north of Half Moon Bay and were tickled to find a group of seniors painting the dramatic shoreline at Montara State Beach. Maybe we'll end up in one of their watercolors.
While we had a series of memorable meals — including the go-to ravioli and a reverse seared tri-tip steak on the George Foreman Grill — we enjoyed one of the best dinners of the trip at Navio, the fine dining spot at the Ritz-Carlton resort. We walked on the Coastal Trail to get there, and heard owls hoo-hooing as we passed by their home as darkness fell.
So, maybe we can't really afford to live in Half Moon Bay or any of these beautiful coastal communities, but that's why we travel in an RV. Places like Half Moon Bay State Beach and Pillar Point RV Park make it affordable and yes, we're grateful to be living the dream.
Apple Cup 'sailgating'
If you're going to the Apple Cup Friday in Seattle, we hope you'll stop by the "sailgating" docks on Lake Washington just east of Husky Stadium.
While the Cougars are clearly the Pac-12 champions in tailgating, the Huskies do offer an unusual twist with their dockside party scene. Go and check it out.
This week's Going Mobile question
We're turning the tables and would love to hear from you about what would be helpful information to share. Are you interested in tips on maintenance, storage, travel planning, or shopping for a new rig? Please send suggestions to goingmobile@spokesman.com and we'll do our best to address in the next column.
---
---