Tailgating tales from veteran sportswriter Steve Bergum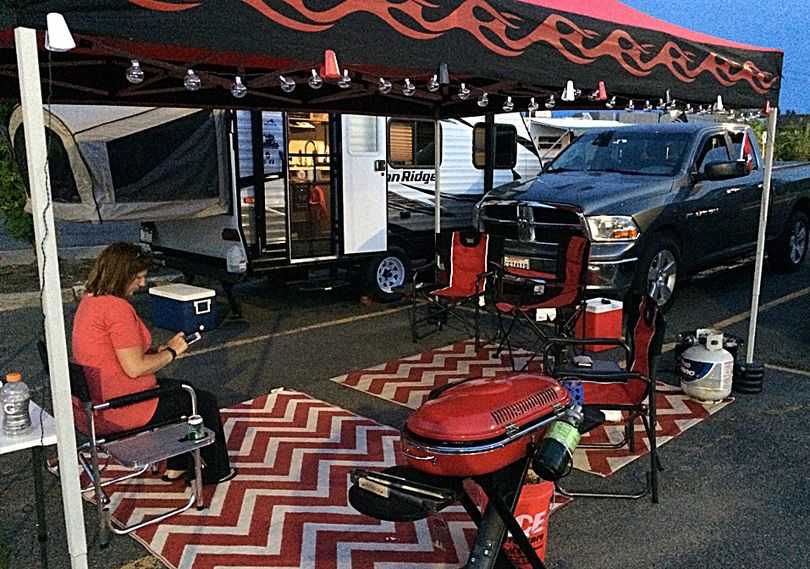 We were pretty excited to hear that our friend and former Spokesman-Review colleague Steve Bergum and his wife, Chris, had joined the RV community with the purchase of a pull-behind. The primary motivation for buying the Autumn Ridge? Tailgating, of course.
They love its size and comfortable interior. "It's small, and can be towed by our mini-van (although we now use a half-ton Ram pickup) and has everything (room to sleep four adults, a/c, fridge, microwave, stovetop burners, bathroom with shower and tiny tub, outdoor shower, built-in dvd player, etc.) we need for a short stay like our Friday-Sunday trips to EWU. We also recently purchased a portable generator to power our a/c and other small appliances," he said.
When pre-funk party time rolls around, they extend the canopy on the camper. "It makes for a nice, shady spot to relax and listen to music on the exterior speakers, and we can run the heater all night on less on a little over a gallon of propane. We also have a 10 by12 free-standing canopy with sidewalls and plastic windows that serves as the center of our tailgate setup," Bergum explained.
We're drooling when hearing about the spreads they serve including gumbo and ribs as part of a cooking competition with fellow tailgaters. On Game Day, it's all about bratwurst, hot dogs, barbecued chicken sandwiches and tri-tip steak. Oh, and a whole bunch of Cheetos.
"We are usually the first to arrive in the parking lot on Friday. The lot opens for overnight tailgaters at 5, and we're usually out of there fairy early on Sunday morning, following a trip to Starbucks for lattes and lemon loaf," he said. "Our favorite post-game dinner is grilled cheese sandwiches with tomato basil soup and wine."
Those Eagles fans sometimes go to the Friday night coaches' function at The Barrelhouse in downtown Cheney, where the beer and pizza are served and members of the coaching staff are on hand to mingle and discuss the upcoming game. "If we don't attend, we usually order a pizza delivered to the parking lot and top in off with a bottle or two of wine and a couple of wacky-weed brownies (when available) while sitting around our portable propane fire pit," he said.
There's always beer in the cooler and the welcome mat's always out for friends to come by. "On our way to Cheney, we usually mix a couple of gin-and-tonic "roadies" and have a cooler filled with Michelob Ultra and some even cheaper stuff to offer to Ralph, Jess and Bart, if they show up. Blanchette drops by, occasionally, for a burger or hot dog."
Sounds like a blast! Thanks for sharing your trailer tales, Steve!
---
---