Fri., April 3, 2020
RV travel still presents opportunities to practice social distancing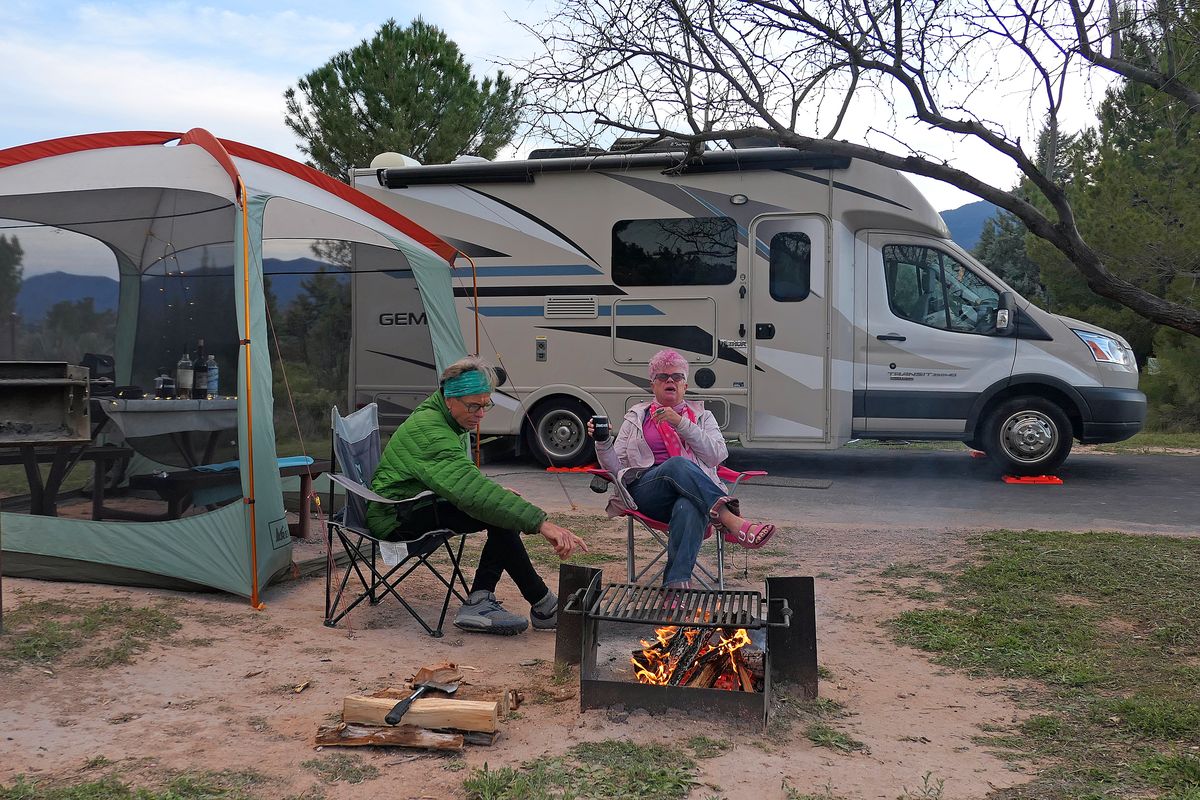 The state parks of Arizona remain open, and we've been camping at Dead Horse Ranch State Park near Cottonwood. (John Nelson)
SEDONA, Ariz. -- In the age of Covid-19, will it ever feel safe to travel again?
Yes. We're doing it right now, but how long we can go on is anybody's guess.
So far, we've been fortunate to be on the road in a beautiful location where a lot of our social distancing takes place in the deserts and red rock trails around Sedona.
Our days of continuing to travel -- at least on this road trip -- are dwindling. More public parks are closing daily, and private RV parks might soon follow.
When we started this adventure in late September, we never dreamed we'd be away from home during a worldwide emergency. While it feels unsettling, it turns out that living in an RV has many advantages during a pandemic.
We've been able to travel around Arizona for the last month pretty much as we wished, visiting a Saguaro, Petrified Forest and Grand Canyon national parks. After those parks closed two weeks ago, we've split time between Dead Horse Ranch State Park in Cottonwood and Rancho Sedona RV Park.
We're not the only ones doing this, and here in Sedona, we're still seeing many other RV travelers doing their own versions of social distancing. All in all, we feel grateful to be camping in our Thor Gemini, not stuck inside our condo wondering if the virus is finally going to find us.
What about you? When can you look forward to taking another RV trip? Here are some questions to consider as we wait out this deadly virus.
How much risk are you willing to take? No matter where you go, travel involves risk. For some people, coronavirus fears are so strong that the risk of any travel isn't worth it. For us, staying away from major outbreaks has been worth any risks we've encountered.
Where can you go? It's now clear that the virus will touch every corner of the U.S. In a few weeks, we'll be able to see which locations are safest for travel. Wherever you go, make sure you have good public and private options for camping.
When should you go? In a best-case scenario, June or July seems like the soonest that safe travel can occur, but as we've seen with this crisis, the future is unpredictable.
Once you get there, what will you do? It helps if your destination has outdoors diversions such as hiking, fishing or cycling because it's now clear that restaurants, lodges and retail diversions will be closed for some time. In Sedona right now, most businesses are closed , but the trails are open.
What if you don't have an RV? Rental company Cruise America is doing brisk business, judging from the number of vehicles we see at campgrounds in Arizona. We've also seen many vehicles from El Monte RV, another rental company. The website Outdoorsy also offers rentals through private individuals. Of course, you will need to verify the safety and sanitizing of these vehicles before you take a chance on renting.
How much food will you need? A lot more than you think. We've been cooking every meal since the outbreak started, and we've kept the pantry stocked by visiting the stores in Cottonwood and Sedona.
Bottom line: Should you try an RV trip later this year? Only if you're comfortable with the risk, and are careful not to put others at risk. For us, the pandemic travel experiment continues, and you can follow us online at instagram.com/ourgrandtour.
---
---