Fri., April 10, 2020
RVers face challenges of closed campgrounds, services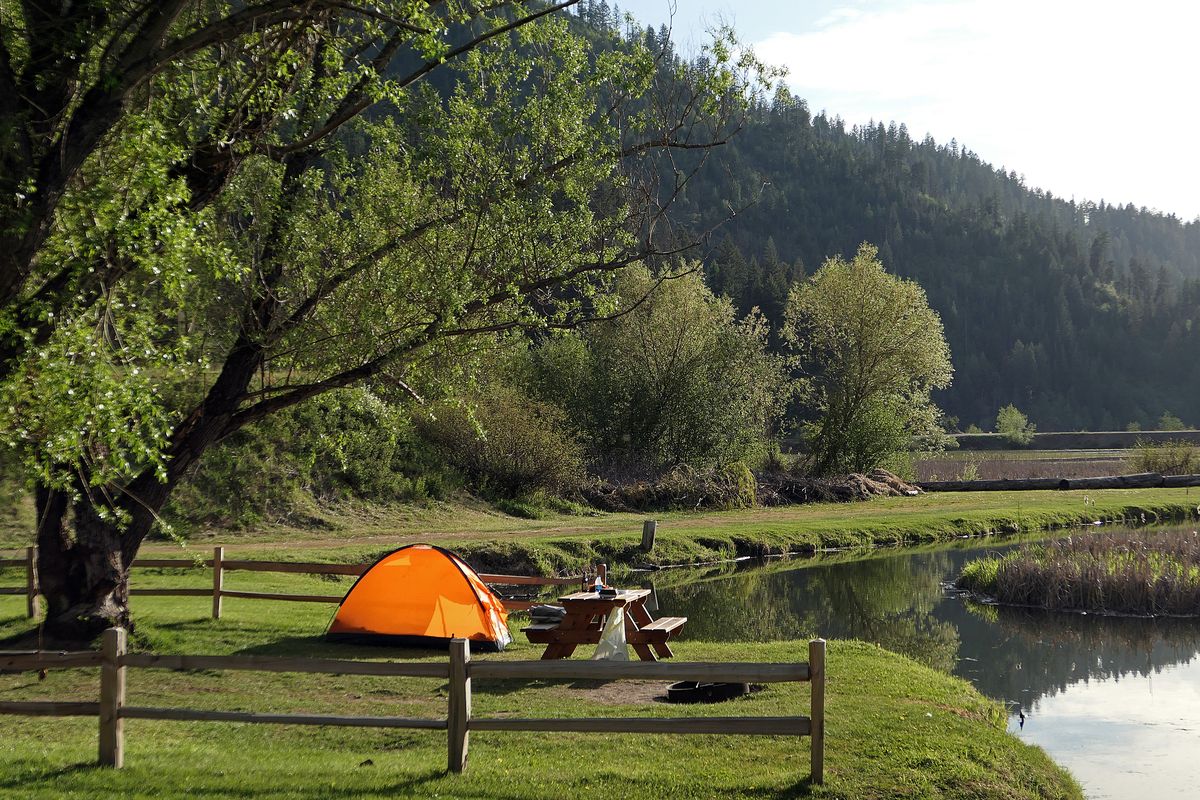 Camp Coeur d'Alene, near Wolf Lodge is closed until at least May 1. (John Nelson)
"Stay home, save lives" is the mantra often seen on social media during this global COVID-19 pandemic. Yet when your home is an RV, that can be problematic.
Over the past few weeks, campgrounds across the country have abruptly closed. From national and state parks to many commercial RV sites, full-timers are increasingly finding limited options. There's some confusion about whether RV parks are considered "essential."
Some organizations are working with state, local and federal governments to advocate for the RV community, which includes traveling first-responders. KOA, based in Billings, Mont., has been on the front lines of those efforts.
"When you think about it, there's really no better place to be self-contained than an RV," said Toby O'Rourke, the CEO of the Kampgrounds of America, which works with 525 sites across the country.
Most stay-at-home orders issued by state and local governments do not mention RV parks when discussing lodging closures, but many government entities are receptive to allowing them to continue operating.
"The reception to requests to keep parks open for essential travel and full-time RVers has been positive," O'Rourke said.
The KOAs that remain open have closed community meeting spaces, playgrounds and pools. The cabins available to rent at some sites are shuttered until further notice. Because developments during the crisis change constantly, the KOA website updates openings and closings in real time on its website.
Another excellent source of campgrounds and parks that are still open is a site called CampgroundViews, which allows users to search by location or amenities offered.
In the Pacific Northwest, it's hit and miss for places that are open for full-time RVers. In Oregon, one of our favorites is open -- The Camp in Bend. The restored retro trailers at The Vintages, near McMinnville, also remain open for nightly rentals, but all transactions must be done over the phone, said Anthony Straight, front office associate. Others, such as The Driftwood in Brookings, Ore., are not accepting nightly or weekly reservations at the moment.
"They have us closed down until May 1," said Alice Aimar, front office manager. Nearer to Spokane, Camp Coeur d'Alene near Wolf Lodge, a place we stayed last spring, isn't planning to open until May.
"We'll see what happens," said Taylor Abrahamson, manager of Camp Coeur d'Alene. "We're watching things closely." The luxury Northern Quest RV Resort, a place we stayed last June, also is closed indefinitely.
"Ultimately, Tribal Council will make the decision on when Tribal businesses will reopen their doors to the public again," a notice on the Northern Quest website reads. Another park we've enjoyed, The Sou'Wester on the Long Beach Peninsula, also remains closed this month.
"We are temporarily not accepting reservations in order to discourage travel for the common good," a message on The Sou'Wester's website states. "Please stay tuned as we figure out how to safely and ethically allow for low-density stays."
What we continue to experience during our self-imposed isolation in Sedona, Ariz., is a community committed to keeping its social distance. The team at Rancho Sedona says the park on the banks of Oak Creek is committed to remaining open "for the duration."
When we sit in the afternoon sunshine and watch the resident blue herons carry twigs gracefully across the expansive park to build nests, it's easy to forget for a few moments that there's a world-changing crisis. We're grateful for those moments.
Then, there's the more anxiety-producing chunks of time when we're looking at the calendar and studying the maps, plotting our route back to home base in the Northwest. That's all still TBD, but if you have any advice, we'd sure love to hear it. Write to us at goingmobile@spokesman.com.
---
---