Fri., Aug. 21, 2020
Far-flung family easier to connect with in an RV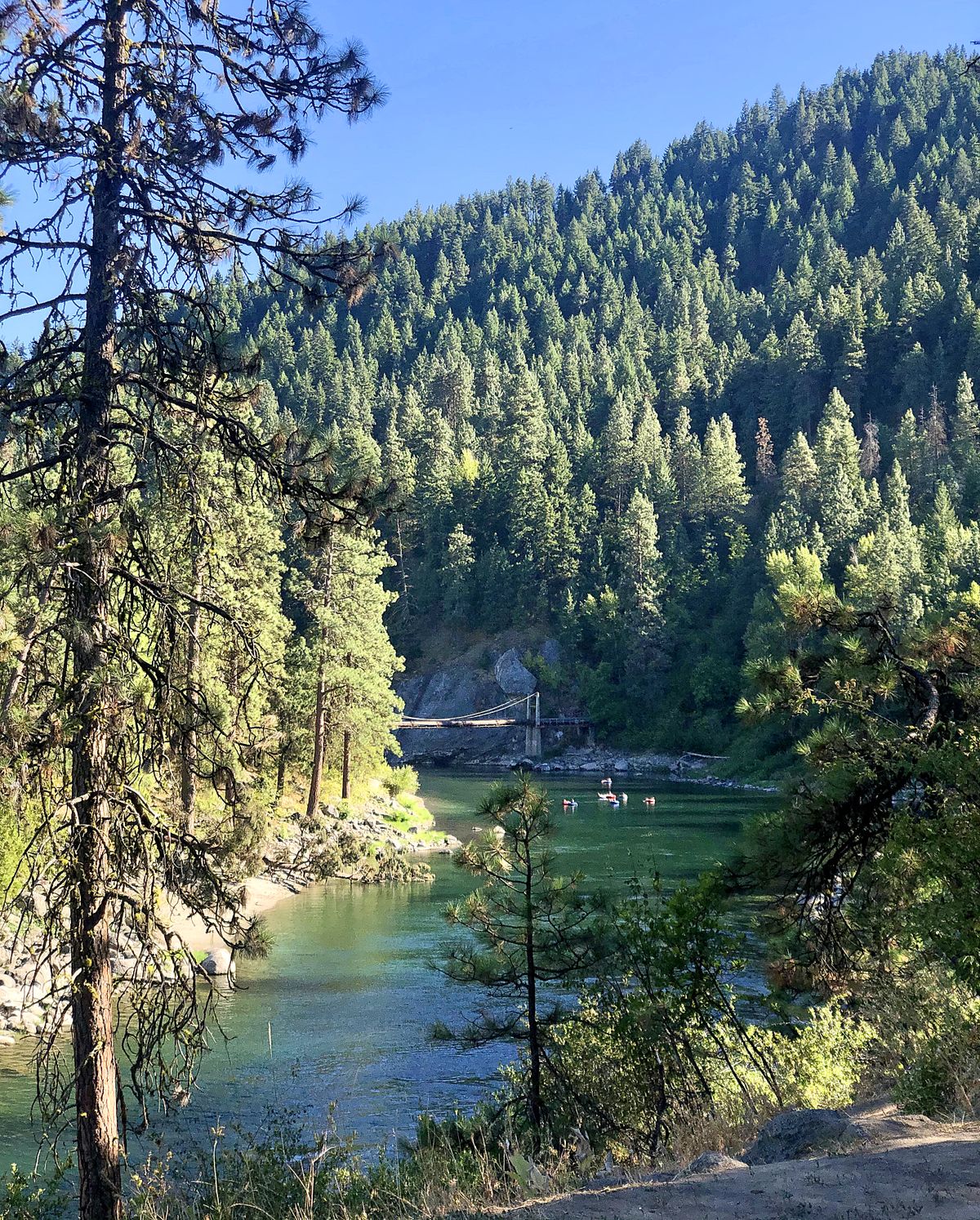 The view from the KOA in Leavenworth offers nice views of the Wenatchee River. (Leslie Kelly)
We are deeply grateful for our tiny home on wheels, especially when it comes to traveling to visit far-flung family.
Last week, while John was on a backpacking trip in the North Cascades National Park, Leslie headed to Central Washington to spend some time with loved ones.
First stop, Leavenworth
Before hitting the road, Leslie stopped at Les Schwab to have the tire pressure checked. It's part of our list of best practices because having the proper pressure means better fuel economy. The crew at Schwab came through big time, as usual, and the diesel rig averaged 18 miles per gallon.
On a Monday morning, the traffic on U.S. Highway 2 was downright mellow, and Leslie arrived in time to share a cup of coffee with Auntie Eileen, her go-to dispenser of wisdom. Brother Chris joined in and they spent some quality time looking at old family photos, waxing nostalgic.
Leslie parked the Gemini at the nearby KOA campground, which was packed. Unfortunately, very few people were following the social distancing directives on signs around the property. And the clerks who checked folks in only pulled up their masks when a customer was at the counter, talking in close proximity to their colleagues. Come on people, mask up!
There were, however, ample opportunities to distance down by the river. Picnic tables on an expansive lawn had gorgeous views of the rushing waters of the Wenatchee, for instance.
Additional Bavarian Village highlights: Scoring sweet nectarines and Quincy corn, as well as stocking up on the cutest face masks from Dan's Food Market.
Next up, Waterville
Leslie's nephews Brandon and Nick and their families live in the Douglas County seat, home to vast wheatfields. While the chaff kicked up by harvest made her nose run, Leslie had no regrets about making the trip because she got to see Nick's wife, Jillian, and their two darling kiddos, Blakely and Hunter.
Then, she parked overnight in Brandon and Karly's driveway and spent a few hours visiting in the yard while adorable Lucy played. It was challenging for Auntie Leslie to resist giving those sweet children hugs and kisses. Yet watching them play from a distance was sure better than exchanging videos on the Marco Polo app, which is the way we usually stay in touch.
A stop in Lake Chelan
Before meeting up with John, post-hike, Leslie headed to Lake Chelan for a chill night at the outstanding Lakeshore RV park, which is run by the city. She spent the downtime doing chores and took a cold plunge in the lake early the next morning. Refreshing!
Life lessons learned, again
Leslie's still a rookie on the septic dumping and -- whoops -- she made the classic mistake of forgetting to push the gray water handle back in place after the previous dump. So, when unscrewing the lid to attach the hose, the gray water gushed. Aack! Not a fun mess to clean up.
And another one to file under we should have known better: When we arrived to try and snag a spot in one of the national park campgrounds, we struck out. We had tried to reserve in advance with no luck, but there were still a number of first-come, first-served sites, so we thought we'd roll the dice.
Not a good plan on a Friday in August. Still, we didn't view it as a defeat. We beat tracks back to home base in Bellingham, feeling fortunate to have the means to travel safely during this trying time. Judging by the volume of RVs we saw on the road, we're definitely not alone in that sentiment.
---
---