Fri., Aug. 28, 2020
RV rentals can be an easy path to ownership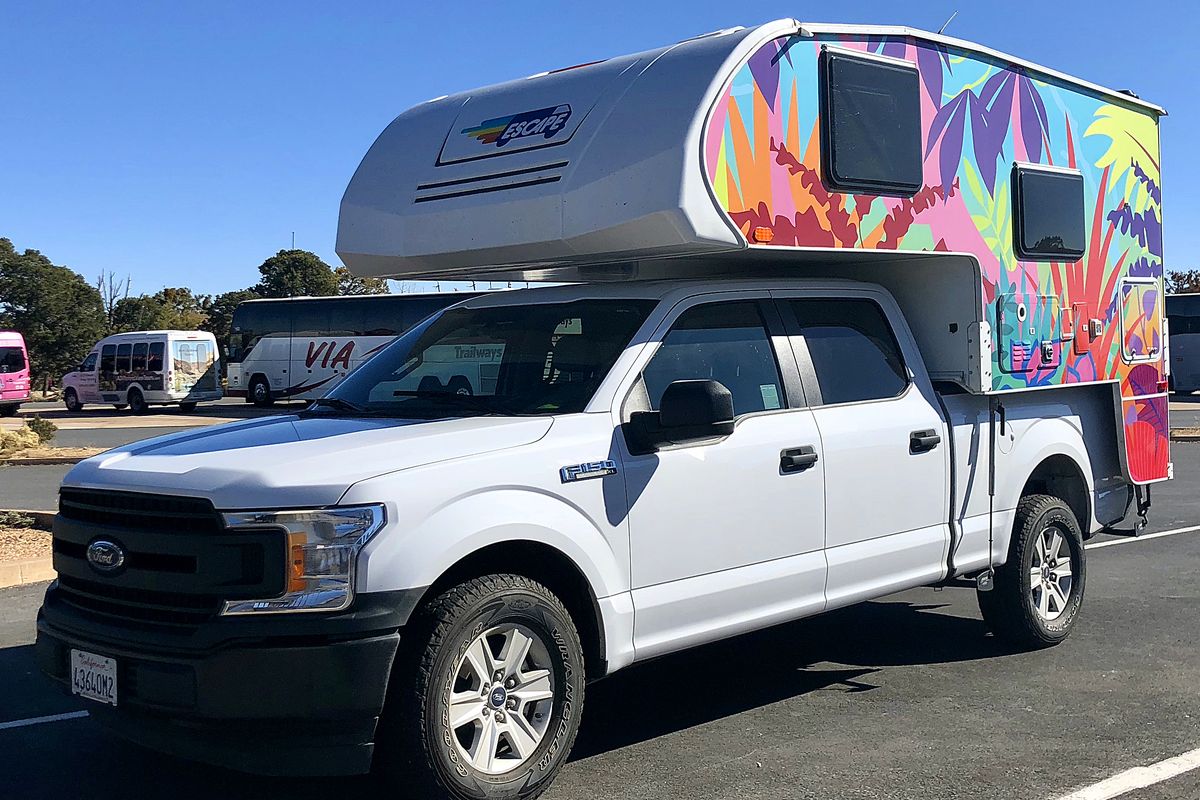 Escape Vans offer a variety of campers for rent at locations around the West. (Leslie Kelly)
Back in 2018, we were trying out the RV lifestyle.
We rented camper vans in Hawaii, Seattle and Portland and almost immediately realized we wanted a tiny home on wheels of our own.
So thanks to Outdoorsy in Hawaii, Peace Vans in Seattle, CanaDream in British Columbia and Road Trip Oregon in Portland, these rental experiences were interesting and fun. We learned a lot about what it means to operate an RV.
Are you looking to try out a motorhome, travel trailer or van this fall? Nearly three-quarters of Americans are still planning to travel this year, according to a new survey by the website SkiDriven.com, and demand for RV travel has nearly doubled this year.
If you're one of those people who have been thinking of renting, we have a few ideas for you.
RV share services
We've used the web service Outdoorsy several times to rent vehicles from private owners. It functions much like the apartment rental service Airbnb.
In the Spokane Valley, Glenn Buie just started using Outdoorsy to rent out his 2017 Coachmen Apex Ultra Lite trailer. "Overall, I'm happy with them," he said.
"We use our trailer for family trips and baseball tournaments and rent it out around when we are not using it," Buie said.
We also heard from Randy Jones, a South Hill resident who uses Outdoorsy to rent out his older Class A Georgie Boy Pursuit.
"It's a great company to work with," Jones said, adding: "Fall is looking great, even though there is no tailgating for college football."
Another RV service hooking up potential renters with private individuals is called RVshare.
"RVshare has seen a surge in Labor Day rentals and bookings are currently up by 50 percent and climbing well into fall," CEO Jon Gray said.
RV rental companies
You've probably seen Cruise America RVs on the road, a familiar sight during the summer months in western North America.
One of the advantages of going through a national company such as Cruise America is the flexibility -- you can rent from any number of major metropolitan areas in the West.
A check of the Cruise America website found availability in mid-September in Spokane, Seattle, Portland and Boise for a number of RVs.
If you'd rather rent from a local company, Eastside RV Rentals offers a variety of Class C motorhomes in the Spokane area.
Van rentals
Seattle and Portland have an ever-growing number of campervan rental companies.
Escape Campervans offers rentals from 12 major "depot" cities in the West. We've seen a number of these vans during our travels, particularly in national park settings.
Cascade Adventure Vans is another service that has found a following in Seattle. The Mercedes Sprinter Vans have been extremely popular this summer, said Shawn Turner, owner of the company.
"We are starting to book more October rentals now and expect to stay fairly busy through November," Turner said. The vans are rated for cold weather, "so really they can be used year round," he added.
In Portland, we rented a Volkswagen camper from Road Trip Oregon, which is perfectly situated for a camping trip to the Oregon Coast, where we traveled.
If you are looking for a tidy experimental journey to see if you like RV camping, many of Oregon's state parks along the coast are open again. Check the Oregon State Parks for the latest information on what's open, and make sure to snag a reservation before you go.
People are traveling again in America, and RVs are leading the way.
---
---