Fri., Dec. 11, 2020
Flickering flames can enhance story swapping, travel planning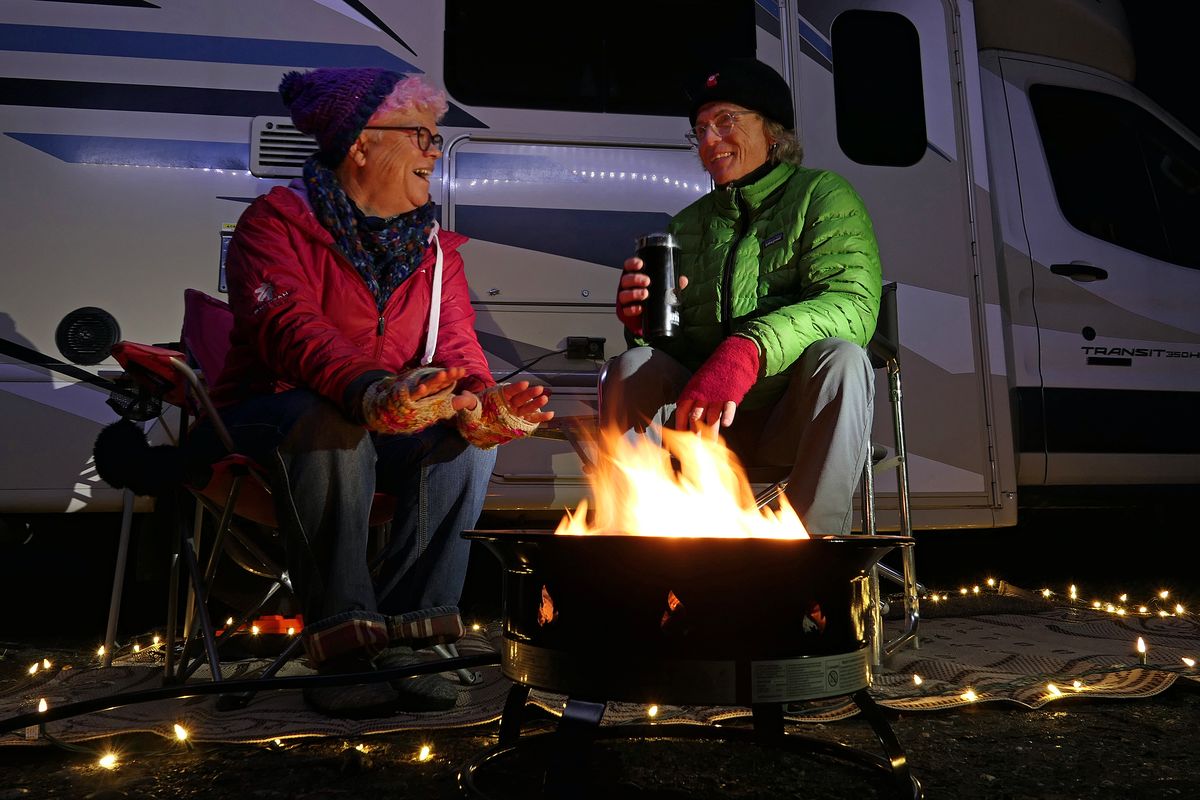 The Outland Living Firebowl gets a tryout at Deception Pass State Park. (John Nelson)
If you embrace the outdoors lifestyle, it becomes clear pretty quickly that campfires are essential.
Who doesn't love a raging campfire at the beach, in the mountains — or anywhere really?
In our quest to use our RV year-round, we've found that outdoor fires lengthen your stay outside, and they offer much more than comfort. Sitting around a warm, friendly space under a starlit night keeps the conversation flowing.
Some of our best memories from more than two years of travel around the U.S. and Canada are of sitting by the flickering flames, swapping stories and making travel plans.
Until now, we've kept it simple, chopping and burning wood we bought at the store or campground.
But we have a new fire tool in our arsenal these days — the propane-powered Outland Living Firebowl ($139.99).
Go ahead and scoff, campfire purists. We were once like you, thinking a fake fire wasn't cool at all.
Our thinking has shifted as we head into some chilly weather. While we remain ardent fans of traditional wood campfires, sometimes you crave the ease of having a fire at your fingertips. Just turn a knob and — voila! — there's your heat source in action.
Here's how we finally came to this conclusion: Last winter, as we traveled around California, we found that many RV locations didn't allow wood campfires because of forest fire danger. They did allow propane fires, however.
During an extended stay at Malibu Beach RV Park, one of our favorite places in Southern California, Leslie saw the Outland Firebowl in action at a neighboring campsite. In chatting up the Firebowl owner, Leslie heard all about the virtues of having this easy option available. It puts out a whopping 58,000 BTUs, for instance.
We mulled it over for a while, then as we prepared for a winter trip this year, we decided to make the deal.
We shopped at a number of places online — including Amazon, Home Depot and Cabela's. It turns out that Outland Living's propane fires are pretty popular, and we couldn't find any in stock.
So Leslie did some digging and found out the Outland Living company is based in Surrey, British Columbia, just across the border from us. Ordering directly from the company turned out to be cheaper and easier than going through another e-commerce retailer.
We searched around and found a small propane tank — oddly, 10-pound tanks are hard to find these days, and are more expensive than the regular 20-pound size — filled it up, and we were in business.
It was time to give the Outland Firebowl a test run.
On a beautiful, but frigid December day, we hooked it up at Deception Pass State Park, turned on the fuel and there we were, enjoying a wintry fire right on the beach, the famous bridge in the background.
Later, we set up our outdoor "living room" in an otherwise gloomy campsite. The Firebowl delivered, transforming the dank location into a space that was friendly and bright.
Not only did the Firebowl's impressive output help us feel toasty, but the controlled flame meant that we could sit closer and stay even more comfortable than we would be with a snapping, crackling wood fire.
We still travel around with all the fixings for wood campfires. In fact, we've been carrying around a lovely, fragrant piñon log from a bundle we picked up last spring in Arizona, waiting for the right moment to add it to a special campfire of our choosing.
Now though, we have another tool that will help us to keep RV traveling year-round.
If you're still a fan of getting lit the old-fashioned way, take a look at the Going Mobile blog for a how-to video starring John.
---
---