Fri., Feb. 7, 2020
Catch spring training and get a sneak peek at your favorite baseball teams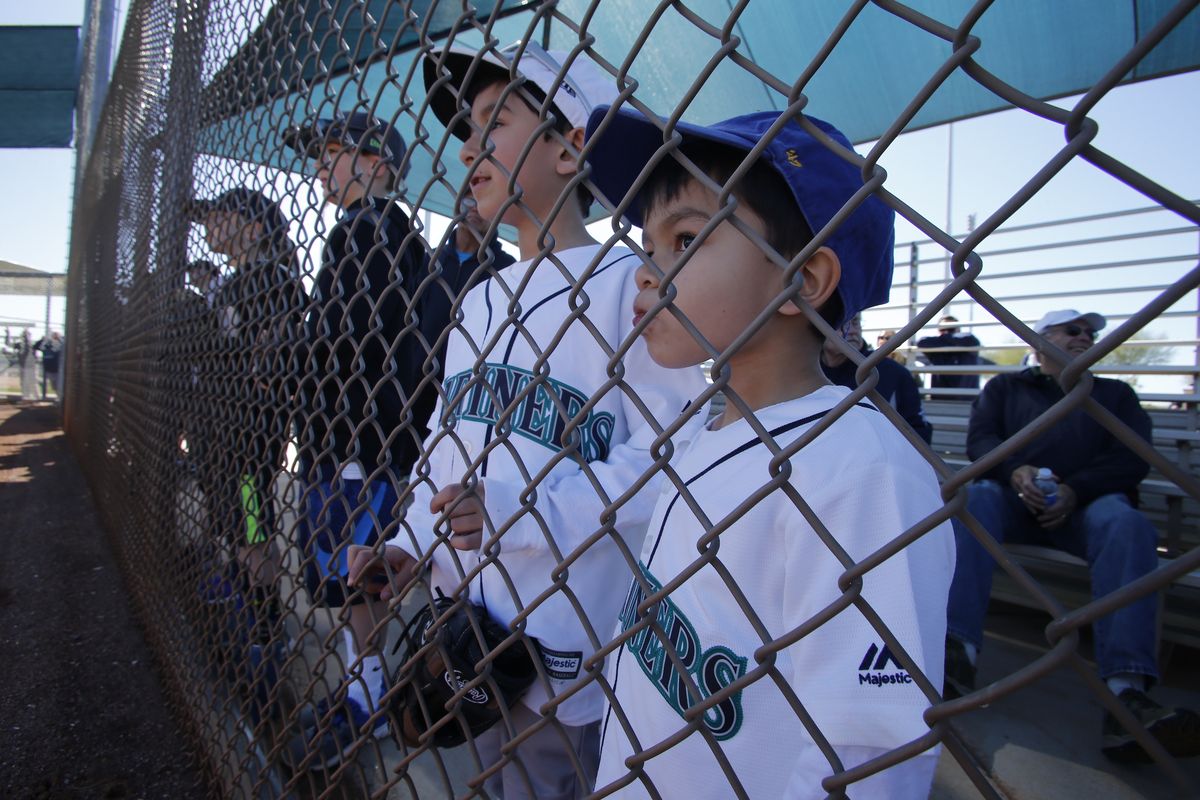 Young fans wait to meet players at Peoria Sports Complex. (Ben VanHouten, Seattle Mariners)
Next week, a sure sign of spring plays out in Arizona. That's right — baseball is back, baby!
Pitchers and catchers report Wednesday for our Seattle Mariners and the first games begin on Feb. 22. We're excited to visit the Phoenix area in our RV, and we'll be spending most of our time in Peoria, the Mariners' Cactus League home, to check out the action.
For those who love baseball, going to spring training is the fun part of the season. It's the time when the joy of the game is most apparent, when the players are loose and anything is possible.
Marco Gonzales wins 25 games and the Cy Young? Daniel Vogelbach rebounds from his bad second half last year and hits 60 dingers, powering the M's to an AL West title? Hey, they're dreams — why not dream big?
We're still formulating our spring training plan, so if you have any tips about the Phoenix area, we'd love to hear from you at goingmobile@spokesman.com. And don't limit yourselves to the Mariners — 14 other teams are part of the Cactus League.
In the meantime, we've started talking to people about where to stay, how to get the most out of seeing a game and where to eat.
Where to stay? The Phoenix metro area is home to dozens of affordable RV parks. We are looking in the northwestern part of the Valley of the Sun, where Peoria is located. We are also eyeing a couple of locations in North Phoenix.
Our next order of business is to figure out which games to see. We'll be perusing the Mariners spring training schedule, and also checking out games for San Diego Padres, another team that trains in Peoria.
We've heard one great tip about where to sit during a game at Peoria Sports Complex. We've heard good things about "The Berm," a grassy area in the outfield, that has a fun, laid-back vibe. Best of all, it's inexpensive.
How do you get close to the players? Check out "autograph alley," said Jennifer Stein, spokeswoman for the city of Peoria. That's where players stop during games to visit fans and sign autographs.
We talked to another spring training regular, The Spokesman-Review's Jim Kershner, who offers this tip about getting close to the players.
"Go to the practices," he said. Practice sessions take place in the mornings at Peoria Sports Complex, and — bonus — they're free.
As for food, we hear good things about the offerings at the Peoria Sports Complex. Nearby the ballpark, Stein recommends checking out The Social on 83rd, Revolu Taqueria and Modern Round. If you have other recommendations in the Phoenix area, we'd love to hear them.
Batter-up! We're stoked to make our visit.
Seattle RV Show
If you need a good reason to visit the Emerald City, the Seattle RV Show is going on this weekend at CenturyLink Field Event Center. It's the biggest RV show in the Pacific Northwest, with hundreds of RVs from the biggest manufacturers in the country.
You also can attend a number of seminars and check out vendors with RV-related gear.
Tickets are $13, and children 17 and under are free. Seniors 62 and older get in for $11.
---
---