Fri., Feb. 21, 2020
Planning on RV shopping? Have your questions ready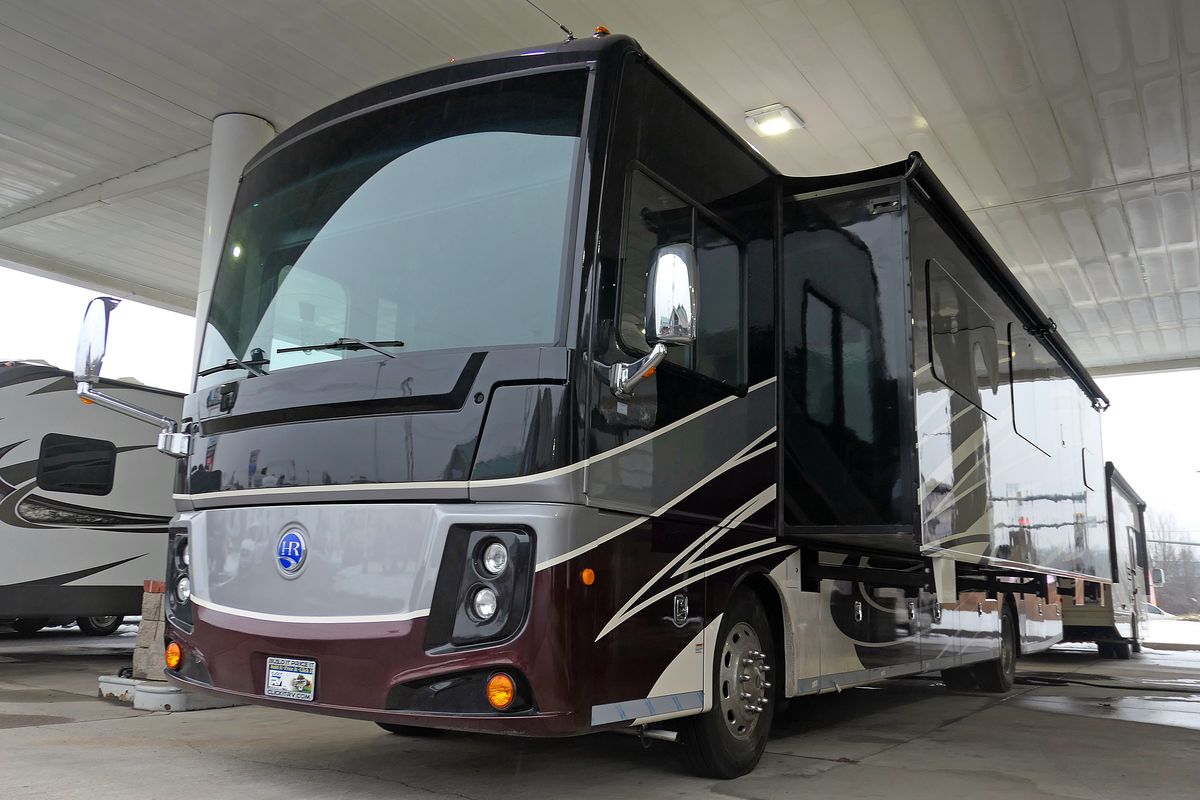 Many RVers eventually trade up to larger vehicles such as this Class A RV. (John Nelson)
We'll admit it — we didn't know what we were doing when we were shopping for our RV a couple of years ago.
What questions should we have asked? It turns out we had a lot of surprises once the papers were signed and we drove away from the lot.
Not that it's all bad. We've bonded with our 2017 Thor Gemini, and after a few hiccups, it's working well to fulfill our travel needs.
But what about you? What questions should you ask when you go to an RV dealership for the first time?
We asked that question of Roger Watts, general sales manager at ClickIt RV in North Spokane. Here are a few he shared.
How big a trailer can I tow? "If you're looking for a trailer or a fifth wheel, you need to know what your tow vehicle can haul," Watts said. A half-ton truck usually can usually pull a trailer under 30 feet, Watts said. A full-ton truck can pull most — but not all — trailers and fifth wheels, he added.
Can the motor home I like tow my car? The appeal of many smaller motorhomes — like the 23-foot model we bought — is that they drive like a van. However, many aren't suitable for pulling a vehicle behind them, Watts said. "You need to know if you're going to tow a vehicle or if the motorhome is your only mode of transportation," he said.
What floorplan works best for me? Spend some time deciding where you want your bedroom and living room. We settled on a model with the bedroom in the rear and a living room in the front so Leslie — an early-to-bed person — could go to sleep while John stays up. "Some people buy the right floorplan on the very first try," Watts said, but most people do not.
Should I get a bunkhouse or a toy hauler? In the trailer world, toy haulers have a number of uses beyond just carrying motorcycles and ATVs. "A lot of people say 'I need a bunkhouse.' Actually, sometimes a toy hauler works better." People with motorized wheelchairs can take advantage of the toy hauler ramp, for instance, and many garages can be transformed into living spaces.
How can I get the best deal? The winter months can have good deals on vehicles that are left over from the previous year. "When you have models that are held over, we're going to try to sell that stuff pretty aggressively," Watts said. You can also save significantly on used RVs, he added.
Can I use my RV in the winter months? "A big question to ask is, 'Is this (vehicle) made for four seasons or is it made for weekend trips in the summer?' " Watts said. Many trailers and motorhomes simply freeze up in winter unless they are specifically built for cold weather.
Should I get an extended warranty? Yes, Watts said, noting that rattling down the road is like being in an earthquake. "Everywhere you go there's a major earthquake going on and earthquakes do a lot of damage," he said. "You want protection because when things break, it can be expensive."
What if I make the wrong choice on an RV? Don't fear, Watts said. Most people don't usually choose correctly the first time they buy. "Whether you're buying a trailer or a fifth wheel or a motorhome, it's real common to trade up later," he said.
Parking tips
We've struggled at times finding places to park in cities that don't allow RV parking on the streets. In Pasadena, we cut a deal with the local Fraternal Order of Eagles. Where else to try? One reader said church parking lots often work. "My dad used to like to park our camper at churches during emergencies," he said. Any other parking tips? Please send them our way at goingmobile@spokesman.com and we'll pass them along.
---
---