Fri., Jan. 3, 2020
Considering RV shopping in 2020? Try these tips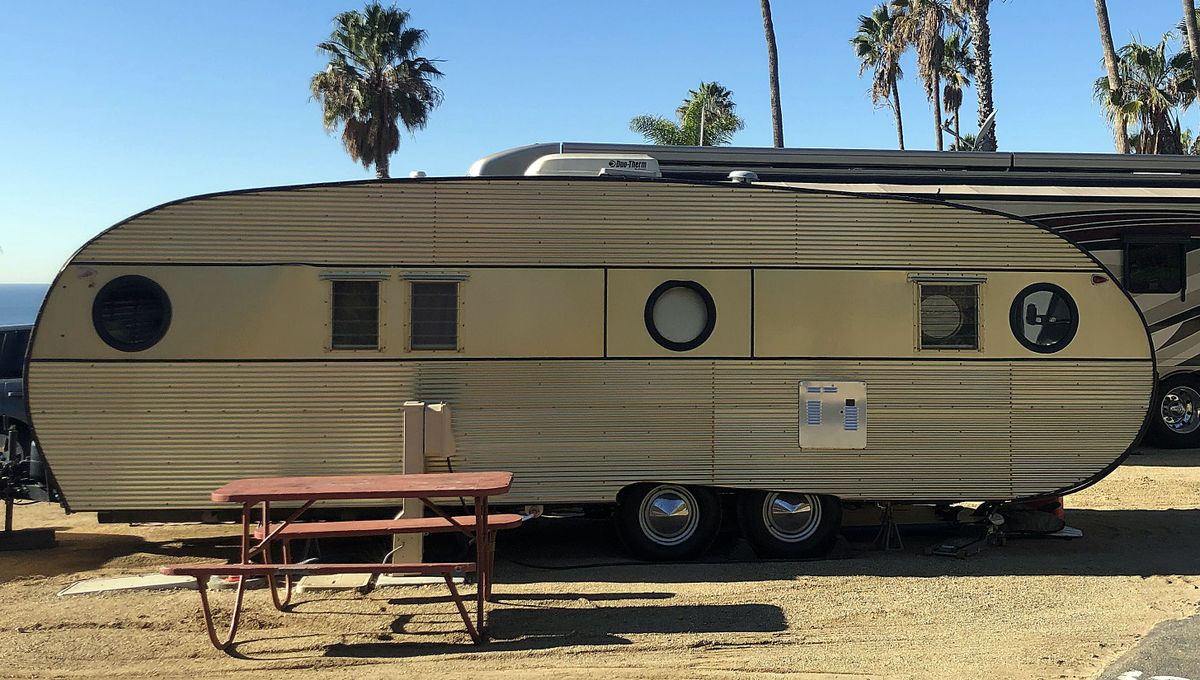 Large pull-behind trailers sometimes come in interesting retro packages, like this one we saw in Southern California. (Leslie Kelly)
The new year just might mean a new vehicle for us.
Yes, that's a bit of a surprise, especially since we've been thoroughly enjoying our 2017 Thor Gemini on the current exploration of the West Coast. It's especially cozy when storms blow in, with the separate living room and comfortable bedroom area offering the chance for both of us to stretch out.
Still, when you spend a lot of time on the road, your eyes start to wander. It's tempting to look at the cutie pies you're parked next to you and wonder: What if?
What if we traded in our small Class C and went in an entirely different direction? Here are a few ways we might eventually go:
Go big or go home: The Class A is the opposite of our mission to keep it tight, but man, do those big beauties like the Tiffin Motorhomes sure look nice. Those luxury vehicles are somewhere a rock star — or a big family — would feel right at home. Yes, they are spendy, but if you think about it in terms of it being your primary residence, it makes more sense. The biggest hurdle would be the challenge of driving it. Mad respect to those of you who make it look so easy. Maybe we'll get there one day.
Pull behinds: The thought of a trailer is appealing because it offers the extra freedom to unhitch for day trips. Right now, we don't have a tow vehicle, so we're walking and biking when we're parked. Pull-behind options are all over the board, from teeny teardrop two-wheelers meant simply for sleeping to the luxurious Airstream. We're fond of the lightweight units like the Casita we see regularly, but those typically do not offer the kind of separate bedroom and living room we crave. And while the Airstream-style trailers are stylish, they're also fairly heavy. We'd need to do a serious upgrade on our towing vehicle. So, maybe we'll put a pin in that for the time being.
Van again? We love the way those custom vans look. If we were weekend travelers, we'd definitely gravitate toward something like a VW bus or the high-mileage champ Nissan NV200 Freebird, a custom creation from Campbell Nissan in Edmonds. For right now, we still need more room.
Tiny home on wheels: This trend just keeps gaining ground, getting better and lighter. The interiors of many models like those from Portland-based Tiny Heirloom are very stylish. Not exactly practical for hauling around, but certainly tempting if you want to hang out for a while.
More research: Obviously, we don't have a lock on what's next, but shopping's half the fun right? While we're on the road, we'll continue to look at the options. And you can check out the RV options at two Spokane RV shows this month: The National RV Show is Jan. 16-20 at Spokane Convention Center. And on Jan. 23-26, take a spin through the Inland Northwest RV Show at the Spokane County Fair and Expo Center.
And the Spokesman-Review's classifieds are a great place to shop for deals. Let us know if you're interested in doing a straight-up swap!
This week's Going Mobile question
Have you found your RV perfect match? How did you do it? We'd love to hear your advice and share it with readers. Send suggestions to goingmobile@spokesman.com.
---
---