Fri., Jan. 17, 2020
January provides two big chances to browse, buy RVs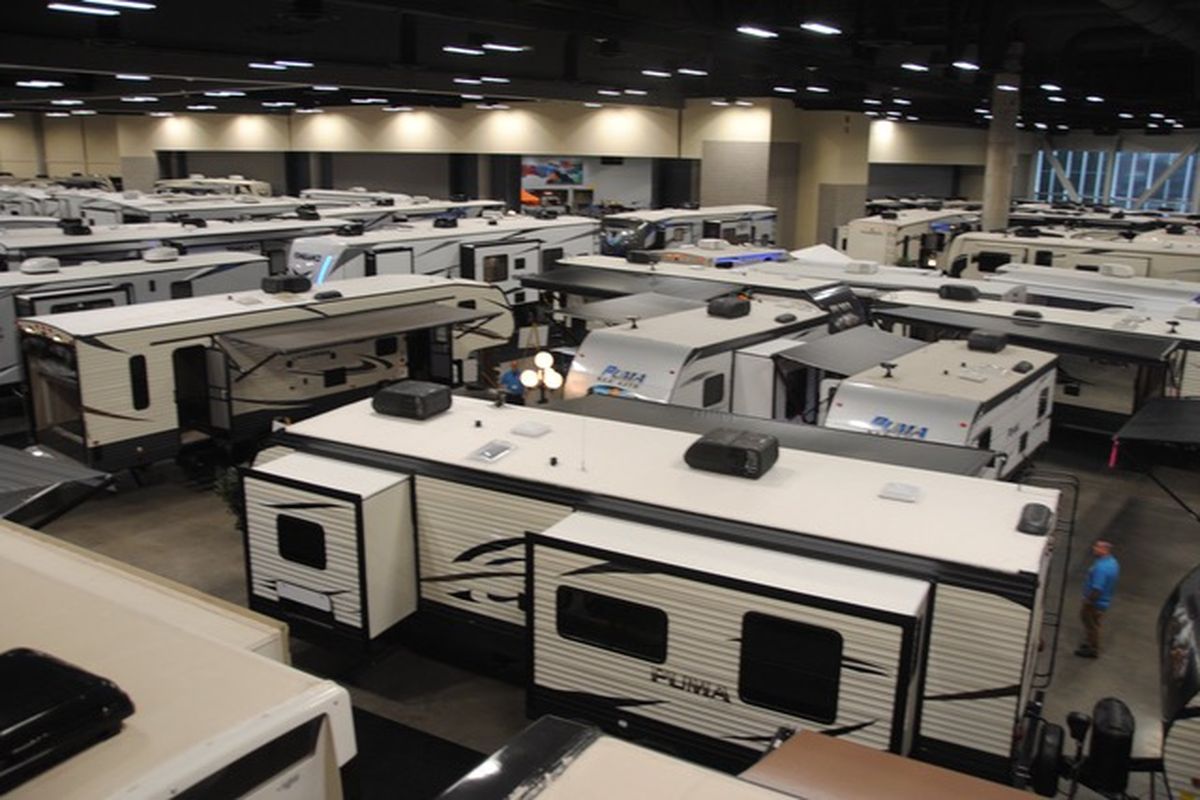 National RV Show at the Spokane Convention Center. (Courtesy ClickIt RV)
Are you looking to get in the RV game? Do you have and RV already and want to trade up?
You'll have a chance today through Sunday at the National RV Show at the Spokane Convention Center. Next weekend, you can also check out the inventory at the Inland Northwest RV Show at the Spokane County Fair and Expo Center.
At the National RV Show, put on by ClickIt RV, representatives from most of the major RV manufacturers -- including industry leader Winnebago -- will be on site at the Spokane Convention Center.
Having the national reps in the building offers shoppers two advantages, said Dan Arrotta, owner of ClickIt RV. First, the industry insiders can talk knowledgeably about their products, and secondly, they frequently offer rebate incentives for buyers.
"With the reps there, they want to move a lot of their products," Arrotta said. "They don't want to leave empty-handed."
Banks and credit unions are also on site to help with financing applications and questions, Arrotta said.
If you're a first-time buyer, Arrotta advises spending some time thinking about how you'll be using the RV. Is it for weekend trips or for extended four-season travel?
"Find out what fits your lifestyle," he said. "It comes down to what kind of camping you'll be doing and what kind of floor plan you want."
Experienced RVers also come to the show, Arrotta said, "looking to trade up."
"Most RVers will keep a vehicle for two to three years and then look to upgrade," he said. Once you've been in the RV game for a while, you become better acquainted with what you want and need, he said.
The show, sponsored by The Spokesman-Review, is free. Dozens of vendors will be on site, and music will be provided by The Cronkites.
You'll have another chance to see what's out there Jan. 23-26 at the Inland Northwest RV Show at the Spokane County Fair and Expo Center. Admission is $10; children under 12 are free, and parking at the fairgrounds is free.
More than 200 RVs from five dealers will be available to explore. The participating dealerships are RnR RV Center Liberty Lake, RnR RV Center North Spokane, Parkway RV from Deer Park, Airstream of Spokane, and RVs Northwest.
Travel trailers and fifth wheels are the most popular models, Steve Cody, the show's promoter said.
"Things have really changed over the years," he said, noting that this is the 32nd edition of the show. "It used to be that the big diesel pushers got the most attention."
One of the advantages the Inland Northwest RV Show is that multiple dealers are on site, Cody said.
"People get a price from one dealer and then take it to another dealer to see if they can beat it," he said.
If you do choose to buy at the show, you'll get a shot in the Allstate Cash Machine, a small booth with money flying around. Grab as much as you can in 30 seconds and that cash comes off the purchase price of your new RV.
"I've seen people pull out $60 and I've seen them pull out $360," Cody said.
His tip for grabbing the most cash?
"There are $1s, $5s, $10s, $20s and $50s in there," Cody said. "You gotta be able to pull out the $50s."
The Inland Northwest RV Show also has a drawing for a trip to the Country Music Awards in Nashville, another reason to go, Cody said.
This week's Going Mobile question
What's your current RV crush? We drool over the stylish Airstream travel trailers we see around the country. What would you get if you could? Send us your responses at goingmobile@spokesman.com and we'll share them in the next column.
---
---