Fri., July 31, 2020
Solar paneling can add better benefits to the RV experience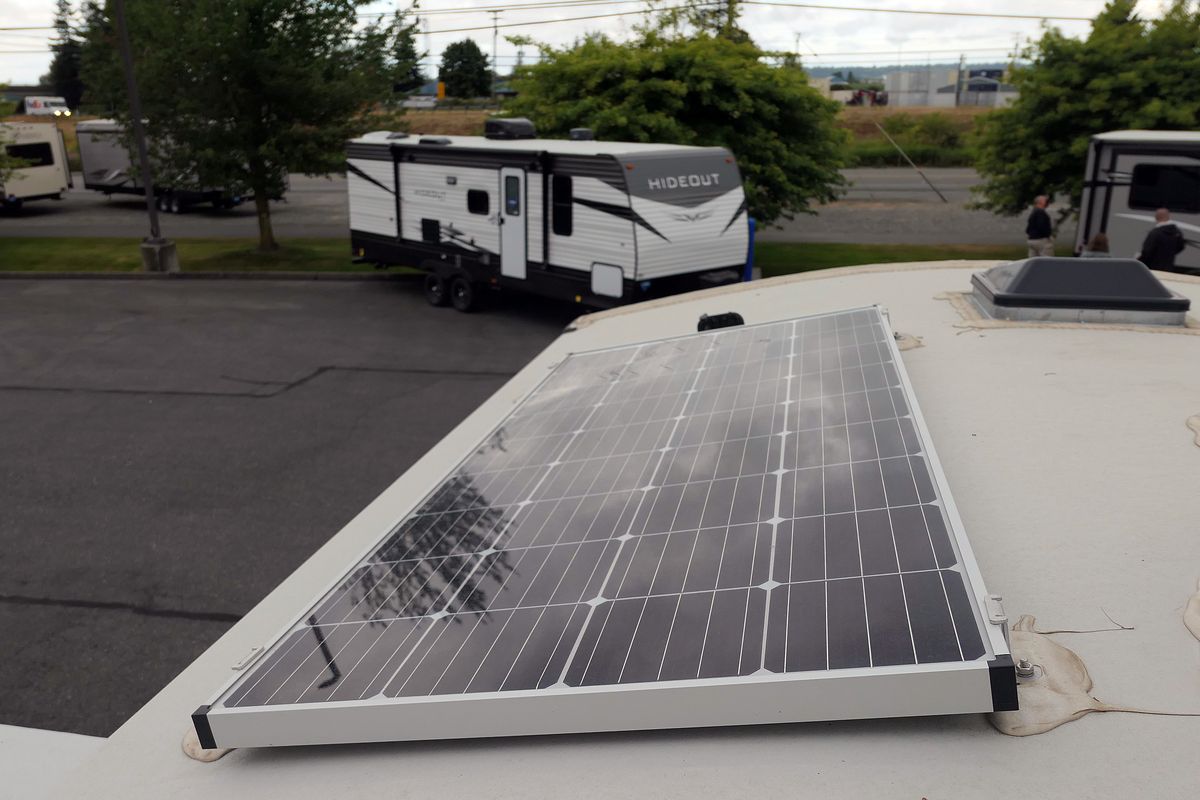 Even a single solar panel helps power an RV when you're off the grid. (John Nelson)
Here's the deal -- we just want hot showers. That's why we're considering adding solar panels to our RV.
Perhaps you've run up against this problem yourself as an RV owner: When we're camped off the grid for more than a day, our coach battery power is severely drained, and that means the on-demand hot-water heater doesn't have enough juice to kick on.
This results in scream-inducing cold showers.
The solution is to run the generator, of course. That should supply the hot water heater power and also recharge the batteries, right?
Well, yes and no. Running the generator does work to power the water heater and also run other appliances -- the microwave, for instance. But let's face it: The generator is loud and obnoxious for both you and for others camping nearby.
And you need to run it for long periods at regular intervals to recharge the coach batteries.
Now let's be clear: This is only a problem when you're parked off the grid. If you're plugged in to shore power at an RV park, you'll have all the power you need, and that's why so many people plug in for hassle-free camping.
But for those of us who like getting out there into wild places -- such as America's national parks -- any long stays require regular generator use to recharge the coach batteries. For instance, when we stayed at Yosemite National Park for four nights last November, we were forced to run the generator for about three hours a day to recharge our coach batteries.
One other solution to this power shortage is to install solar panels.
We really started thinking about this when we visited Mount Rainier National Park earlier this year. As we were lining up for the always-fun dump station, we noticed a vehicle in front of us that had solar panels covering its top and sides.
Leslie asked the guy, "Hey -- how do you like your solar?"
Our new RV friend proceeded to launch into a technical appreciation extolling the virtues of his system. We couldn't quite grasp it all, but we're pretty sure that he has enough power for 100 hot showers a day if he wants.
So what would it take wire solar onto our good old 23-foot Thor Gemini?
If you DIY, it's fairly affordable, said David Myers of Backwoods Solar in Sandpoint. One good-sized solar panel, the wiring and a charge controller would run about $700, he said.
That price doesn't include installation, however, and let's face it: Your Going Mobile team just isn't the DIY type. In fact, we're actively anti-DIY, afraid of breaking things that we really don't understand, which includes complicated electrical systems.
At the other end of the spectrum was a telephone quote we received from Camping World of Spokane Valley. For two solar panels on the roof, a completely upgraded system that includes two new batteries, fully installed would run in the $7,000-plus range, we were told.
That's a bit daunting.
Still, if it means we can always have hot showers, maybe it's worth it. Any feedback from solar panel fans would be appreciated. Please send suggestions to goingmobile@spokesman.com.
British Columbia, we miss you
Way back in March, did you ever dream that the U.S.-Canada border would still be closed to non-essential travel?
We sure didn't. Aug. 21 is now the soonest it will be open, but given the current caseload in the U.S., that date even seems a bit optimistic.
Once that border opens, we're ready to go. A few of our favorite places to explore include the Kootenay Rockies just north of Spokane, Kelowna, and of course Vancouver and environs.
Last year, we had an epic journey up the east coast of Vancouver Island, crossing at Powell River, and then returning along the Sunshine Coast. Leslie caught her first salmon on that amazing journey.
Seems like a long time ago.
What destinations are you missing most these pandemic days and pandemic nights?
---
---