Thu., March 5, 2020
Anza-Borrego Desert shows a less familiar, still wonderful side of California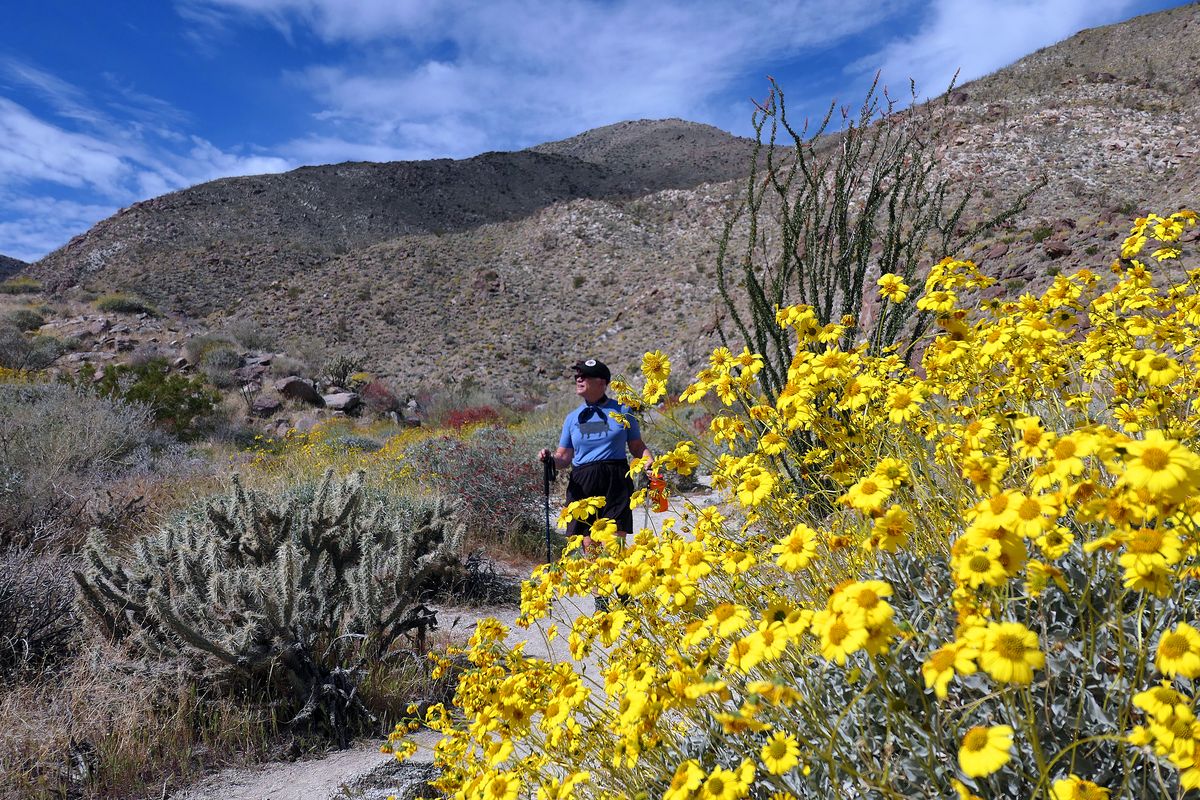 Fresh growth is popping out on this spiky cactus along the Hellhole Canyon trail in Anza-Borrego Desert State Park. (John Nelson)
The desert is an acquired taste.
It's stark, sometimes wildly hot, sometimes freezing cold, always dusty, but once you learn to appreciate its beauty, there's something amazingly compelling about it.
We learned that lesson once again as we left the West Coast in San Diego and headed east to Anza-Borrego Desert State Park, one of California's best. We found wildflowers blooming, temperatures pushing 80 during the day and dramatic dark skies at night.
We've always enjoyed visiting nearby Joshua Tree National Park, located across the Coachella Valley. Now we have a new desert haven to visit.
The camping at Anza-Borrego is excellent. We were able to snatch a pull-through site with full hookup for $35, a true bargain. Once we settled in, we couldn't believe how quiet it was: We heard nothing but bird song and the occasional howl of a coyote as the sun set.
The howls were the perfect soundtrack to our evening outdoors, eating Trader Joe's Lemon Rosemary Spatchcocked Chicken cooked over the campfire. If you're a fan of this product (and you really should be!), try cooking it in foil over the fire. Road food doesn't get any better.
The next morning, we hit the Hellhole Canyon Trail to Maidenhair Falls, a six-miler that took us from low desert into a rocky ravine in the San Ysidro Mountains. The falls were a cool payoff after the warm hike through the desert.
The hiking throughout Anza-Borrego is exceptional and remote. It is California's biggest state park, with more than 640,000 acres and it has more than 100 named trails.
If you visit in March after a wet winter, you'll stand a good chance of experiencing California's heralded "super bloom." This year, the super bloom wasn't going off, but we still found a colorful carpet of wildflowers, shrubs and spiky cactus.
We spent the rest of our stay at the Springs at Borrego RV Resort in Borrego Springs, a welcoming town in the middle of the sprawling state park. We appreciated the landscaped grounds and pool at the resort, but in the end, we missed staying in the much wilder state park. Check out Leslie's review of the Springs at Borrego RV Resort online for a full report.
We made the most of our stay in Borrego Springs, a desert town that offers a number of restaurants, including the fantastic Los Jilbertos Taco Shop, where we ate breakfast one fine morning.
Then John went on one of his epic bike rides around the valley and discovered another appealing feature of the Anza-Borrego Desert — artwork. Alongside the California S3 Highway just outside of Borrego Springs sits an arty surprise on Galleta Meadows Estate.
That's where you'll see a crazy Jurassic Park-like art installation of metal sculptures, featuring everything from a T-Rex to a huge serpent crawling under the highway. The sculptures are the work of artist/welder Ricardo Breceda and were commissioned by a wealthy benefactor.
Like the wonderful camping in Anza-Borrego Desert State Park, these sculptures were just another fantastic surprise made possible by our RV life on the road.
Speaking of Joe
We loved creating camping magic with that tasty Trader Joe's chicken we had at Anza-Borrego, and that got us thinking: "We sure source a lot of our meals from Trader Joe's, don't we?" It's true that we rely on this grocery store a lot for stocking our RV pantry.
In fact, Leslie has written a blog post about it. Check it out online at spokesman.com/blogs/going-mobile.
---
---