Play ball! Arizona spring training perfect way to catch up with favorite teams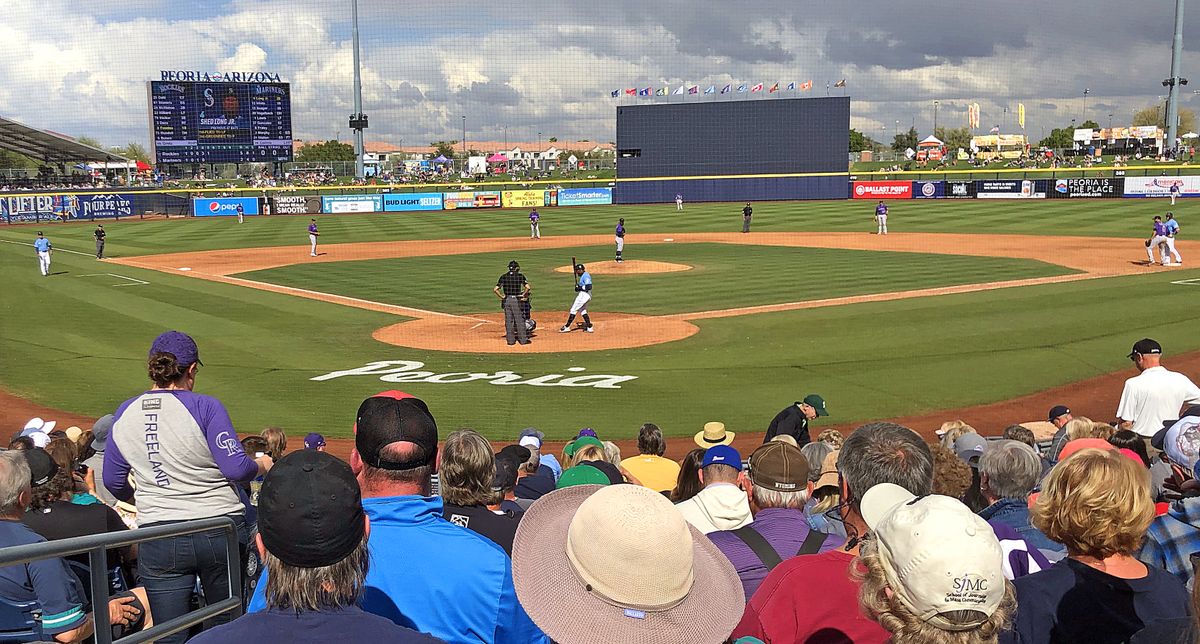 PHOENIX — When you visit spring training, you leave the cares of the world behind.
Elsewhere, coronavirus fears might be crippling the country, but here in the Cactus League, it's all baseball dreams, sunshine and happy hours.
That's a far cry from the scary reality in Seattle, where the COVID-19 outbreak has cancelled the Mariners' opening series. In Peoria, the M's spring training home near Phoenix, it's a much different story.
As we pulled in, we opened our RV doors to a full-fledged tailgate scene, and then spent a couple of joyous hours watching the Mariners play the Colorado Rockies. Off the field, the atmosphere was idyllic, as kids played catch on the outfield lawn and the temperature hit a perfect 72 degrees.
We hung out for three days, enjoying this baseball fantasy world. John checked out the San Diego Padres team workouts one day, watching star first-baseman Eric Hosmer belt batting-practice pitches, and then we visited Tempe's Diablo Stadium to see the Los Angeles Angels play the Mariners.
While the mighty Angels are a powerful team that will undoubtedly finish ahead of the Mariners in the American League West, our kids outperform them in fan experience. The players are much more accessible and the spring training vibe is much nicer in Peoria. Just saying!
In Tempe, the stadium has an impersonal feel, and we saw only a few players stop to sign autographs. Inside Peoria Sports Complex, fans have "Autograph Alley" where players stop by regularly to sign. We saw the Mariners starting lineup, including Kyle Seager, Evan White, Carlos Gonzalez, Tom Murphy and Daniel Vogelbach, spending quality time there.
So much for the baseball experience. As far as Phoenix goes, we had a few hits and one very big strikeout.
Hits: We visited Tee Pee Mexican Food, one of Phoenix's oldest restaurants, and a place John ate as a child growing up in Scottsdale. The food was just OK, but it was the most fun to check out the restaurant's wall of fame, which includes former president George W. Bush and singer Glen Campbell.
We also had an excellent camping experience at Usery Mountain Regional Park, run by Maricopa County northeast of Phoenix. The park was amazingly wild considering how close it is to the metro area, with miles of good hiking trails winding through the desert. You can read about our memorable campfire meal on the blog.
Strikeouts: Nobody loves Phoenix's dysfunctional traffic. And the RV park we stayed at in North Phoenix, Desert's Edge, is a gritty urban facility with razor wire fencing that spoke to the crime in the area.
We were the victims of crime ourselves: In a nearby shopping mall, John's beloved Kona Cinder Cone bicycle was stolen, the cable lock cut in full daylight.
Talk about a bummer. After the fantasy world of spring training baseball, being a crime victim was an unwelcome dose of reality.
RendezVan coming to Mt. Bachelor
If you're a spring skiing fan, Mt. Bachelor in central Oregon is THE place with a season that goes on through May. RV-lovers can get in on the action at RendezVan, a five-day event at the resort April 22-26.
Mt. Bachelor's parking lot will be filled with RVs for the dog-friendly, microbrew-loving crowd. Music and special events are scheduled daily.
Unfortunately, camping passes are sold out for this year, but hardy boondockers might find dispersed camping in surrounding Deschutes National Forest. And Bend is about 30 minutes away, where you'll find an excellent RV resort that we can highly recommend: The Camp.
---
---