Fri., May 8, 2020
Remembering the roads not yet taken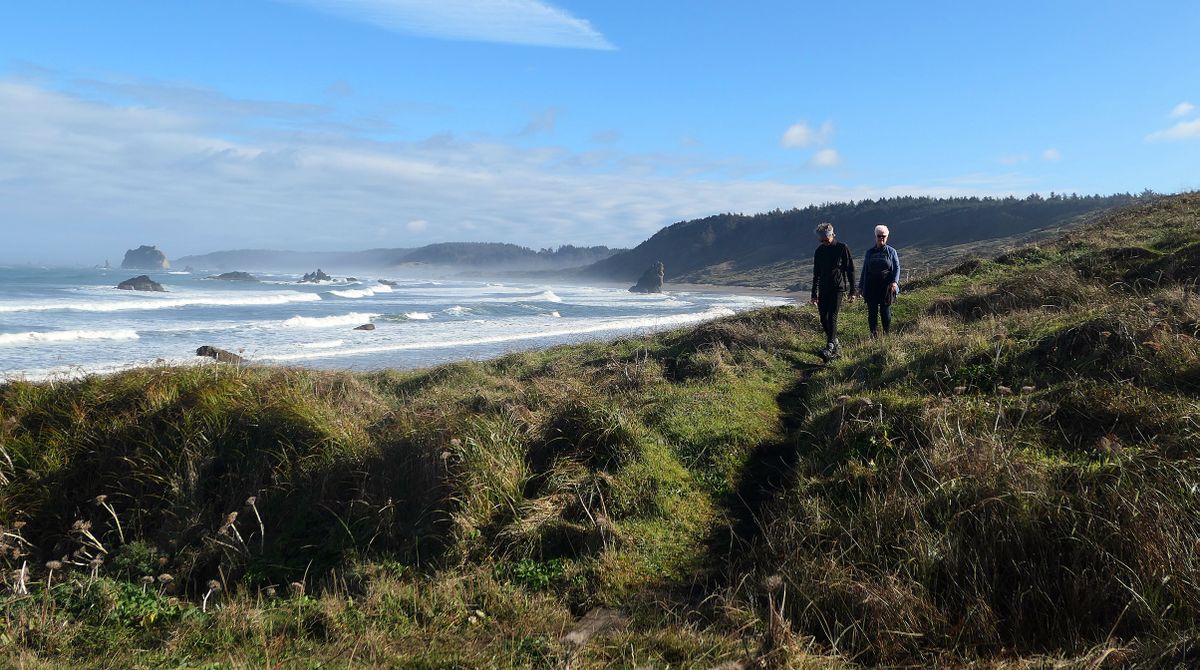 Expansive views of the Oregon Coastline are available at Cape Blanco State Park. (John Nelson)
The roads not taken are sometimes the roads we long to travel the most.
You can relate, right? As we all grapple with the coronavirus pandemic, we all have roads we wish we could take -- to see family, friends or to simply experience freedom and beauty.
The good news is that travel restrictions are slowly ending, and by June, RVers will be back in business... if all goes well. Over the next few weeks, we'll continue to write about trip ideas and the advantages of RV travel during this difficult time.
But what about those roads we couldn't take?
Originally, we had an amazing trip planned for our return to the Pacific Northwest, one we abandoned when the virus exploded in the United States in March. We hunkered down for nearly two months in Arizona while we figured out what to do. We ended up taking an abbreviated bee-line route home staying at KOAs -- kudos to the RV campground company for offering refuge to travelers at this time.
But as we hang out in our locked-down state, it's hard not to long for the trip we wanted to take, a "greatest hits" tour north along the West Coast to revisit some of our favorite spots and see a few things we've missed in other visits.
Here's a quick list of what we had planned.
Central California Coast: From Morro Bay to Monterey Bay, we wanted to camp our way through Big Sur, ending up at New Brighton State Park near Santa Cruz. Bay Area and wine country: Half Moon Bay State Park, just southwest of San Francisco, was again on our list of places to stay for an extended period. We also were going to explore San Francisco from Marin RV Park in San Rafael, and then cap off our visit with a stay in the Napa Valley.
Northern California Coast: During our trip south last fall, we discovered the fantastic MacKerricher State Park in Fort Bragg, and Gold Bluffs Beach Campground in Prairie Creek Redwoods State Park near Eureka. Both locations were calling us back. Southern Oregon Coast: The excellent Harris Beach State Park near Brookings and Cape Blanco State Park near Port Orford were highlights that demanded more attention. And we heartily enjoyed being in Bandon, a funky tourist town with a lot of charm.
Central and Northern Oregon Coast: Last fall, we spent more than a week hanging out at Beachside State Recreation Site near Waldport and fell in love. It might be our favorite spot on the Oregon Coast, with several campsites offering ocean views, and we wanted to check it out once again. To the north, Manzanita impressed us during a brief stop, so we wanted to explore an extended stay there before heading home.
Someday we'll get back. These roads not taken are still there, waiting for future travels.
RV counterpoint
We have a bone to pick with this recent story in the New York Times: "Sheltering in Place in an R.V. Is Not as Fun as It Sounds".
For starters, nobody is having 'fun" right now. RV life has its challenges during a pandemic, but in many ways it offers advantages to sheltering in place in a home, as we found out. We were able to hike on beautiful national forest trails -- they were open in Arizona -- and bike through the region's red rock canyons while staying safe in the very nice Rancho Sedona RV Park. Check out Leslie's response posted on our blog at spokesman.com/blogs/goingmobile.
More photos online
As we think back on our canceled "greatest hits" tour of the West Coast, check out our photos from the last year on the Spokesman.com blog. And follow us on Instagram for more photos and videos at Instagram.com/ourgrandtou
---
---