Enjoy our picks for favorite indoor, outdoor RV essentials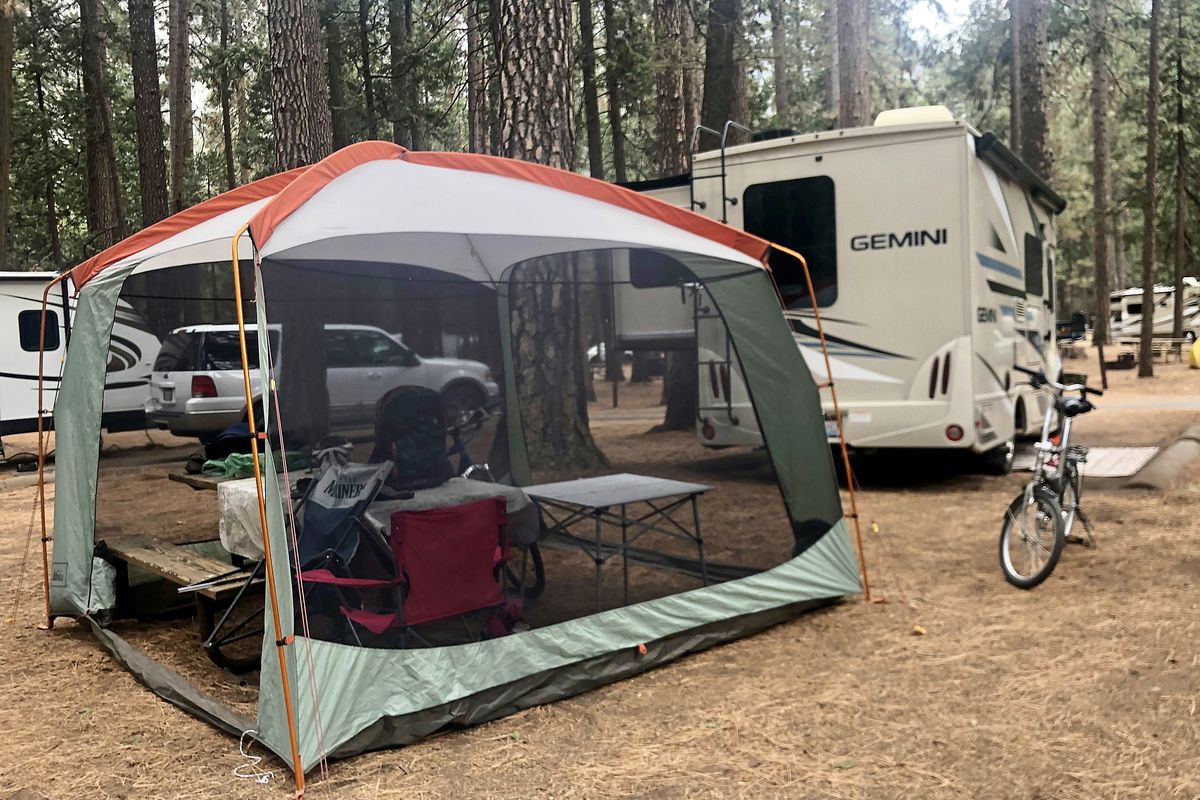 Buying an RV is a big leap, but getting it dialed in is a process of baby steps.
In the two years we've been living the tiny-home-on-wheels dream, there have been many additions that have helped make our journey a lot more comfortable.
We can't imagine where we'd be without these most valuable purchases. And if you're looking for a holiday gift for the RVer in your life, this list of favorites might give you some ideas.
Outdoor essentials
Our mission is to spend as much time as possible enjoying the outdoors, even when the weather doesn't cooperate.
A shelter offers protection from the elements and adds a screened buffer zone for privacy.
The Coleman camp table serves as a sweet spot to plug in the George Foreman grill or work remotely on the laptop. It fits neatly in the storage compartment right next to the…
A weather-proof carpet cut down on the amount of dirt tracked inside, along with a sturdy welcome mat. It also adds to the outdoor living room feel.
Comfortable outdoors chairs are essential, and we've already replaced our original folding seats. John is especially happy with the hand-me-down director's chair he picked up from Leslie's sister, Laurel. Leslie's hanging onto the cheapie she picked up while dreaming of an upgrade to one of those zero-gravity recliners. (Hint, hint, Santa!)
Holiday lights are useful beyond the Christmas season. We use them during the dark days of fall and winter, lighting a path from the motorhome to the campfire.
It's not pretty, but the sewer hose support system has made a big difference in emptying the tanks.
Leveling blocks are another necessity. We learned early that you shouldn't skimp on this tool: After busting up our first set, we went with the Camco brand and they've come through in the battle to find balance.
Indoor essentials
Organizational and practical helpers lead our list of indoor favorites.
An assortment of bins keep the kitchen pantry organized.
An unobtrusive laundry line permanently hangs above the vehicle cab and is used to hang kitchen towels to dry.
Clothes pins are used to hold a privacy screen in place between cab and cabin.
The electric tea kettle nestled on top of an old milk crate is called on multiple times during the day and night to keep us fueled with tea and coffee.
A space heater helps keep the front room warm on cold winter nights. We use a small heater from Soleil, which has proven to be hard-working and reliable.
Unbreakable dishes and glasses are a necessity, we quickly learned after struggling through our initial months of broken dishes. We made the shift to melamine dishes, and love the colorful options from Crate and Barrel.
When it comes to cookware, the trusty cast iron skillet and a medium saucepan are all Leslie needs to crank out memorable meals.
A small hand broom and dustpan set helps keep us neat and tidy. After quickly wearing out our first broom, we've gone with a more expensive and sturdier model.
In the bedroom, we love two creature comforts: a tiny fragrance diffuser and a white noise machine just in case the neighbors get rowdy.
Wish list
Though John is quite the campfire maker, we're adding a portable propane-powered fire that turns on with the flick of a switch for those times when we want a quick burst of heat. After doing some informal checking around various campgrounds this past year, the Outland Fire Bowl has risen to the top of the heap, putting out a toasty 58,000 BTUs of heat.
---
---