Small quarters means more attention to kitchen essentials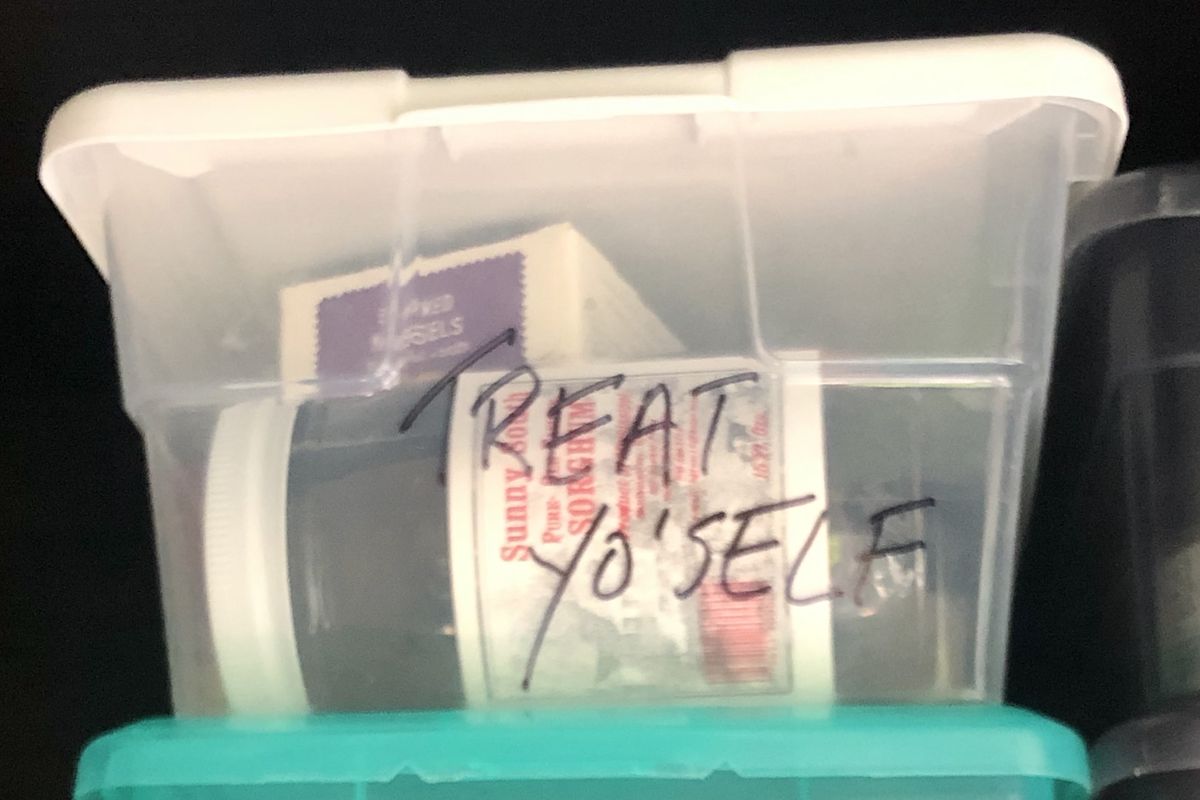 We've been gearing up for our fall RV trip and for the resident cook that means getting the kitchen dialed in.
Take it away, Chef Leslie!
One of the biggest shocks about downsizing from a full kitchen to a tiny setup was the large number of tools I had to leave on the shelf back at home. I thought I couldn't live without them.
Guess what? I've adapted. Less isn't exactly more, but it's just fine to streamline what's in the single cupboard and the lone drawer where the cooking essentials live. These are the tools I can't do without in our RV.
Cast iron skillet: I've worn out plenty of non-stick pots and pans over the years, both cheap and spendy, but when it comes to durability, nothing tops my trusty cast iron skillet. This MVP sears salmon fillets and braises chicken in wine. It's key in creating fluffy pancakes and eggs fried sunny-side up, crispy around the edges. I've even baked cakes in it. Our special bond goes back more than 25 years when I found it at a second-hand shop on the Oregon Coast. Ah, sweet memories.
Staying sharp: There's a butcher block filled with knives back in my full kitchen, but the go-to slice-and-dicer is an eight-inch chef's knife, followed by a paring knife. Those are no good, though, unless they're sharp. Enter the amazing Wüsthof hand-held sharpener. It's a bit bulky, so it's tucked under the couch until it's needed. I take a couple of passes with a dull knife through this affordable gizmo and I'm back in action.
More than a peeler: Speaking of sharp, my trusty vegetable peeler has been drafted into duty far beyond scraping carrots clean. I put it to good use making zoodles, ribbons of veggies like summer squash standing in for noodles. When it shaves Parmesan over a Caesar salad and turns citrus peels into flavor-packed zest, that peeler is almost like a hand-held food processor.
Magnifique coffee press: Someone in our traveling twosome cannot function without the morning caffeine kickstarter, so we invested in a top-notch coffee maker. The Espro P7 has two built-in microfilters to create a smooth cuppa. The double-sided stainless carafe helps keep it hot until that certain somebody's eyes are wide open and his adventuring spirit wonders: "What trail do you want to explore today?"
Electric kettle: Ever since a long-ago trip to England, we've been fans of heating water in a kettle that's plugged in. Don't forget to occasionally descale the kettle with a vinegar solution, especially after staying in a place with hard water.
It's the champ: Absolutely couldn't be happier than when cooking outdoors on the excellent George Foreman Smokeless Grill. Yes, I love the flavor imparted by charcoal and wood chips, but this grill offers the ability to control the heat. I've made neighbors jealous frying bacon, burgers and chops, the savory fragrance perfuming the air. It also puts a pretty char on veggies and has even been pressed into pizza-making. How about a standing ovation for this champ?
A bunch of bins: Getting organized has never been my strong suit, which means my prep space is quite often a hot mess. That just doesn't cut it when you're working in a teeny kitchen. Thank goodness for the Container Store and the collection of clear plastic bins that allow me easy access to ingredients, sorted by two parts deep thought, one part whimsy. Herbs and spices in a shoebox sized bin? Check! Pasta and rice in a bin marked "carbs"? You bet. All the s'mores stuff? Grab that bin marked Treat Yo'Self. I like to think organization guru Marie Kondo would approve.
Miscellaneous helpers: Tongs, a top-notch corkscrew, kitchen shears and a short stack of tea towels make life in the RV a little easier.
What's on your kitchen essentials list? Please let me know at goingmobile@spokesman.com and we'll share the seasoned advice on our blog.
---
---