Fri., April 2, 2021
Small Alto travel trailers making big impressions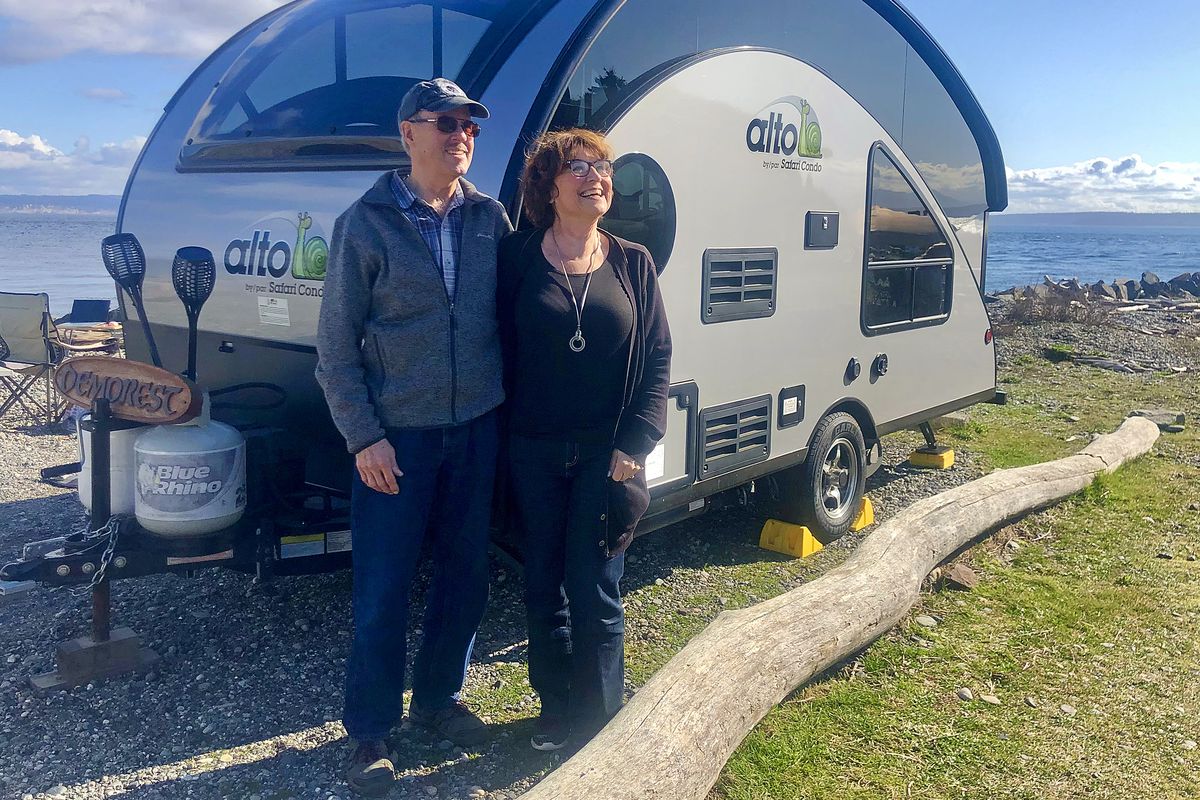 Barb and Denny Demorest of Bellingham stand beside their Alto by Safari Condo, a small travel trailer at Fort Casey State Park on Whidbey Island. (Leslie Kelly)
It was love at first sight. Or maybe it was more of a serious crush when John first spotted the sleek Alto travel trailer parked at a sweet beachfront site at Fort Casey State Park.
"You've got to go and take a look at it. It's really cool," he gushed.
In a campground filled with big rigs, the Alto definitely stood out. A David among Goliaths.
The teardrop travel trailer with a popup roof is made by a Canadian company called Safari Condo. And yes, the tiny Alto has indeed been making a big impression since it arrived on the market in 2014, engineered by a retired pilot who designed it to be ultra-lightweight.
"We wanted to make a small, extremely light and very aerodynamic travel trailer, while maintaining a comfortable interior height," Daniel Nadeau, CEO of Safari Condo said in an interview with New Atlas. "The Alto is genuinely aircraft-inspired. Being a pilot for over 35 years and having built my own aluminum aircraft, this type of construction was well known to me. The goal with the Alto was to get a travel trailer that was truly easy to tow."
Its construction at Safari Condo's home base of Quebec puts a serious premium on keeping things tight. There's little or no waste. Much of the aluminum that's cut out for windows and doors is repurposed in various ways. For instance, some scraps are incorporated into the supports for the propane tanks that travel up front.
That utilitarian approach doesn't make for a no-frills aesthetic though. Far from it.
Barb and Denny Demorest, the owners of the Alto we spotted at Fort Casey, generously offered to give us a tour of their tiny home on wheels. And, wow!
Walking in the door, the first impression was bright, as light flooded in through the dramatic window over the dining table and through both sides of the easy-to-open pop top roof.
Barb was rightly house-proud as she demonstrated some of Alto's cool features, pulling open cupboards with plenty of shelf space and drawing down the built-in shades on that large front window.
The twin beds in the back double as comfy couches and can be turned into a king, no problem. "We keep it like this because it's easier to get in and out of bed," Barb explained.
There's a dark curtain that can be pulled to divide the living room/kitchen and the sleeping quarters, offering some privacy.
The potential deal breaker for Leslie? The toilet in the closet. Maybe you've heard the term water closet. Well, this is it, literally. Except, there's no way to shut the door once you're seated on the throne. Hey, honey, can you please turn up the music for a minute?
Also, the shower's outside. Hmmm. Well, we do have the goal to spend more time outdoors, but at least one of us thinks this might be too much "roughing it."
Still, we're resilient. We can adapt. We could just park closer to the restrooms at the campgrounds.
We routinely talk about our next steps. Do we want to trade our motorhome in for a trailer? The answer is often a resounding, heck yeah. Having a tow vehicle to use when parked is a luxury we often dream about.
The hiccup in this scenario is that the Alto is so popular, there's currently a year-plus waiting list. So, the possibility of shifting gears and buying one of those beauties is still a ways down the road.
After taking the tour and talking with the friendly couple from Bellingham, we strolled back to our site. Gemini looked positively gigantic in comparison, even at just 23 feet. Big and bulky yet ultimately comfortable. It feels like an old friend, even if our eyes occasionally wander.
To learn more about the Alto, check out the Safari Condo website, which is in French and English.
---
---