Fri., Aug. 6, 2021
Mt. St. Helens still has plenty of surprises 41 years after eruption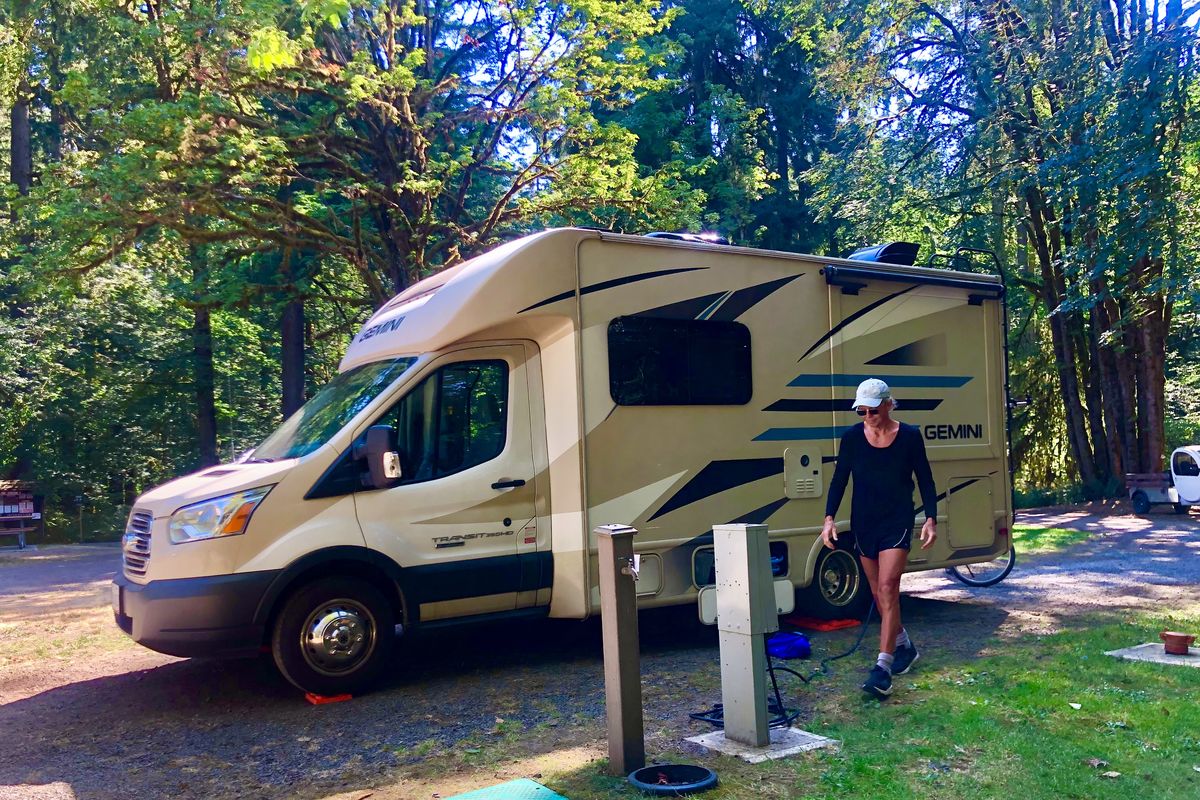 Seaquest State Park is an excellent place to base your stay if you visit Mount St. Helens. (Leslie Kelly)
Mount St. Helens was full of surprises when we visited in July. You'd expect nothing less from a mountain that blew its top 41 years ago, right?
Surprise No. 1: The drive up to Johnston Ridge, where an observatory and viewing area are located, is a dream. If you look at it on a map, State Route 504 looks like a curvy mess, and we didn't know what to expect, but the route offered smooth sailing for our 2017 Thor Gemini.
Surprise No. 2: The mountain itself (what's left of it, anyway) was simply awesome. And we mean that in the literal sense of the word – you can't gaze at the 8,366-foot peak and its still-steaming crater and not feel a sense of awe. Few places on the planet have the kind of power to make your jaw drop the way Mount St. Helens does.
Surprise No. 3: Seaquest State Park, located 46 miles from Johnston Ridge, was fantastic. We booked our stay at this fine state park several weeks ago, picking it out because of its proximity to the mighty mountain. We really didn't know what the park offered and found a beautiful forested facility with nice, private campsites and miles of trails to explore.
This was our first visit to Mount St. Helens National Volcanic Monument in our RV. Mount Rainier National Park has gotten most of our attention in the past, so it was high time to make the trip south to see Rainier's volcanic cousin.
We pulled into Seaquest State Park, near the town of Castle Rock, and immediately felt at home. The friendly staff and hard-working camp host (you go, Donna!) run an excellent facility.
We enjoyed Seaquest's many trails, but we particularly want to shout out the boardwalk loop trail across Highway 504 at Silver Lake near Mount St. Helens Visitor Center. The center is currently closed for renovation, but this wonderful, fully accessible trail is open and showcases lovely views of the bird-friendly lake and Mount St. Helens in the distance.
And speaking of trails, the Boundary Trail at Johnston Ridge Observatory is spectacular, taking in views of the crater across the Toutle River Valley. We pulled out the binoculars to get a closer look at the mountain and Leslie caught a large landslide on the south wall of the crater – another sign that even now, St. Helens is constantly changing.
Temps were in the 90s during our visit to Johnston Ridge, so after our picnic hike, we headed down to Coldwater Lake Recreation Area a few miles away. The lake was formed after the 1980 St. Helens eruption, but we were more interested in a plunge into its aforementioned cold water.
After a short hike to an empty beach, Leslie took a satisfying jump into the deep blue water. Ooh, ahh – another sweet surprise served up by Mount St. Helens.
Back at camp, we enjoyed a summer salad under the pines, played cribbage until dusk and listened to the kiddos laughing and playing at a nearby site. No surprises there, kids of all ages love warm summer nights.
If you go: We highly recommend Seaquest State Park. We loved the partial hook-up sites (water, electric), which are very private, surrounded by big, swaying trees. Along Highway 504 closer to the mountain, you'll also find a number of commercial RV parks, but we checked them out and the spaces were uncomfortably tight.
---
---