Fri., Aug. 13, 2021
Anytime is the right time to visit Crystal Mountain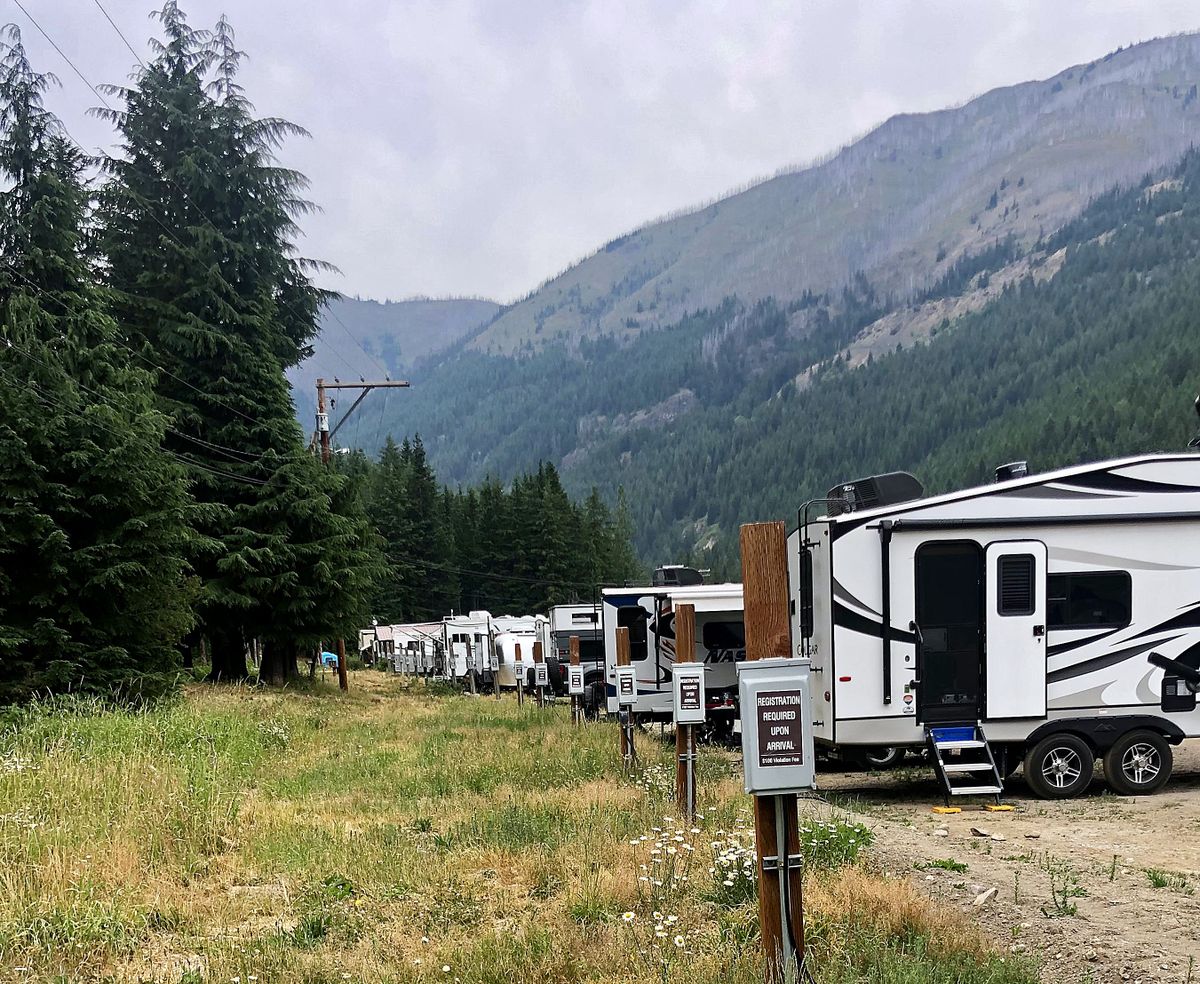 RVs are parked on the edge of the B Lot at Crystal Mountain, where electricity is available. (Leslie Kelly)
When we pulled into the B Lot at Crystal Mountain home of the resort's RV camping sites – there was a moment of "hmmmm, what's this?" The setup wasn't exactly what we were expecting.
Many of the sites are tight, the restrooms are Honey Buckets. Basically what you get is a plug-in with no water or sewer hookup.
But then we stepped outside, looking skyward. Yes, those glorious mountains are exactly why you park your rig at Crystal.
Oh, and listen to that sweet sound: It's Silver Creek burbling, with all sorts of birds chirping nearby.
By the time we got everything dialed in at the site, our initial skepticism was forgotten.
While sitting outside, we chatted with our neighbors about the weather and later admired the slick setup skills of the couple with the massive Cougar Fifth-Wheel who pulled in next to us.
Kids flew past on bikes and riders trotted by on horseback. Trail rides are one of the many activities offered. We streamed WWOZ-FM, our favorite radio station from New Orleans, on the excellent WiFi. It all added to the experience.
RV hookups are pretty rare at ski resorts. Some allow overnight parking for those willing and able to dry camp. A few like Whistler-Blackcomb have RV parks nearby. John was impressed by the deluxe digs Angel Fire in New Mexico when he visited a couple of years ago.
Crystal's RV sites are also available during ski season, but let's stay in the moment.
We had a reservation for dinner at the Summit House, the highest-elevation dining room in Washington state at 6,872 feet. That venue is accessible via the breathtaking thrill ride known as the Mt. Rainier Gondola.
When we boarded for the ride up, that's when the nostalgia kicked into high gear for John, who's done a lot of skiing on this majestic mountain. He even recalled the very first time he skied there back in junior high school when it was so cold, his brother had an icicle hanging off his nose.
Fortunately, it was a warm summer evening and we explored a bit of the Green Valley Trail before heading into the restaurant. John pointed out a few steep chutes he'd skied back in the day, while Leslie tried to tamp down her fear of heights. John reassured her: "You've skied down runs this steep before." Yeah, she said – that was a long time ago.
Back up the hill near the gondola, Leslie found her happy place: an open lounge chair. Ahhhh.
Usually that chair takes in a killer view of Mount Rainier, but the clouds mixed with smoke cloaked the towering beauty.
After a lovely meal and a quick trip to the gift shop – Leslie is crazy about her new Rainier T-shirt – we headed back down.
On the return ride in the gondola, they discussed the possibility of checking out the brand new glamping option. Crystal Sky Camp is located at 6,000 "in the shadow of Mount Rainer, nestled in Campbell Basin at the foot of Crystal's legendary King, Queen and Throne peaks. It combines the picturesque and expansive beauty of the Cascades, with Under Canvas' expertise and dedication to connecting guests with the outdoors."
Maybe next summer... when we can round up some friends to share the experience. On further investigation, we learned this option is set up for groups.
Still, we were perfectly content to return to the cozy confines of our tiny home on wheels. That night, with a gentle rain falling, we slept well.
---
---