Wed., Aug. 18, 2021
RV cooking: Easy, one-bowl pasta dish is a fave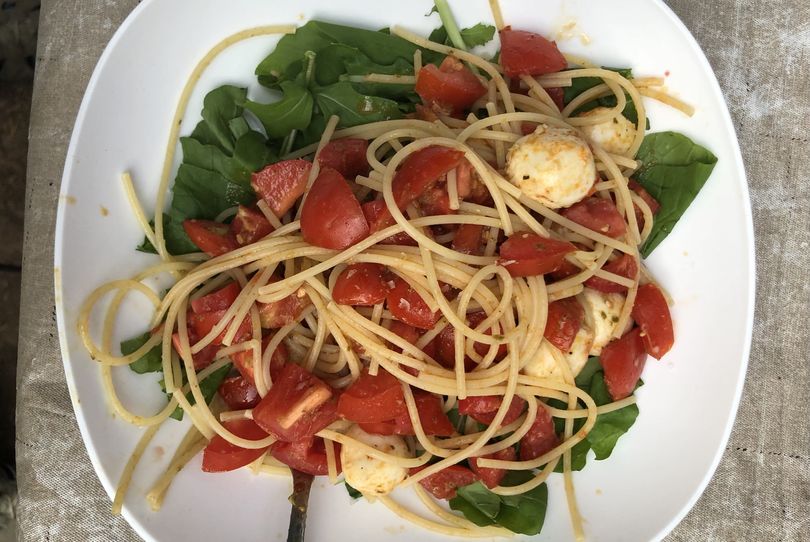 Our lifestyle changed dramatically when we decided to go full speed ahead on the RV travel front back in 2018, but one thing remained the same: dinner.
While we might be busy during the daylight hours -- driving, hiking, reading, snoozing in the hammock -- when dinner rolls around, it's a nightly celebration. We're grateful for the beautiful food we find along the way. Since downsizing to a teeny cooking space, I've worked on perfecting some meals that are easy to make, yet still taste pretty fancy.
The summer caprese pasta is one of those, a one-bowl meal that's become a favorite because it's so easy to make. There's really not even a "recipe", just a list of ingredients that you dump over the pasta of your choice in a pan and serve over fresh greens. Meal made with a minimum mess!
Tiny mozzarella balls that are the size of cherry tomatoes -- called Ciliegini -- are pretty key in this preparation, but you could chop some fresh mozzarella in a pinch. For this dish, I usually use a small container of those and mess of chopped tomatoes, add some pesto and top with fresh herbs if you've got them, dried if it's easier. Salt and pepper, to taste. Done and done and dinner is served.
This was the very first meal I cooked in my tiny kitchen on wheels, at the campground in beautiful Joseph, Ore., so it holds an extra special place in my Going Mobile memory.
---
---