Fri., Aug. 27, 2021
RV adventures can include opportunities for kitchen creativity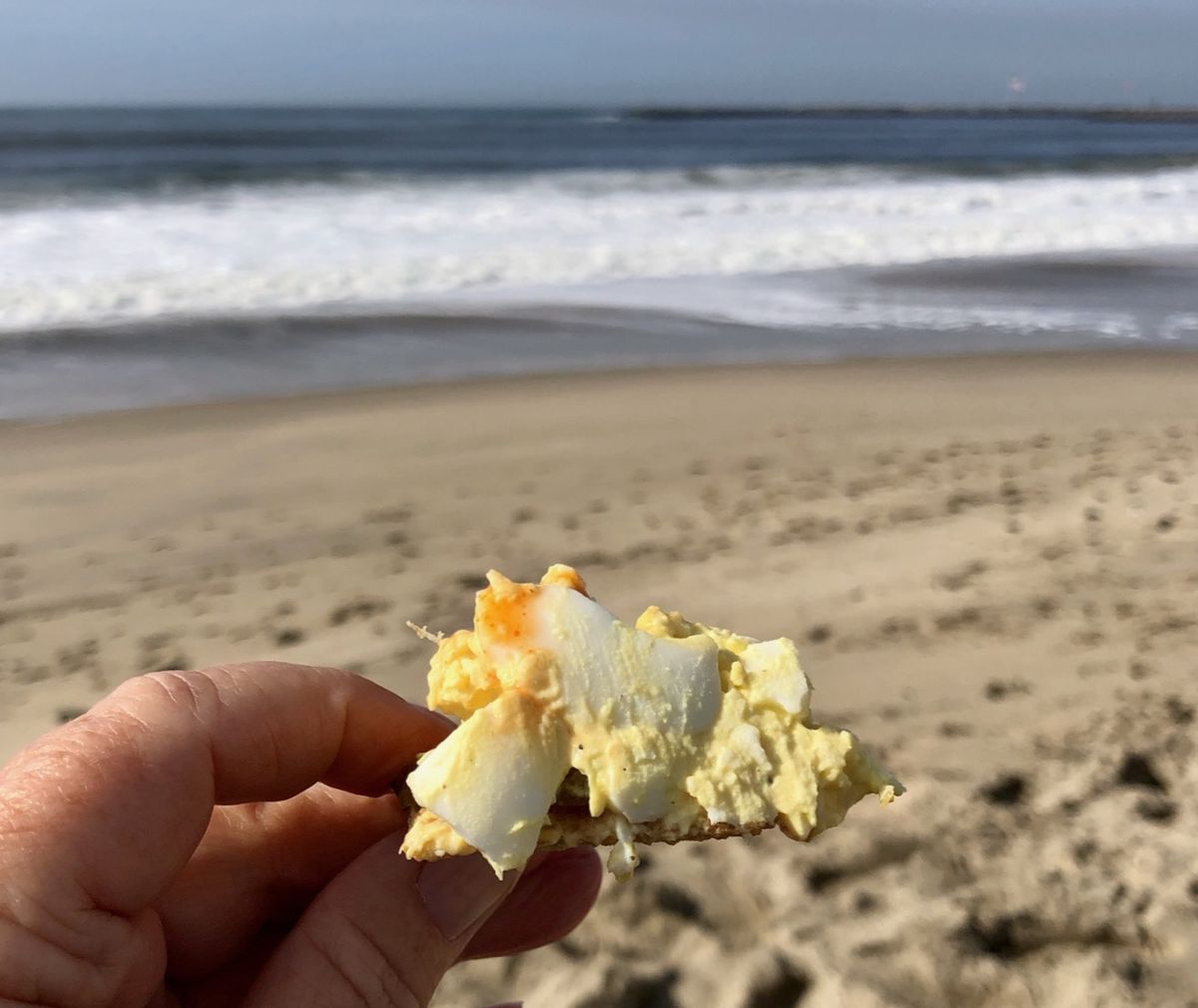 Egg salad isn't really a salad, but it does deliver protein-packed bites when you're traveling (Leslie Kelly)
Getting from Point A to the final destination isn't just a matter of filling the tank and hitting the highway. You have to get fueled up on road food. That's how we roll anyway.
When we first started our RV adventure, we had this dreamy notion of what a long haul might look like: There'd be lots of scenic stops along the way to stop and smell the wildflowers. We'd stretch our limbs and take photos and cook something yummy in the motorhome before settling down for a leisurely lunch.
Wrong! Especially when Leadfoot Nelson is behind the wheel. He's more about making it to Point B in record time. Only after we were parked and set up after a day of negotiating strange and wonderful backroads or traffic-choked interstates can we really relax.
So let's cue snack strategist, Leslie. Her role as co-pilot is essential, coming up with a slew of sweet and savory bites that are neat to eat in the front seat. Here are a few of our faves:
Why is it called egg salad anyway? There's not a shred of lettuce anywhere near the silky mixture of chopped eggs and mayo, seasoned in all sorts of ways. Sure, sometimes chopped veggies or pickles are added, but is it really a "salad"? Who cares what it's called? It's delicious and protein-packed. Leslie likes to take a detour from using mustard -- the traditional mayo partner -- and hit the mixture with a generous squirt of Sriracha. We've tried just about every cracker on the shelf and when it comes to one sturdy enough to dip and pass to the driver, it's all about the good old Triscuit.
Peanut butter and… Ain't no shame in turning to a childhood staple for some sustenance. It's a satisfying snack that's easily partnered, though it's tough to beat sliced apples for that classic salty-sweet combo we crave. We've recently discovered the absolute joy delivered by the pricey-but-worth-it Justin's lineup of nut butters. The Honey Almond is our new obsession, so tasty it's tempting to spoon it straight out of the jar. But dipping carrot sticks in that slightly sweet stuff is flat-out mmmm-worthy.
Wrap it up: Sandwiches can be messy, so we go the wrap route and stuff all sorts of fillings into a flour tortilla. For those early morning starts, scrambled eggs and smoked salmon cream cheese helps ease us into the day. Oh, and don't forget the coffee-filled stainless steel tumbler. We love the beauty our friends at Visit Ogden gifted us a couple of years ago when we flew from LAX to SLC for an epic, pre-pandemic ski trip. Pro tip on the coffee-making front: While we're heating water for the French press, we make extra to fill insulated bottles so we can brew tea later in the day.
Sometimes, you just want something salty: All right, we admit it. Not all of our munchies fall into that "healthy" category. But we try to keep our chips habit in check. That's hard to do when digging into a bag of Dot's Pretzels, which we discovered at a truck stop in Arizona a few years ago. Now, Dot's are everywhere. Be careful. They're addictive. Yes, even if you've turned up your nose at pretzels before. These crunchy bites have a buttery quality. They're tossed with seasonings that might remind you of the first time you tried ranch dressing. Oh, my. Yes we'll have some more, please.
What's your road food snacking strat? Let us know at goingmobile@spokesman.com and we'll give you a shout-out on the Going Mobile blog.
---
---