Fri., Dec. 3, 2021
Snowbirds flock to the warm weather in the Southwest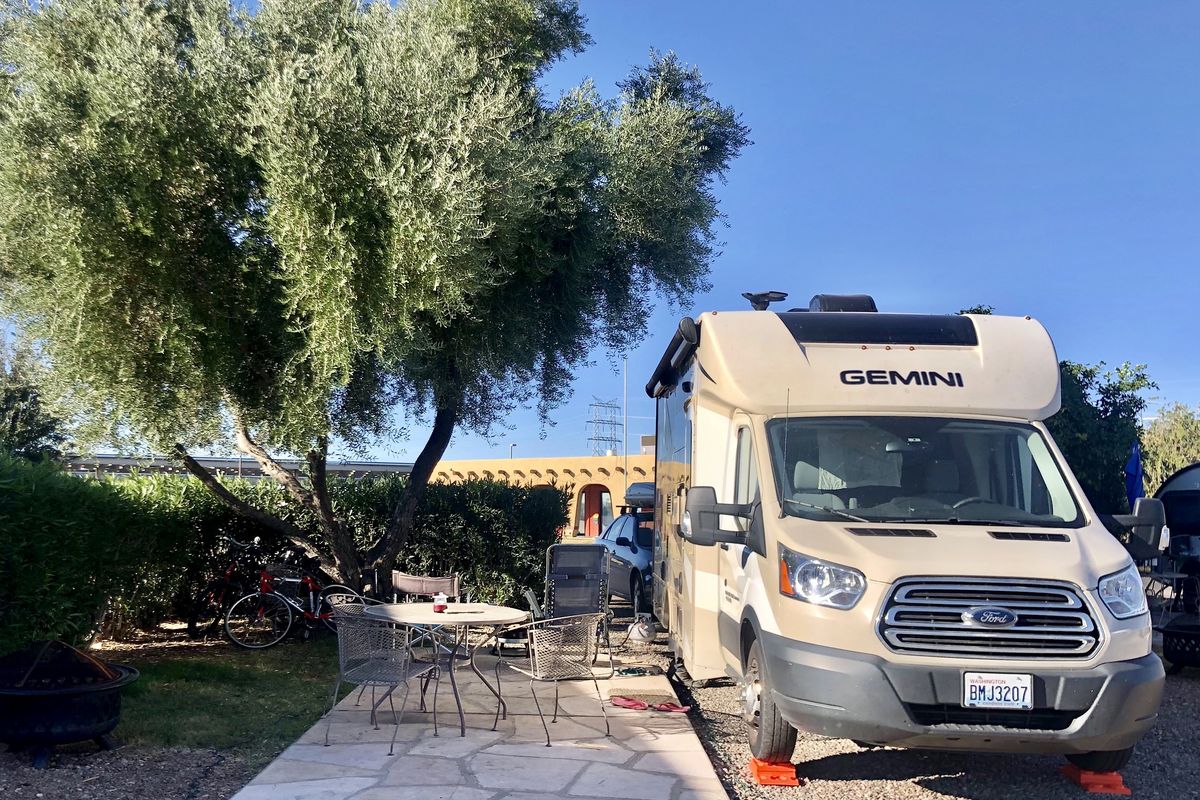 Some of the sites at the Lazydaze KOA in Tucson are surrounded by hedges. (Leslie Kelly)
You know you're deep in Snowbird Country when your neighbors are wearing flip flops and shorts, their patios personalized with yard art that reads: "Home is Where You Park It."
For us, that welcome warm break from the increasingly chilly weather we were experiencing in New Mexico came at the Tucson/Lazydaze KOA in Tucson. While we've flirted with the Snowbird lifestyle, this was the first full-strength immersion on this chapter of Our Grand Tour.
And we loved it.
What's not to adore about sitting outside for dinner, admiring stunning sunsets and jumping in the pool on a November day? We could definitely get used to this.
While we've parked at a number of KOA campgrounds around the West, this spot is a lock on our "best of" list. Located on the south end of the city -- near paved biking trails that offer easy access to the heart of Tucson -- Lazydaze really feels like a community.
There's a small convenience store and various public spaces, including a game room and a free library. An on-site restaurant serves Texas-style barbecue and most Saturdays, live music fills the air in the courtyard. A long list of free or low-cost activities is posted near the entrance to the office. Additional amenities include a putting course, a large workout room and two pools. Plus, all the free citrus you can eat is available for the picking. We got our fill of grapefruit, just missing out on the upcoming orange season.
But what made this village seem so homey were the residents: kids gleefully pedaling bikes, couples walking dogs, girlfriends gabbing in the hot tub. (No, we didn't eavesdrop!)
This property falls under the "resort" classification in the KOA umbrella but that doesn't mean it's super fancy. Among the many options for staying for a night or a month are tent sites and comfy cabins. High-end pull-through sites with patios are in the same neighborhood as no-frills back-ins.
We booked something in-between and we were pleasantly surprised by the complete feeling of privacy the verdant shrubs offered. That was especially appreciated on temperate evenings when we sat out by the Firebowl, admiring the starry sky.
From this transitory home base, we enjoyed exploring Tucson, both together and on solo excursions. Leslie was thrilled to meet up with a friend who recently relocated to the region from the Pacific Northwest and doesn't miss those gray skies one little bit. They feasted at a fantastic plant-based, Latin-inspired restaurant called Tumerico. Afterwards, Leslie did some retailing around Old Town before heading back to the park.
Meanwhile, John got in some bike rides and hikes and was rewarded for all those feats of strength with a massive Porterhouse dinner cooked over a mesquite fire, take-out from the Old School Silver Saddle Steakhouse. OK, we split that perfectly cooked T-bone. And guess what? There were still leftovers.
Our three-night stay flew by quickly and kicked off the now-familiar conversation: When are we coming back here? And how long are we going to stay next time?
The answer is probably next fall and, yes, we're going to stay longer. Yet we're probably not all in for a true Snowbird Season. We still enjoy being on the move, changing locations on the regular. By the time you read this, these snowbirds will have flown all the way to the Central Coast of California with their rolling roof.
Pismo picks
While we're returning to some of our favorite spots on the Southern California coast, there's one wildcard. In 2019, we stayed one night at Pismo Beach, but haven't really explored that coastal community. If you have any advice, we'd love to hear from you. Please send suggestions to goingmobile@spokesman.com.
---
---