Fri., Dec. 17, 2021
West Coast is best for winter RV adventures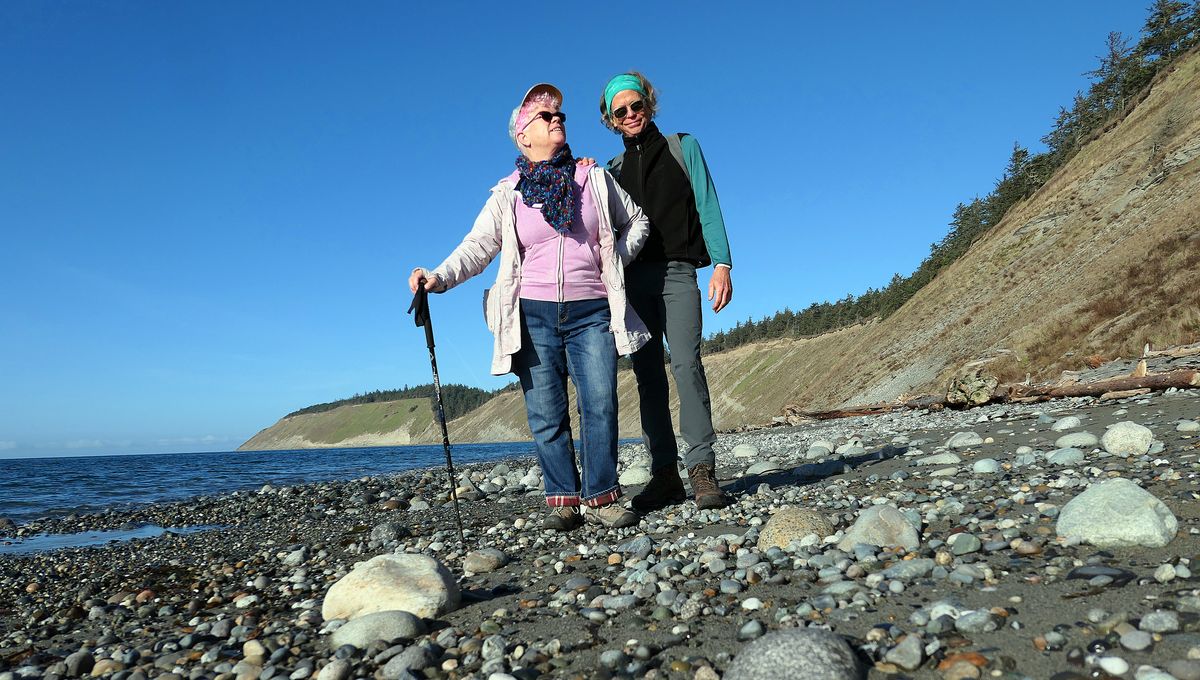 The Ebey Bluff Trail returns along a scenic section of the Salish Sea near Fort Casey Historical State Park. (John Nelson)
When we arrived in Morro Bay, Calif., nearly three months after leaving the Pacific Northwest, it felt a little like coming home.
Don't get us wrong -- we loved every minute of our journey through Montana, Wyoming, Utah, Colorado, Arizona, and New Mexico.
But getting back to the moisture-rich West Coast reminded us of the PNW and its emerald green lushness. And that stirred memories of all the wonderful coastal adventures available for RVers along the Salish Sea and rugged coastline of Washington and Oregon.
So don't put away the RV yet. Everyone ought to try comfy camping along the Pacific during the winter months.
What makes it special?
If you're fortunate, you'll have good weather. And if you're really fortunate, the sun will bathe you in golden low-angle light that turns the coastline into a priceless painting.
This being California, we are rewarded with regular shots of Vitamin D. We've had a lot of days in the 60s and 70s, the sun hanging tantalizingly over the churning sea before finally setting in the late afternoons. And those sunsets on the beach? Stunning.
Where can you get a slice of coastal magic within striking distance from the Inland Northwest? Consider these favorites:
Salish Sea: During the winter, it's hard to beat Fort Casey Historical State Park on Whidbey Island. Water and electrical hookups are available, and you can explore the grounds of this former military installation, built to guard the waters of Puget Sound from invasion in the early 1900s. Nearby, hang out in Coupeville and check out the Ebey Bluff Trail, one of the best coastal hikes in Washington. Drive time from Spokane: 5.5 hours.
Strait of Juan de Fuca: You won't find a better campground along this wild stretch of ocean than Salt Creek Recreation Area. Full hookups, with gorgeous views of Vancouver Island to the north and the glistening North Cascades to the east. Drive time from Spokane: 6.5 hours.
Olympic National Park: No hookups, but no problem. This place is special, particularly in winter for hardy campers. The bluff-side campsites at Kalaloch are spectacular, offering access to a wilderness beach and views of the stormy seas. Drive time from Spokane: 7 hours.
Mouth of Columbia River: Cape Disappointment State Park is one of Washington's best. Miles of hiking and the fantastic Discovery Trail recreation path wind through the dunes, with full hookups available at the campground. On the Oregon side, Fort Stevens State Park is also excellent -- bring your bike to explore miles (and miles) of paved pathways at this former military installation. You'll have a better shot of scoring a full hookup at Fort Stevens. Drive time from Spokane: 7 hours.
Northern Oregon: Nehalem Bay State Park is beautiful, with a two-mile sandspit to explore and the cute town of Manzanita right next door. Partial hookups are available. Drive time from Spokane: 7 hours.
RV family time
As we head to Southern California for the holidays, we're seeing a lot of festive family gatherings. And particularly on weekends, the campgrounds are full, with a holiday party atmosphere. That makes sense, right?
As we settle into year three of the pandemic, more people are choosing RVs as their preferred travel option, according to a trend report from RVshare, the vehicle rental agency. We're looking forward to some sweet family reunions in the Los Angeles area, which we'll write about next week.
---
---