Fri., Dec. 31, 2021
Our tiny home on wheels delivers another action-packed year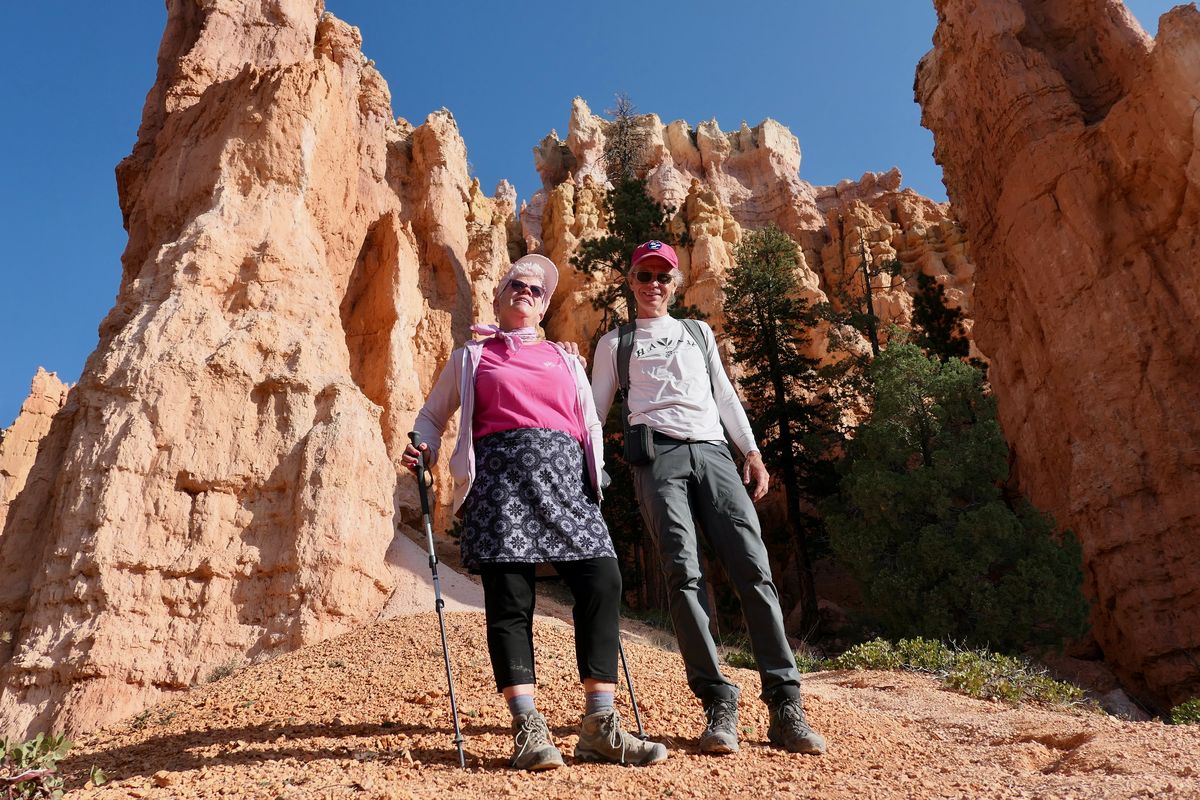 Hiking into Bryce Canyon National Park in Utah in October. (John Nelson)
We've racked up loads of miles and made incredible memories in 2021. It's amazing to think of everything we managed to do and see in the middle of a pandemic, thanks to our mobile home sweet home.
Here are some of the most memorable moments from our grand tour, not in any particular order.
Summer solstice at Salt Creek Recreation Area: The glorious sunset lingered until nearly 10 p.m. at this scenic Clallam County park on the Strait of Juan de Fuca.
Johnny's birthday at Deception Pass: Wild salmon never tasted better than when served up on Whidbey Island's glorious state park, where we toasted the arrival of the Medicare years in July.
Watching whales on Orcas: An RV trip to the San Juan Islands in April ended with a stay at West Beach Resort, where a pod swam along the sunset horizon. Magical!
Seaside at Fort Flagler State Park: During a spring trip to the Olympic Peninsula, we decided to check out the scenic park near Port Townsend and scored a full hookup just steps from Puget Sound.
Leslie's rolling birthday celebration: Leslie loves her birthday, so why not have parties in Bothell, Spokane and Bozeman? It was an epic beginning in early September to our trip through the West.
Yellowstone's true spirit: The park felt crowded on the roadways, but we discovered its heart and soul hiking the scenic backcountry of the Lamar Valley.
Hello Capitol Reef: Our first visit to this Utah national park was a stunner, opening our eyes to the top step of the Grand Staircase-Escalante region.
Early season snow in Colorado: Brrr! It was late September and it went from fall to winter overnight. No problem -- Leslie went to soak in Pagosa Springs, John hit the dispensary.
Scenic Sedona hikes: The mystic beauty of this Arizona town comes from its stunning red rocks, healing bad vibes and delivering dozens of top-notch day hikes.
Awe-inspiring Mount St. Helens: A trip to Southwest Washington delivers jaw-dropping views of the still-steaming volcano and the discovery of friendly Seaquest State Park.
Soaking up New Mexico: The camping is excellent at Ojo Caliente hot springs near Santa Fe and Riverbend Hot Springs in Truth or Consequences.
Trailer Pond in Paso Robles: During a trip to California in the spring, we checked out the Central Coast and hung out in a 1958-era trailer at Alta Colina Vineyard and Winery.
First-time to Lake Wenatchee: And wow, were we impressed. We hit this beautiful state park on our way to a family reunion in Leavenworth.
Grand views on the North Rim: We stayed for a week on the remote North Rim of the Grand Canyon, where we drank in the views on foot and on bike.
Pumpkin patch on Lummi Island: We found a true gem on Hipcamp at this island retreat near Bellingham.
Hot times on Mount Rainier: We weathered the record heat wave of June at White River Campground, where the sound of raging snowmelt echoed down the slopes of the mighty mountain.
Summer stay at Crystal Mountain: We camped at the ski area, then rode the gondola to the highest restaurant in Washington.
Gorge-ous in Taos: Northern New Mexico's most beautiful town has dramatic mountains and lovely views, perhaps none better than those found in Rio Grande del Norte National Monument, where we rode our bikes along the rugged rim.
A deep dive at Bryce Canyon: This collection of cool rocks is viewed by most visitors from the rim, but we ventured deep into the canyon and came back with a new appreciation of the geologic wonder.
Christmas on the beach: We were so thrilled to spend the holiday with our grownup kiddo while parked in Malibu with a killer view. A true gift.
Photos of the year
For more photos from our year of RV adventures, check out our blog at Spokesman.com. Go to spokesman.com/blogs/going-mobile.
---
---