Fri., Feb. 5, 2021
No matter the year, vintage RVs are always wonderful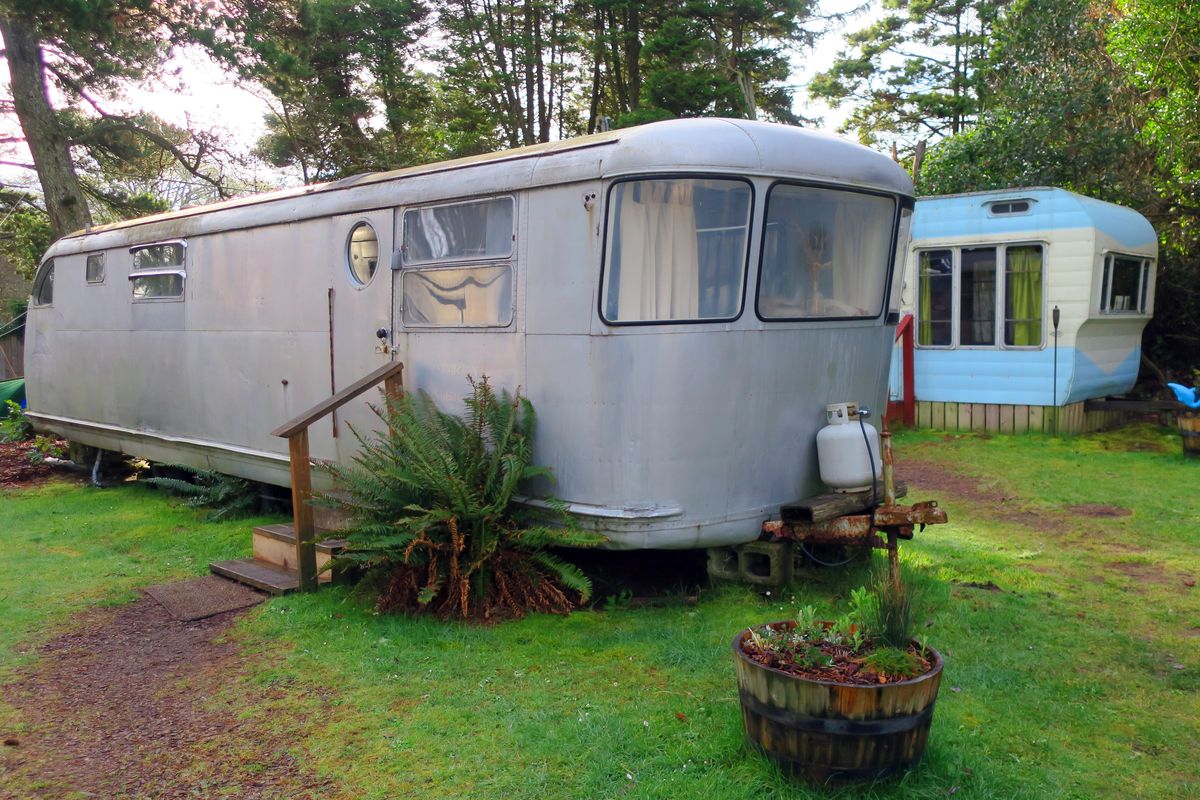 The Sou'wester Lodge in Seaview, Wash., has an array of historic trailers for rent. (John Nelson)
New is nice, but retro is just so cool. Or is it? That's the ongoing debate in our two-person road crew anyway.
Sure, we love the new car smell of a shiny rig that's never been used. Our Thor Gemini is now four years old and we're constantly considering trading up to the latest, greatest model.
Still, there's something so charming about the vintage travel trailers and motorhomes that transport us back to another era. Let's hop in the time machine and take a look at what makes those vehicles extra special.
Way back when: Bet you didn't know that it was 1915 when the first motorhome made a much-celebrated cross-country trip. We didn't either until we read the excellent "Brief History of the RV" on the Smithsonian Magazine's website.
The first motorhome was a stunning showpiece designed and built on a bus. It was known as the Conklin Gypsy Van and it was given a hero's welcome in each town it visited on the inaugural trip from New York to San Francisco. Travel trailers including a model called "The Covered Wagon" showed up at the 1930 Detroit Auto Show and the serious business of recreational vehicles began its steady rise.
Leslie's fascination with trailers from a bygone era started when her grandparents purchased a used 1958 Aloha to park on their property in Leavenworth. It was their summer home while they built their modest cabin. After many years, it was sold, but Leslie and her brother, Chris, bought it back in 2006 and Chris has been chipping away at restoring it ever since. (More on that project when it's finally finished!)
What we love about the old girl isn't just the memories it helped create -- it's the workmanship that's stood the test of time: honey-hued cabinets, a spacious closet, the fully functional kitchen and bench seating that's as beautiful as it is comfy.
Some RV manufacturers have jumped on board the nostalgia train, offering up new models that have some of those retro cool touches. And, of course, Airstream trailers continue to serve up that classic look that continues to turn heads.
Let's look around: Shopping for an older model can be a fun exercise. We've got Little Vintage Trailer, Flyte Camp and Vintage Campers bookmarked and check in on what's available regularly. And we also get a kick out of watching our friend's Funky Junk Instagram feed just to get a sense of what was once out there. John Agnew is a genius at finding and restoring some really amazing gems, some which end up on movie sets.
If you're considering climbing behind the wheel of an old-school motorhome or hitching up a vintage travel trailer, here's a good place to start: Stay in one! There are a number of excellent resorts that offer that option including Vintages at Wine Country RV in Oregon's Willamette Valley, The Camp in Bend, Ore., and the funky So'wester on the Washington Coast.
Before we took the plunge into RV ownership, we stayed at Vintages and the So'Wester and truly enjoyed our experiences. Then again, we didn't have to hitch up those beauties and pull them down the road. Who knows what might happen when you actually travel with these treasures?
Maybe later: We're probably not going to find out anytime soon, but we sure do enjoy dreaming about the possibility.
Do you have an RV that's older than the hills? We'd love to hear how you like it. Please email us at goingmobile@spokesman.com.
---
---