Fri., Jan. 22, 2021
Oregon Coast or Washington Coast – can you choose your favorite?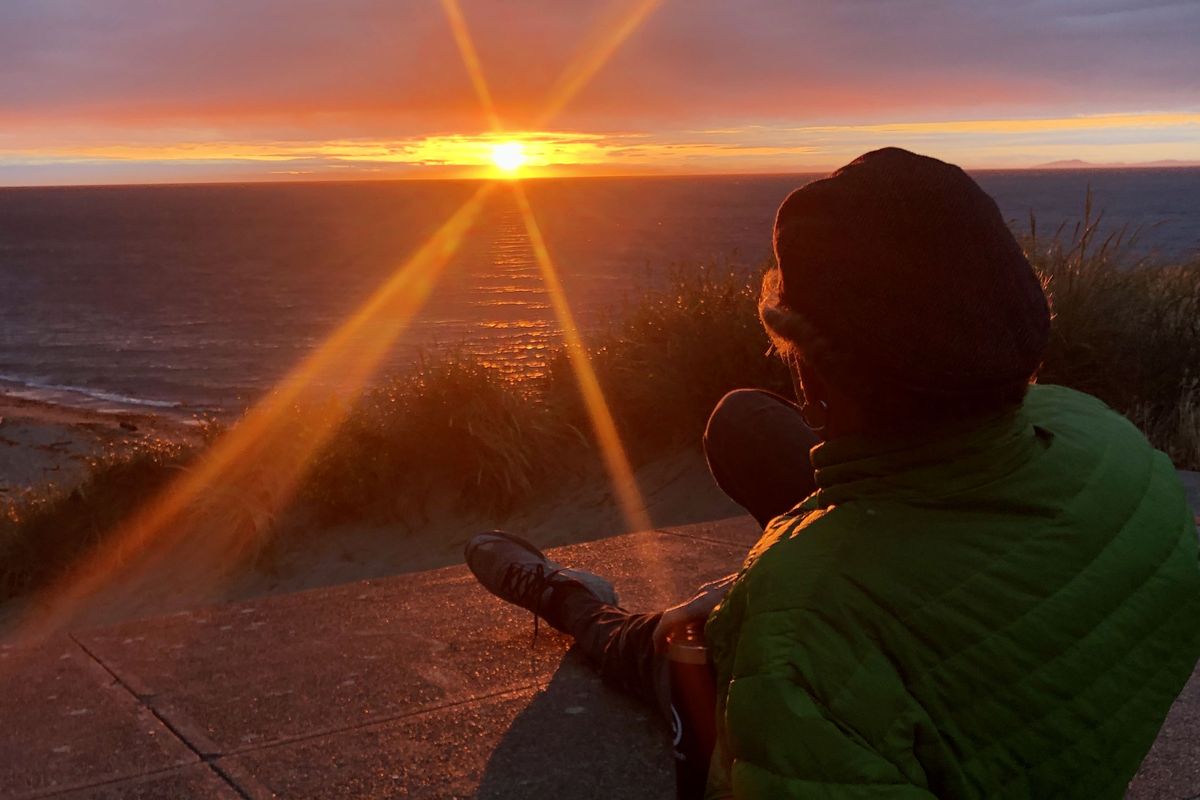 The sun sets over the Strait of Juan de Fuca. (Leslie Kelly)
Which state has the best coast -- Washington or Oregon? While we wait for our vaccine shots before hitting the road again, let's consider this burning RV question.
First, a ground rule: We include the Salish Sea and Puget Sound as part of the Washington Coast, adding to the rugged Pacific Ocean beaches stretching south from the Olympic Peninsula to the Columbia River.
Best journey: For RVers, getting to the Washington Coast is a puzzle. You must take ferries in some places and go around a major mountain range in others. Oregon's Coast is much simpler: You just travel along U.S. Highway 101, a linear path from the Columbia River to the California border. Winner: Oregon
Most beautiful: Both states have gorgeous coastlines. The wild Olympic Coast is hard to beat, and the vast Salish Sea offers exceptional views filled with hidden coves. And because it's harder to reach, it's far less crowded. Winner: Washington
Best weather: This time of year, it's a tossup. But in general, a sunny day on the Washington Coast feels like a rare gift. Your chances for sunshine are much better in Oregon, and the beaches of Southern Oregon have a distinctly California vibe. Winner: Oregon
Best camping: Talk about a tough choice. The Oregon State Parks are exceptional and scattered throughout the coast. Meanwhile, Washington State Parks dot the southern coast and the Salish Sea and Puget Sound, and Olympic National Park has two exceptional campgrounds right near the raging Pacific. Winner: Washington
Best hiking: We were pleased to discover new trails in Oregon last fall near Coos Bay and Brookings that take in the striking southern headlands. In Washington, you can't really beat the Olympic Peninsula coastline for rugged romps, and you can add all the beach trails in the Salish Sea. Winner: Washington
Best beach towns: Oregon has several nice beach hangouts to explore, including Manzanita, Newport, Yachats, and Bandon, to name a few. Washington's coastal communities are a mixed bag -- everything from fishing villages (Westport, La Push) to military installations (Bremerton, Oak Harbor). Winner: Oregon
Best seafood: You like oysters? We do, and you will not find better bivalves anywhere than in Washington. In Oregon, we scored some mighty fine albacore, but in general, the fish is better in the Evergreen State. Winner: Washington
Best lighthouses: You could plan an entire trip around Oregon's 11 historic lighthouses, some stretching back to the Civil War era. Cape Blanco's lighthouse is among the most striking in America, standing atop a 256-foot bluff on the westernmost stretch of the West Coast. Winner: Oregon
Best recreation: If you're a golfer, you probably have Oregon's Bandon Dunes on your bucket list. And the Oregon Dunes National Recreation Area near Florence offers all manner of motorized and non-motorized attractions. Winner: Oregon
Best legends: Both states have their share of sea monster and ghost stories. But Washington has more Sasquatch sightings than any other state in America. Winner: Washington
If you're keeping score, it's … a tie! But of course, you're the real judge of which state has a better coastline to explore. Drop us a line at goingmobile@spokesman.com and tell us which coast is your favorite, and we'll include your comments in the next column.
No RV show
The Inland Northwest RV Show would have been next weekend during a normal year, but the pandemic has made the start of 2021 anything but normal. We heard from RV show organizer Steve Cody, who asked that we let you know: There is no RV show this year. Stay tuned for a reboot in 2022.
---
---