Fri., July 30, 2021
Lummi Island lets you easily forget your day-to-day cares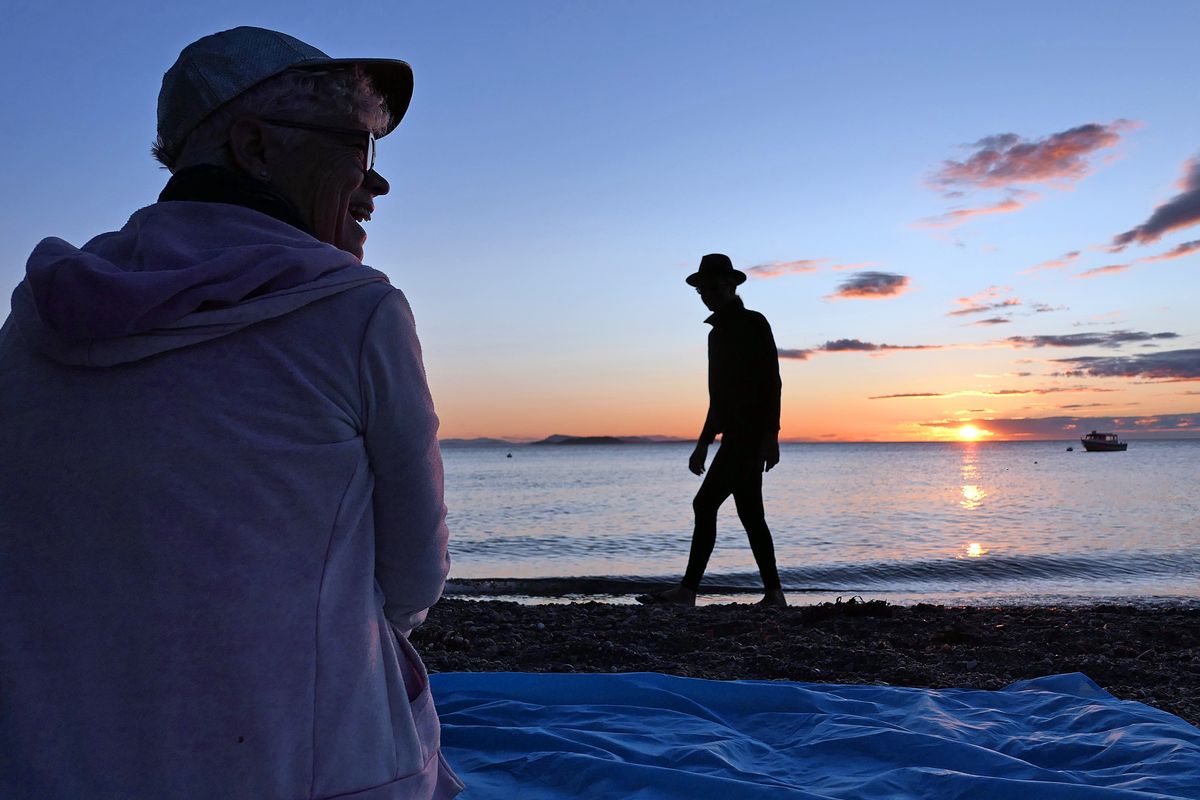 The sun sets after 9 p.m. on the beach at Lummi Island. (John Nelson)
The second you drive off the ferry onto Lummi Island in Northwest Washington, you've entered the magical world of "island time."
You know about island time, right? It's when you visit a place so easygoing that the space-time continuum is altered and your uptight mainland cares seem trivial.
We tested out Lummi Island's chill vibe when we pulled into our Hipcamp spot. As we plugged into the Pumpkin Patch with a View on Lummi's glorious western shore, we knew right away something was wrong.
Turns out the shore-power plug-in on our Thor Gemini had burned out and we weren't getting any power to the rig.
"Oh well -- no worries," said the usually excitable Leslie. "We'll just use battery power."
Her mellow response was indeed proof things were different here. We forgot all about our power issues and went down to the beautiful beach, hanging out in the late-day sun as it set over Rosario Strait.
The next day, we took a lovely hike up Lummi Mountain, a 3.2-mile roundtrip trek with gorgeous views of the Salish Sea, stopped at the Island grocery store for a few supplies, and then went back to that lovely beach.
It was magical, all right. Nothing to do but watch the water, listen to Canadian radio, read, eat good food and simply hang out.
Lummi Island is part of the San Juan Islands, but it's quite a bit different from its cousins across Rosario Strait. You access Lummi Island via a Whatcom County-operated ferry from Gooseberry Point on the edge of Bellingham Bay instead of going through the Washington State Ferry mega complex in Anacortes.
Once you're on the island, you'll see very little commerce of any kind. No gas stations, no bars, only a small grocery store, a few farm stands and a burger joint that wasn't open while we were there. On the west side of the island, you'll find the Willows Inn, where a James Beard award-winning chef has cooked for years, (though many avoid that place since the New York Times' damning report on alleged staff abuses and menu falsehoods).
Hipcamp's Pumpkin Patch with a View was what drew us to Lummi and it exceeded expectations with a full hookup, a large, lovely, grassy lot to set up camp and a helpful host. Thanks for trying to help us troubleshoot the power issue, Bob!
The view from the top of the lot is indeed beautiful. But what's really special is the beach just a block away, a warm, Northwest-facing strand that catches the summer sun full on late into the night.
Our routine went like this: Afternoons at the beach, dinners at the pumpkin patch, and then a return to the beach for the sunset and nightly cribbage match. We gawked at cranes on the shore and salmon thrashing in the sound. It couldn't have been more perfect.
This island idyll isn't exactly cheap -- you'll pay $60 a night for two nights minimum -- and the 10-minute ferry crossing costs $47 roundtrip. But for a serious shot of relaxing island time, it was well worth it. Next time, we'll stay longer.
Canada opens up
We've been anxiously anticipating the reopening of Canadian border. And on Aug. 9, vaccinated Americans will be allowed entry across the land border after showing proof of a negative COVID-19 test.
We already have a trip in mind. But what about you? What have you missed and where would you like to visit in Canada? Send us your Canadian travel ideas in an email to goingmobile@spokesman.com and we'll share them in the next column.
---
---