Fri., June 4, 2021
Greater numbers of RVers getting ready to roll this time of year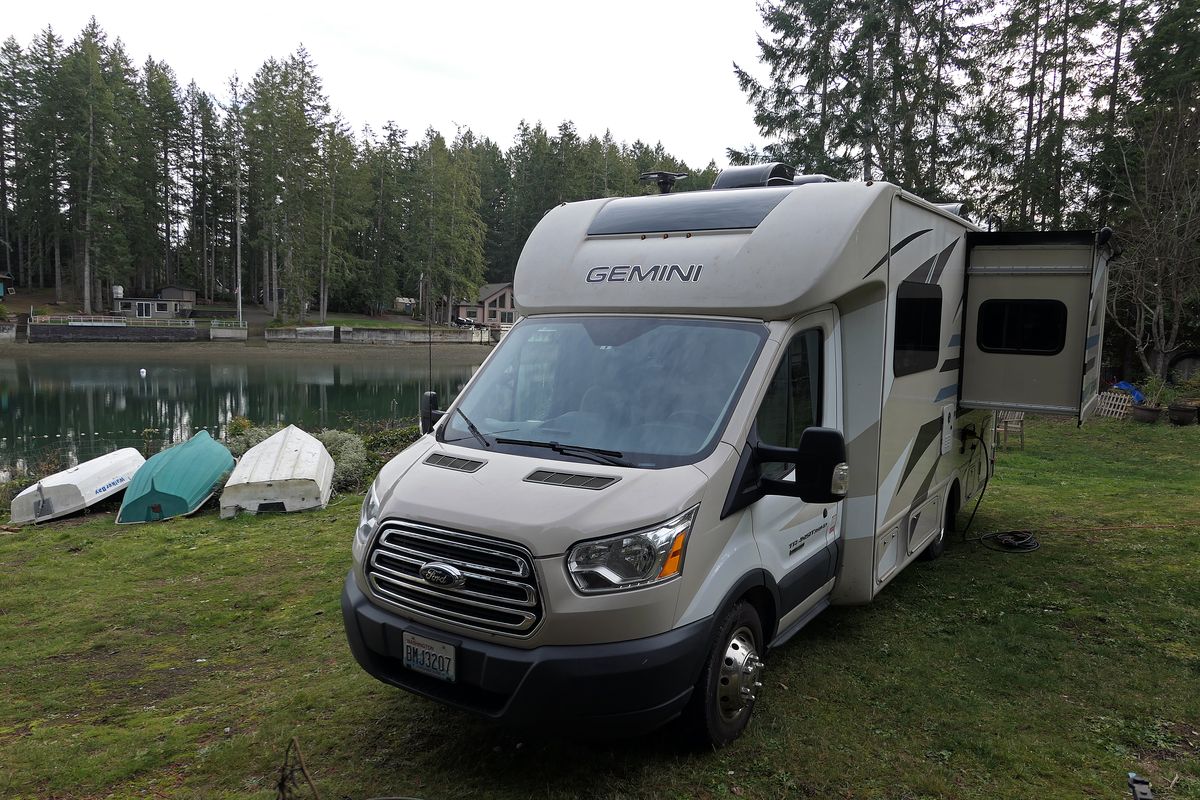 Hipcamp offers many excellent camping options, such as this one at Emerald Acres Oyster Farm in South Puget Sound. (John Nelson)
If you're an RV enthusiast, you're definitely not alone in feeling that seasonal wanderlust.
A recent survey conducted by the Recreational Vehicle Industry Association found that 56 million people are planning on hitting the road in their tiny homes on wheels.
"More and more Americans are ready to travel this summer and 56 million of them are planning to go RVing in an RV they rent, own, or borrow," RVIA President and CEO Craig Kirby said. "Even with other forms of travel returning, the desire to use an RV to get outdoors and experience an active outdoor lifestyle is stronger than ever."
Very cool, but you know what that means? More competition for prime sites and increased traffic. Here are a few ways we're working around this welcome trend toward more RV travelers.
Advance planning: We love being spontaneous, but we've learned the hard way that it's best to book campsites as far in advance as possible. Chief reservation-snagger John even has alerts set on his calendar as a reminder when that six-months-out window opens at national parks, booked through recreation.gov.
Finding the hidden gems: When we've been skunked on securing overnight parking at our first choice, we start casting a wider net. State and county parks are often excellent options, but we've also had good luck with city parks. Hooray for the Columbia River-adjacent Entiat City Park and Chelan's expansive Lakeshore RV park that's within walking distance of shops and restaurants.
Helpful apps: When it comes to searching for private RV parks and offbeat accommodations, there are a few apps that are solid gold. Sometimes, as we're driving, one of us will do a reading from Campendium, quoting the campers who leave reviews. Hipcamp offers all sorts of possibilities, too. We had the best experience last fall staying at the Emerald Acres oyster fam, a spot discovered thanks to Hipcamp. Harvest Host requires a membership, but that unlocks helpful info about wineries, breweries and farms that let you park for free as long as you purchase something to support the business. Also worth checking out: The website Casino Camper offers advice on where to park and play.
Packing the rig: When you're good to go, be strategic. We've been at this for three years and proper packing practices continue to be a challenge. How do you decide what's too much without leaving something crucial behind? It's a work in progress, but we've come up with a solution that involves leaving some dry goods in our portable pantry. Those are tucked into clear plastic bins that are organized by category and labeled to make the search for meal inspiration a little easier. It's fun to shop local for fresh produce and regional specialties, but if you've got a can of tuna and a box of spaghetti and a jar of capers at the ready, you always have a go-to dinner. The cook's also a big fan of the Litehouse freeze dried herbs for boosting the flavor of almost every dish.
Don't forget those extras that are special: Again, over time, we've tried to hone our simple living skills. After selling our condo last summer and doing a massive purge of our possessions, we made some hard choices about what makes these trips so memorable. To meet our mission of spending as much time outdoors as possible, we've added a few key pieces that include the excellent Outland Fire Bowl and an ultra comfy zero gravity chair from REI. We're also so happy to have the outdoor screened shelter. That space acts as a buffer when neighbors are close and a good place to escape the summer sun. On a recent trip to visit family, the kids loved hanging out inside the outdoor room and their parents loved keeping an eye on them.
---
---