Fri., March 19, 2021
Airstream continues to offer plenty of appeal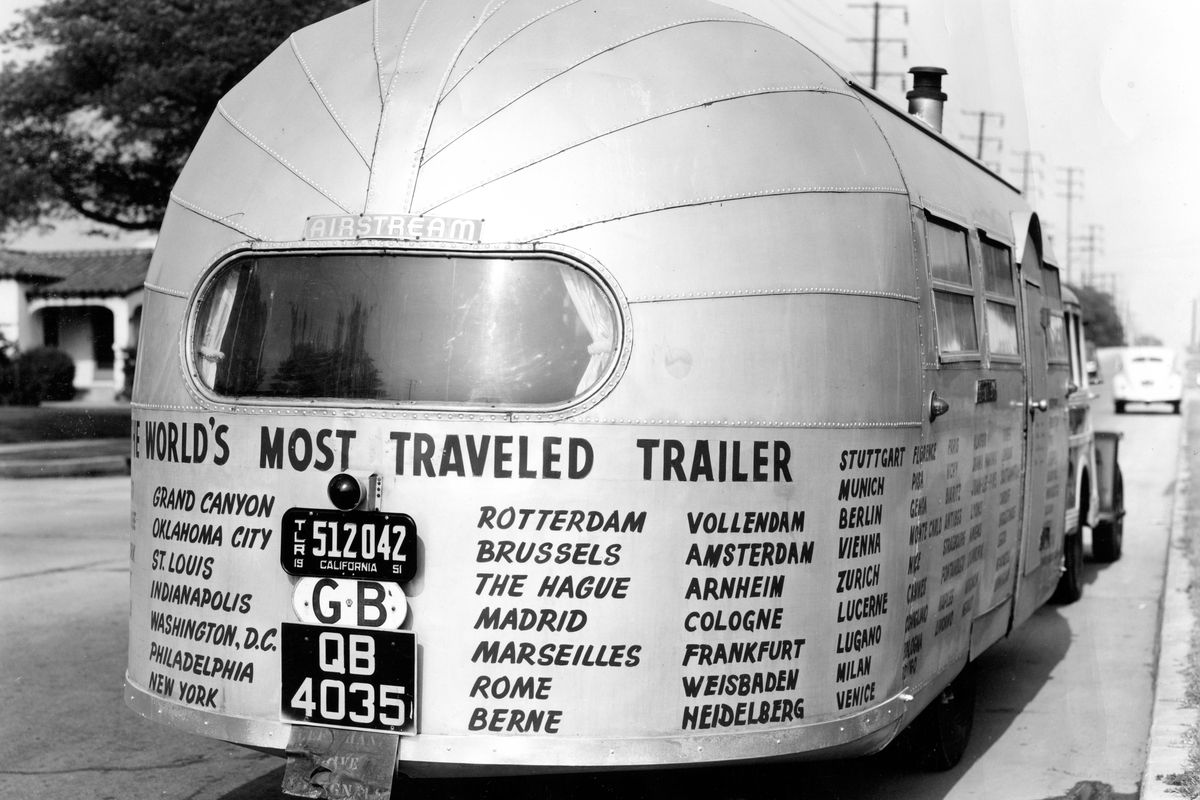 This famous Airstream Liner was used by company founder Wally Byam on his 1948 trip through Europe with his lifelong friend Cornelius Vanderbilt, Jr. (Courtesy Airstream)
You really can't find an American brand that's more iconic than Airstream.
The company that practically invented RVing is celebrating its 90th birthday this year, and what's remarkable is what hasn't changed over the years.
Consider the "silver bullet" design of the polished metal, riveted travel trailers. That look has pretty much stayed the same through major wars, economic booms, busts and demographic shifts.
And now, with RVing attracting a growing pool of participants, Airstream finds itself more popular than ever.
The Airstream factory in Jackson Center, Ohio, is running at full steam and struggling to fulfill orders for the sleek travel trailers and motorhomes. Airstream chief executive Bob Wheeler told The Washington Post that it will take a year to fill existing orders.
"That kind of backlog is unprecedented," Wheeler said.
Demand is so high that used Airstream trailers are actually gaining in value, which is unheard of in the RV resale market.
So while you might pay a premium for an Airstream trailer, it's a rare RV that holds its value no matter how many miles are on it, said Nick Dietz, president of Airstream of Spokane.
"We're a premium-priced product," Dietz said. "The big thing that makes us popular is our quality. … The trailers are built to last a lifetime, not 15 years."
Dietz and his wife Karyn have owned Airstream of Spokane since 2005, and he's watched the market go through many ups and downs, but he's never seen anything like the pandemic-induced shortage. Production of new trailers in Ohio mostly shut down last spring and summer because of COVID-19, coinciding with a huge cultural shift toward RVing.
""We got cleaned out of all of our product by the end of July (last year)," Dietz said. Now, he added, "We're selling them as fast as they can be produced."
Airstream trailers have always had a mystique. The company was created by Wally Byam, a Californian who designed them to move down the road "like a stream of air."
Even from the early days, owners gathered in clubs and caravans, part of an engaged community that bonded over the Airstream design aesthetic and the road lifestyle. That brand loyalty continues to this day.
In the 1970s, Airstream branched out into motorhome production, and today offers several Class B-plus-sized models, built on the Mercedes Sprinter chassis, starting at $165,000.
Trailers remain Airstream's bread and butter, however. The Classic, between 30 and 33 feet, starts at $161,000 and is designed for full-time living.
Smaller models include the popular Bambi, between 16 and 22 feet, which starts at $51,000, and the new-ish Basecamp, with models between 16 and 20 feet, starting at $39,000.
The Caravel is a luxury trailer that sells particularly well, Dietz said, with models ranging between 16 and 22 feet, starting at $64,000. You'll find a full list of all of Airstream's products on the company's website at Airstream.com.
We tried out a 16-foot Basecamp and loved it during a trip over the North Cascades Highway in 2018. The nimble design makes it popular with outdoors enthusiasts.
The Basecamp "has done really well for us," Dietz said, and the model recently went through a redesign to add 20-foot versions.
Old or new, Airstream trailers attract attention wherever they go.
"You can't be a stranger when you have an Airstream," Dietz said. "When you're parked, people are going to stop by, knock on your door, and want to talk with you."
As a businessman, Dietz is glad he got involved with the company 16 years ago.
"It's been a tremendous product for us and a tremendous company to work with," he said.
Now, if he and wife Karyn could only get their hands on a few more trailers to sell.
---
---