Fri., May 7, 2021
The Trailer Pond delivers a wonderful retro RV experience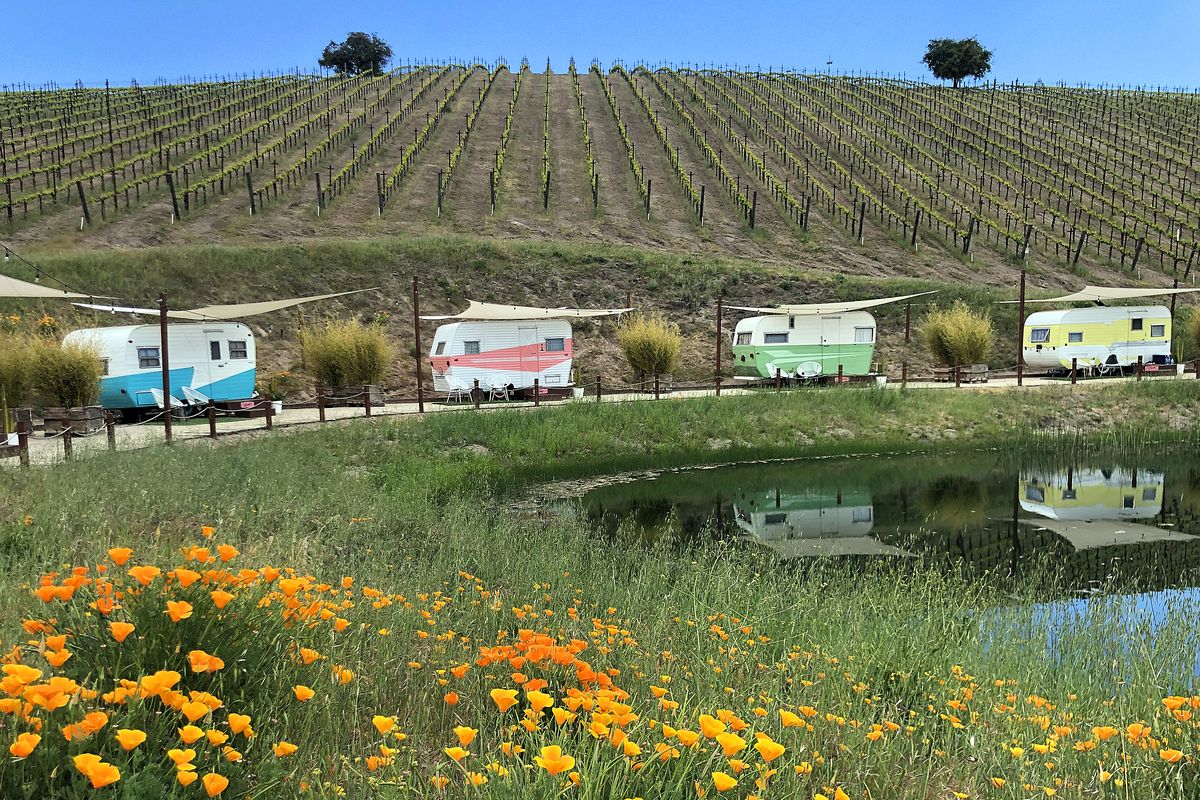 The rolling hills of Alta Colina winery in the Paso Robles wine country surround the Trailer Pond. (Leslie Kelly)
We recently had the pleasure of staying at The Trailer Pond, a collection of '50s and '60s classics that sits smack dab in the middle of Alta Colina's organic vineyard in the gorgeous Paso Robles wine country in California.
These five gems each have their own character and charm. Some still have the original ice boxes. Guests will find ice blocks down the path at the super groovy outdoor kitchen.
Stepping into our 1958 Kenskill was a true blast from the past. The lovingly restored rigs are like museum pieces -- updated to make them a lot more comfortable.
Hanging out in this unique setting triggered a welcome wave of nostalgia for Leslie, whose grandparents owned a 1958 Aloha when she was a kid. They parked it on their property along the Icicle River in Leavenworth, using it as a summer getaway.
The visit to California's Central Coast -- which included a milestone birthday celebration of our grown-up kiddo's 30th -- reminded us just how much we love that region. There's so much to explore and we've long wanted to check out The Trailer Pond, so… mission accomplished.
While admiring the details and craftsmanship of our sweet digs for the evening, we couldn't help making comparisons between how tiny homes were made then and now.
For instance, the wood cabinetry in those vintage trailers is solid and has the kind of artisan finish you might find in a rancher built in the 1960s. In contrast, today's particle board cupboards found in most RVs are flimsy and covered in veneer that scuffs easily.
Same retro cool vibe goes for the countertops and bench seating in the dining area.
All these homey details can add considerable weight and these babies were a bear to pull. (Probably nothing a gas-guzzling V-8 couldn't handle.)
Back then, trailers were the original recreational vehicle. Mom, Dad and the kids and the dog piled in and headed off for a weekend at the lake or a road trip to visit the grandparents. Believe it or not, trailers like these were designed to sleep six: two in the back, two up front in the convertible dining room space and a couple more in a bunk above the master "bedroom." It was pretty tight all right.
The Trailer Pond's fleet sleeps two each. And for those used to spreading out in a queen or a king bed, take note: this is a snug double. Fortunately, the memory foam mattress made for a restful slumber.
We woke to birds singing and the sounds of a farm machinery rumbling up the hill of this pretty vineyard. After brewing a couple cups of coffee, we lounged in the sun on the deck of the pond. Yes, these were some good old days.
Visitors to the Trailer Pond can arrange for a special wine tasting on the Summit Vineyard deck of Rhone-style wines made by Alta Colina. There are lots of options for additional entertainment, ranging from guided star-gazing and massages by the pond, all requiring advance booking.
Or, you can just chill. Take a walk through the vineyards, cool off in the outdoor shower, cook a meal in the well-stocked kitchen.
The exceptional experience reminded us of previous stays in classic trailer resorts. We're fans of the Sou'wester in Long Beach and The Vintages near Willamette Valley wine country in Oregon. We also got to peek inside some of the awesome trailers at The Camp in Bend during a stay in 2019.
All of those retro RVs have much to be admired and even emulated. But there's a reason they're permanently parked. They're not exactly roadworthy at their advanced age. We're glad they're being put to such good use.
Want more? Check out our additional photos of the Trailer Pond experience at spokesman.com/blogs/going-mobile.
---
---