Fri., May 14, 2021
Vaccination tour kicks off with overdue visits to family, friends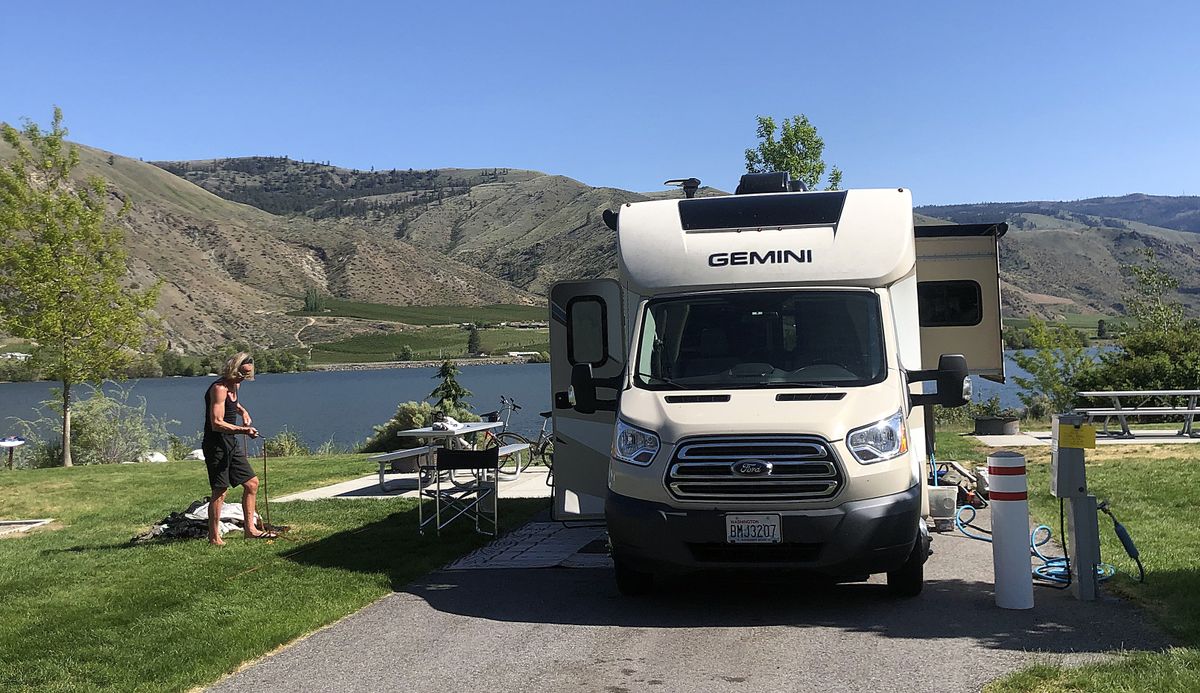 The campsites at Entiat City Park are large and offer views of the surrounding Columbia Valley landscape. (Leslie Kelly)
Like most people, we've been waiting — and waiting — to see our family members during the pandemic age.
Two shots later, our wait is over.
We recently hit the road for what we're calling our "Vaccination Tour" of Central Washington, stopping to see a favorite aunt in Leavenworth and then on for a gathering with our favorite nephews and their young families in Entiat.
What a difference those two simple injections make. It's amazing how much freedom you have once you've been vaccinated: Freedom to chat face-to-face, to laugh, to hug and to play with adorable 2-year-olds.
We realize that not everyone wants the coronavirus vaccine, and in fact, many of our own family members haven't been vaccinated. That's too bad from a public health perspective, and we hope they'll come around someday.
For us, the vaccination has opened the door to "normal," and that feels pretty amazing after 15 months of isolation.
Our first stop was Leavenworth, where we saw 87-year-old Aunt Eileen, feisty as ever in her retirement home. She pulled out family photos, told stories, gave us an update on the cousins, and complained about the development boom in the Bavarian-themed town in the eastern foothills of the Cascades.
In other words, it all felt pretty normal.
We had a happy hour with Leslie's brother Chris, then blew away the cobwebs from that happy hour the next morning with a swim in the frigid Wenatchee River. You want to feel alive? Try jumping into a 38-degree river.
Next we took the RV to Entiat, on a dammed-up portion of the Columbia River in Chelan County. There we discovered the excellent Entiat City Park, with lakefront RV sites (the Columbia River is referred to Lake Entiat in this area.)
It's rare to find a good city park with exceptional RV camping. Entiat is a wonder: For $45 a night, you get a beautiful lake, a sprawling park and beach area, a playground, top-notch bathroom facilities and even a recreation path to ride your bike on. It's a steal.
More than that, it became a home base where we could host our favorite nephews, Brandon and Nick, and their ever-expanding families in an old-school reunion. The adults chatted and laughed as their young children played in the grassy park, then we settled down to a killer surf-and-turf dinner prepared in the RV by Leslie.
As night began to fall, we hugged our family members goodbye for the first time in more than a year. Wow, did that feel good. Even the exhaustion we felt after chasing around toddlers was gratifying because it all felt so … normal.
Our vaccination tour eventually took us over the newly opened North Cascades Highway. Crossing the snowy, scenic high-mountain route served as a scouting trip for later adventures this year.
One successful vaccination tour is done — now it's onto more freedom on the roadways.
This week's Going Mobile question: What's your favorite campsite in the Methow Valley or along the North Cascades Highway? We're looking for nominations for our next vaccination tour. Send us your faves at goingmobile@spokesman.com.
---
---