Fri., Nov. 5, 2021
We made the best of a trip to the repair shop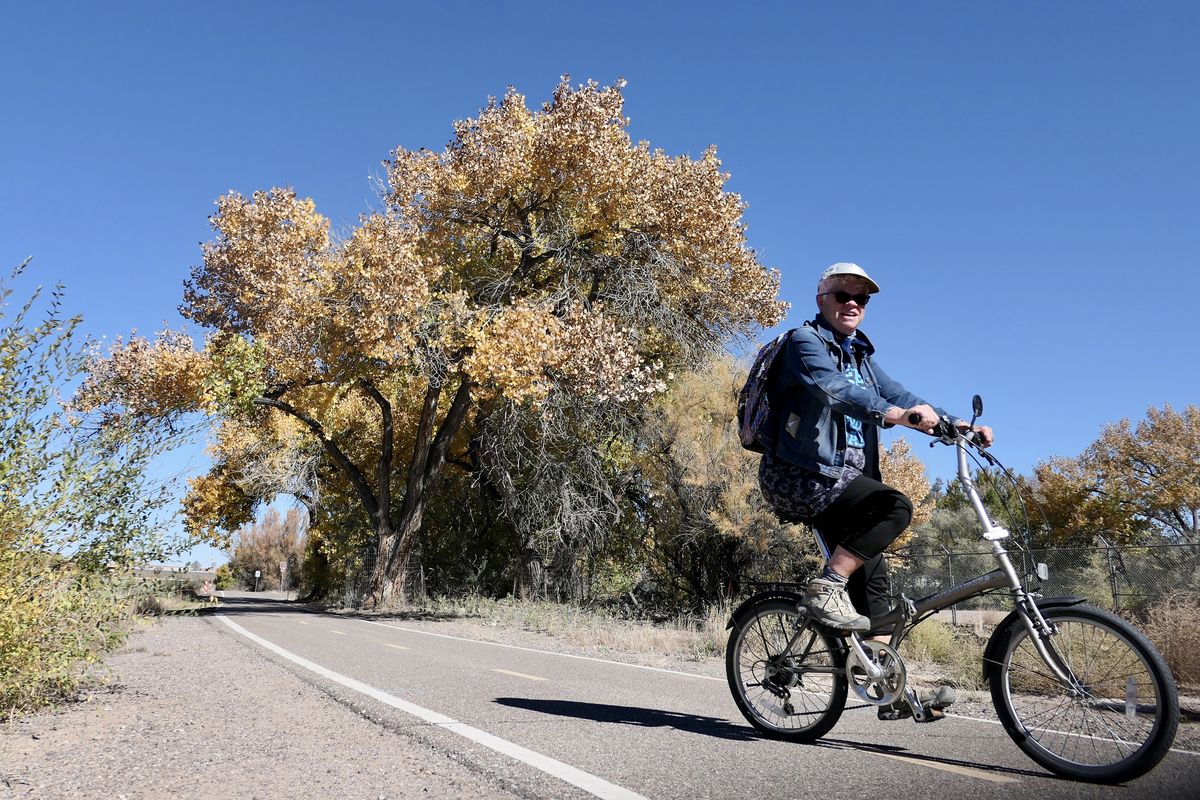 Taking advantage of Albuquerque's excellent bike trail system. (John Nelson)
Stuff breaks. We've learned that in the three years since we started the RV journey.
In Albuquerque, we recently checked in for yet another repair at Camping World.
It was a nice break to get out of the rig and into a lovely hotel room at the iconic El Vado on Historic Route 66. This landmark first opened in 1937, greeting early road-trippers. Back then, it was known as an "auto court."
The motel closed in 2005, but opened again in 2018 after a major refresh. It still has that lovely retro style, with comfy rooms facing a sparkling pool in the private courtyard. (Unfortunately, too chilly to take a swim this time of year.)
Updated amenities we surely appreciated included a dreamy memory foam king-size bed, a shower with excellent water pressure and a couple of flat-screen TVs. Yes, of course, we tuned into the World Series.
The biggest thrill, though, was the onsite taproom and exceptional lineup of restaurants arranged around an outdoor seating area.
In between bike rides around Albuquerque on the city's awesome trail system, a visit to the world famous Rattlesnake Museum and some much needed retail therapy at the shops around nearby Old Town, we feasted on flavorful dishes from Costa Rica -- Buen Provecho's pulled pork platter with rice, beans, veggies and plantains plus a fried egg on top was outstanding. The sushi at Ikigai, especially the roll with the fried green chili tucked inside, was totally legit. And the Nashville hot-style chicken with an Asian twist at Happy Chickenzz lit our lips on fire with those Thai chilis. That's a good thing.
Circling back to the reason we were in ABQ: Before heading downtown, we dropped our 2017 Thor Gemini off at Camping World for a replacement of the stovetop after one of the burners conked out. This seemingly straightforward repair has been months in the making and is a cautionary tale when it comes to scheduling work in ultra-busy RV service centers.
We originally decided to purchase from Camping World back in 2018 because the vast company has service departments everywhere in the U.S. And that first year of our cross-country road trip, we visited many of those locations for mostly minor fixes.
Since we've been home-based in Bellingham the past year, we've had good luck at the Burlington, Wash., location thanks to proactive manager Spencer Gibson. But on the stovetop front, Gibson was vexxed by the whole supply chain issue. He ordered the part but it wouldn't arrive until well after we were down the road.
So Gibson offered to ship it somewhere along our route. Good deal, right?
Well ,,, wires got crossed and the part wasn't there when we checked in. Thanks to FedEx, it was sent overnight and installed the next day.
We actually picked it up a day later because we were having such a blast hanging out in Albuquerque and yet when we arrived to pick it up, it wasn't good to go. Why?
Because the service manager double-checked the stovetop and it was leaking propane. Uh-oh. They pulled it, tightened a connection and we were on the road again.
Final takeaway? Always test your equipment before driving off the lot. Always.
Do you have any sage advice about getting work done on your rig? We'd love to share it with readers. Please send us an email at goingmobile@spokesman.com. And check out our city pics on Our Grand Tour's Instagram feed.
---
---