Fri., Nov. 26, 2021
Sedona is rocking again, and we're happy to be part of it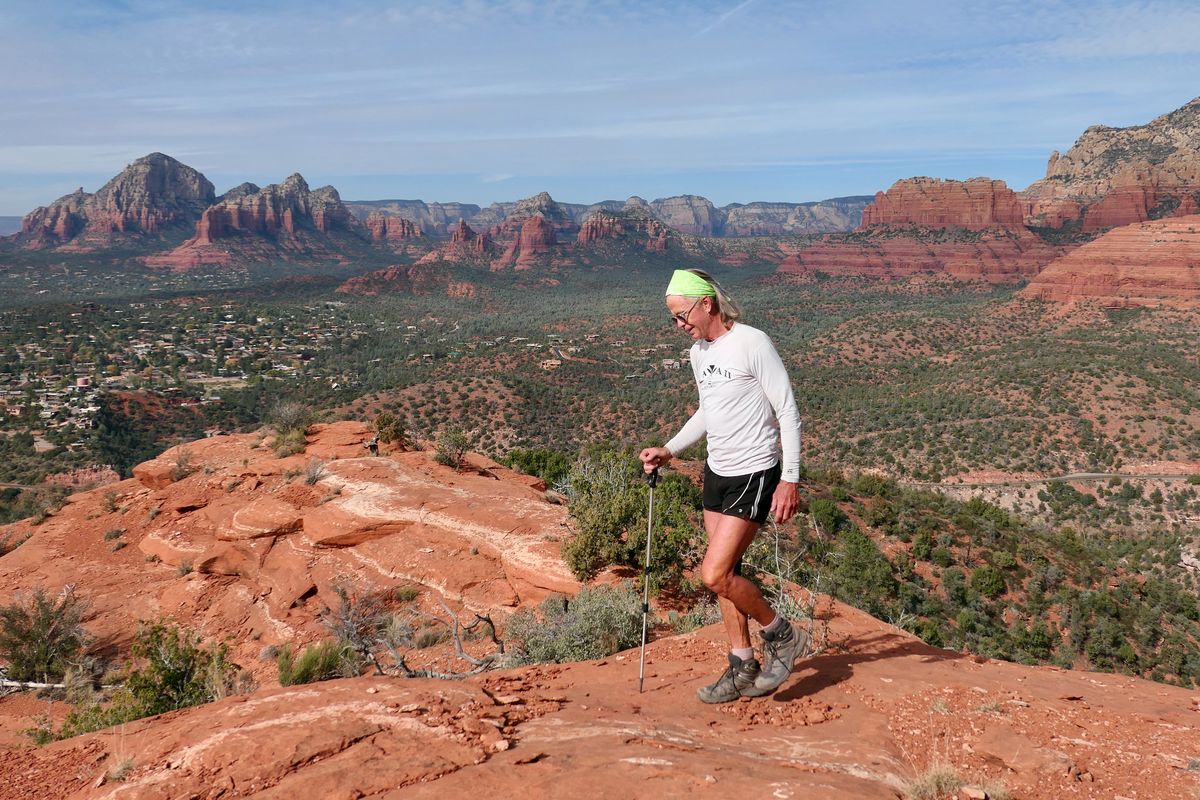 Many of the trails near Sedona have stunning views of the area's red rock canyons. (John Nelson)
Sedona, you've come a long way.
Twenty months ago, we were hunkered down in this beautiful Arizona tourist town, riding out the start of the pandemic. Remember those crazy days? Nobody knew anything about Covid-19, misinformation was rampant, and every business was closed.
We were freaked out, to say the least.
Today, we're happy to report that the red rock capital is rocking once again.
Looking back, the Sedona of 20 months ago had some advantages. We had the city's stunning hiking trails to ourselves and traffic was non-existent.
Today, the shops and restaurants are slammed. And during a recent hike past one of Sedona's fabled "vortex" locations, we counted 25 people clustered around the small rock outcropping trying to soak up the red rocks energy.
You can't blame people for wanting to be part of this special place. And even if it's sometimes irritating to wait in long lines at the grocery store, it feels good to see Sedona fully alive again.
If you're thinking of bringing the RV down this way, we heartily recommend Rancho Sedona RV Park, one of our favorite places to stay anywhere.
Rancho Sedona is a rare RV park set in the middle of a city, yet it feels secluded. It's nestled in a scenic hollow along Oak Creek just across the river from Uptown Sedona. For reservations, check out ranchosedona.com/reservations. Most nights are completely booked, so plan accordingly.
Sedona is our last stop in Arizona, a fitting end to our three weeks in the Grand Canyon state as we continue our RV adventure westward into California. It was a wonderful return trip. Among other highlights:
Tucson time
Arizona's second city is No. 1 with us. Tucson is surrounded by lovely mountains with great hiking, and the funky-cool downtown has a diverse energy.
Besides hiking in Saguaro National Park, John enjoyed riding "The Loop" -- 131-mile network of shared-use trails around the city. We know, we know -- the Centennial Trail is great. But if you get the chance, check out Tucson's version of a stellar shared-use pathway.
After a couple of big rides, we dropped in on the Whiskey Del Bac anniversary party in the stylish Westbound area of Tucson. Never had Whiskey Del Bac? If you're a single malt fan, Del Bac's mesquite-smoked flavors will remind you of its peaty Scottish grandpappy.
U gotta love Usury
You're right: We're not big fans of the sprawling Phoenix area. But those feelings don't include Usury Mountain Regional Park, where we spent three days before coming to Sedona. The park, set in a beautiful foothills location near Apache Junction, offers secluded campsites, with electric and water hook-ups in what is essentially a wilderness setting.
Besides hiking through the desert on the park's extensive network of trails, we hosted a lovely dinner with our friend Tahirih Brown, a former Seattlite-turned-Phoenician.
Usury is one of several regional parks in the Phoenix area. The Maricopa County-run parks are a nice alternative to the mega-commercial parks scattered around the metro area.
---
---