Tue., Nov. 30, 2021
Review: Orange Grove RV Park is sweet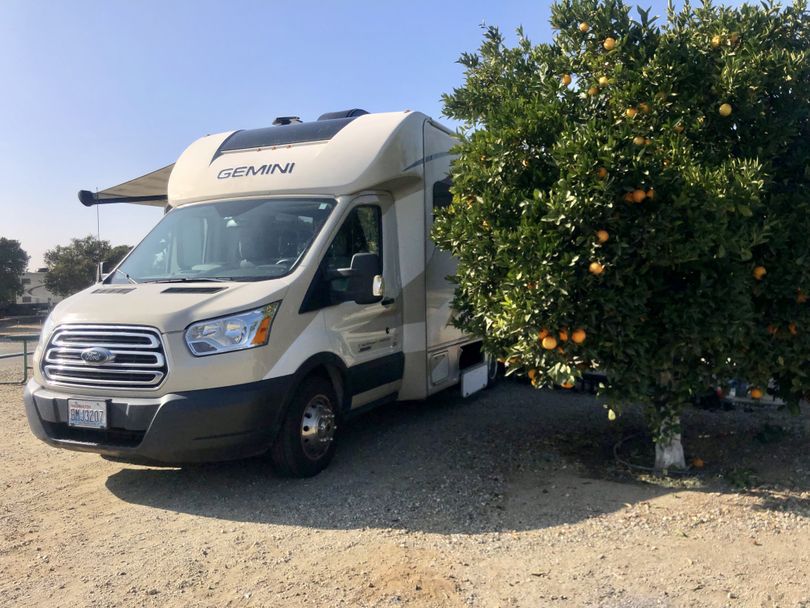 We just got to the Central Coast of California after an epic three-day drive of more than 600 miles. Stay tuned for the story of how we broke it up into digestible chunks that included a stop at the Orange Grove RV Park near Bakersfield, Calif.
That sweet spot was filled with a mix of full-time residents and snowbirds, as the park heads into its busiest time of year.
There are the usual amenities, which includes large, clean restrooms, a couple of dog parks, horseshoe pits -- you know, the game that inspired corn hole! The pool was closed for the season, but the office offers free coffee every morning and doughnuts on the weekends.
The gorgeous orange trees really made this park a stellar standout, though. And I picked a bunch of citrus before reading the sign in the office that said the fruit wasn't ready yet. The office manager told me that for the fruit to reach its peak flavor, it needed to get below freezing. Well, that's new info!
So, I've got some tart oranges to juice and that's just fine.
While I can't see parking for a season at this place, it looked like a lot of folks who did enjoyed the sense of community. Especially the dog owners, who gathered for congenial chats in the fenced-in area.
---
---