Fri., Oct. 22, 2021
We're keeping it fresh in one of our favorite places: Taos, N.M.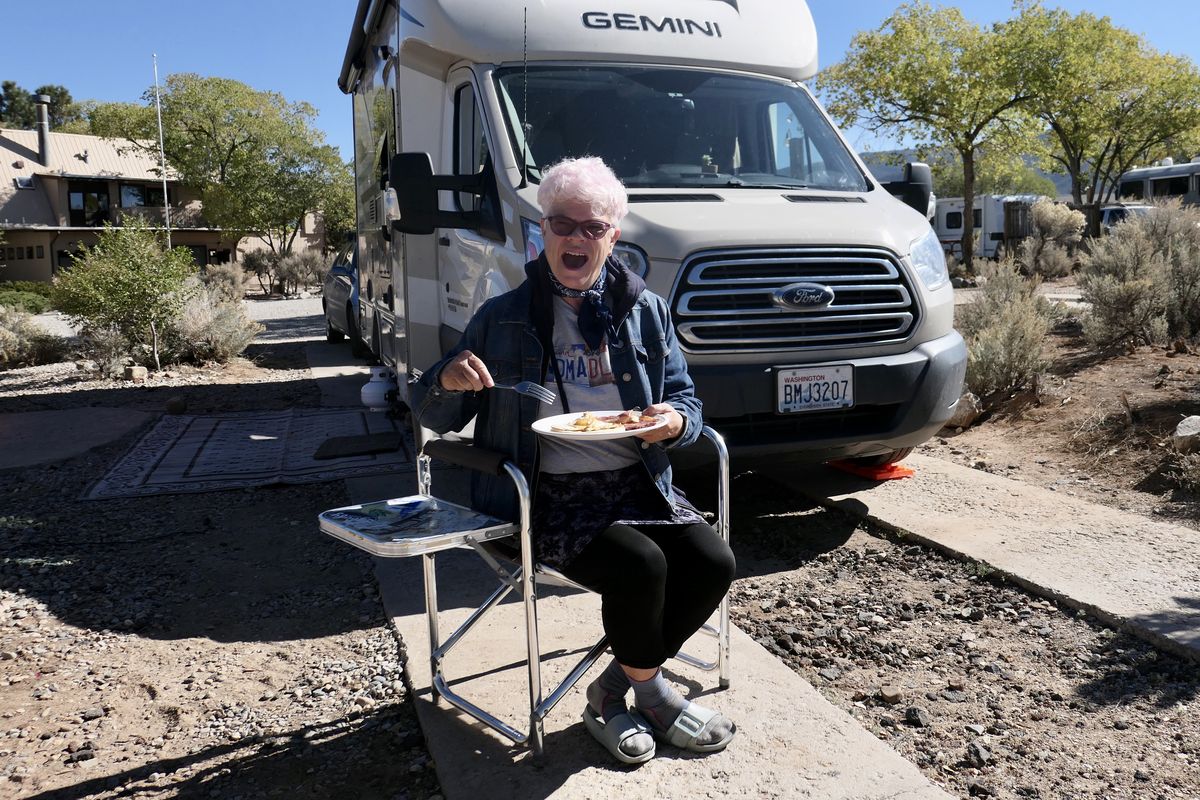 Taos Valley RV Park is a comfortable place to stay in northern New Mexico. (John Nelson)
Most RVers are creatures of habit.
"Remember that awesome campground at (insert favorite park here) -- why not go back and stay there again?"
It's human nature to revisit favorite places, and familiarity for an RVer is generally good -- it makes life on the road a little easier.
But sometimes, experiences are best when they are brand new, even in a place you know well. And in exploring new sides of a favorite place, you ultimately deepen your connection.
Take Taos, N.M., for instance, where we're camped out right now. We love Taos and have visited many times, drawn to the striking high-desert color, Rocky Mountain recreation and the unbelievable New Mexico skies.
So, we were initially bummed when Monte Bello RV Park, our usual go-to hook-up, was completely booked. Instead we were "forced" to get a spot across town at Taos Valley RV Park.
We shouldn't have worried. The new-to-us Taos Valley RV Park ended up being a better location for new experiences. We've hiked and biked new trails, visited different places around town and found new cultural touchstones.
And it turns out we like Taos Valley RV Park better than our old favorite.
Our new experiences started at Rio Grande Del Norte National Monument. We explored this striking gorge by hiking down to the snowy riverside (yes, it snowed!), then we took in the Rio Grande Gorge Bridge and bicycled the West Rim trail along the chasm. Magical.
The Devisadero Trail overlooking the Taos Plateau was another new destination, taking John for spectacular views above the city one day. The trail, a 5-mile loop, was once used by Taos Pueblo Indians to keep a lookout for marading Apaches who would sneak down the canyon.
On another day, Leslie explored the excellent Taos Farmers Market, meeting farmers while shopping for produce. Yes, the peppers and the dried beans and the local honey and greens and apples were all spectacular. She also took in nearby Arroyo Seco, where the vibe was Old School hippie meets upscale visitors, and it's all good in the art gallery, health food store-rich hood. There was even an incredible duo performing on banjo and fiddle while diners enjoyed lunch on the patio at Sol Food Market.
And speaking of music, we checked out the live tunes at Rolling Still Spirits and at the Adobe Bar at the Taos Inn. By keeping things fresh, we've grown to appreciate Taos all the more.
Before coming to New Mexico, we took a brief swing through southwestern Colorado, staying in Durango and Pagosa Springs. While we were there, we toured the 10,000-foot passes of the San Juan Mountains and took in the fall colors.
The Aspens were bright yellow as an early snowstorm descended -- our last two days in Colorado were wild, with snow, high winds and subfreezing temperatures.
So much for the snowbird lifestyle -- we thought we traveled south to miss all this!
Nobody ever said RV travel was easy. Seeking comfort in snowy Pagosa Springs, John checked out the cannabis culture (shout out to Pagosa Craft Dispensary), while Leslie took a healing soak at Overlook Hot Springs.
We survived the storm hunkered down overnight at Pagosa Riverside Campground, a beautiful spot on the San Juan River. Friendly service, good WiFi -- check it out when you visit this beautiful part of the West.
---
---