Fri., Sept. 10, 2021
Time to share our favorite summer mobile memories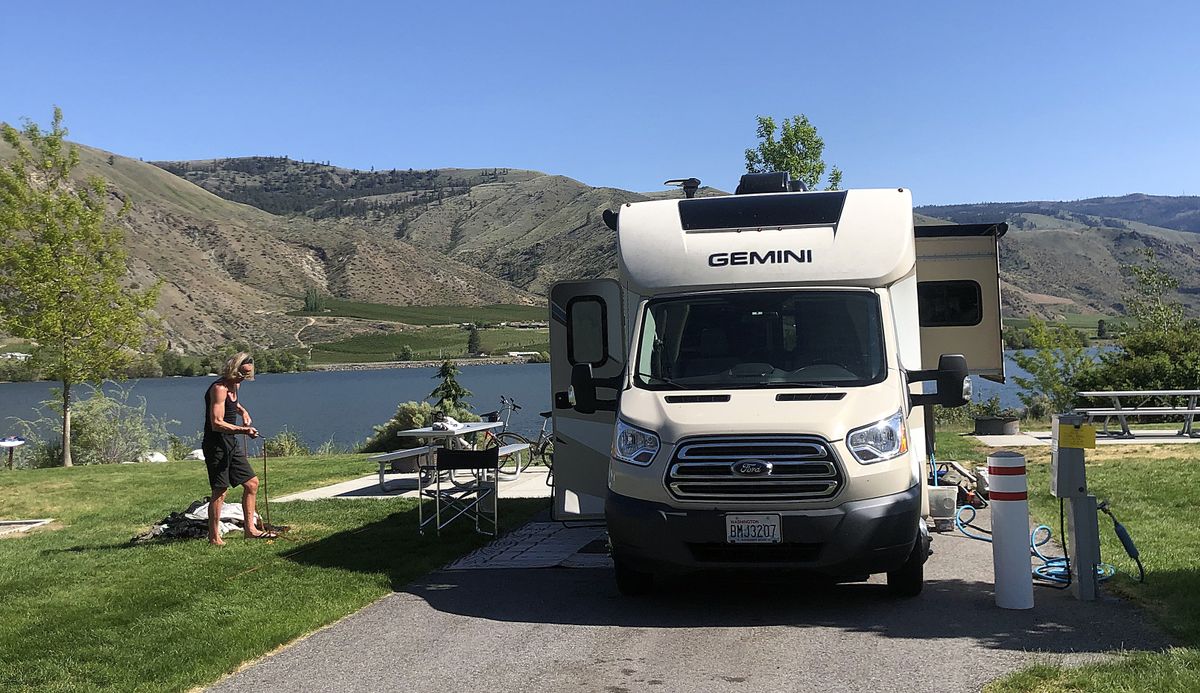 The city park in Entiat has full hookups and excellent camping along the Columbia River. (Leslie Kelly)
Yes the calendar says it's summer even if it's beginning to feel a whole lot like fall. We're ready for that season, but not before a last look back at some of our favorite camping experiences from the past few months.
Roll on Columbia: We celebrated our fully vaxxed status by visiting with family in Central Washington and discovered a really nice city park with RV hookups in under-the-radar Entiat. The spacious sites enjoy views of Lake Entiat, also known as a dammed-up portion of the Columbia River. Besides the natural beauty, a cookout with a bunch of laughing kiddos made this an extra memorable trip.
Solstice on the Strait: It's clear from a quick review of our Instagram feed that we love camping by the water. Somehow, it recharges us like a double shot of Red Bull… but way better. We've been wanting to experience Salt Creek Recreation Area for a while and finally snagged a reservation on June 21. We spent the longest day of the year watching surfers, gazing out at the impressive Strait of Juan de Fuca and enjoyed a seared shrimp feast cooked on the George Foreman grill. It was a wonderful start to an action-packed travel season.
Happy birthday on Whidbey: Johnny turned 65 in July, a milestone marked with a trip back to one of our favorite parks. Deception Pass State Park rocks. No, really, there are a lot of rocks on the long stretch of sand, which makes for the perfect place to watch the sunset and talk about the future. Like pondering that oft-asked question: Where in the world would you go if you could go anywhere? On that special day, we vowed to get to Iceland and explore that country in an RV. Someday!
A new view of an old fave: We grabbed a spectacular spot with a knockout view of Mount Rainier at the White River Campground. It was during a heatwave and while we thought we might find cooler temps at elevation, that wasn't the case. Still, we made the most of our time at the best national park in Washington state, top 10 of all time. That meant hitting the hiking trail early and finding a few places to dunk our steaming noggins along the way. Very cool.
Speaking of impressive mountains: It was fun to explore Mount St. Helen's National Volcanic Monument while base-camping at the lovely Seaquest State Park. Even staring into that crater, it's difficult to imagine the speed in which it had its epic meltdown. Of course, we covered the "where were you then?" topic and found ourselves far from the ash that rained down on Spokane, Leslie going to school in London and John working at the Bellingham Herald.
Back to the beach: We really do love the Long Beach Peninsula, especially because the trip takes us through Longview, where we stop to visit family. On the most recent trip to that part of the Washington coast, we stayed at our first Thousand Trails campground. The expansive park wasn't right on the water, but just a short walk or bike ride away. The weather was perfect for pedaling that excellent paved path.
Island time: We loved taking a spring trip to Lopez and Orcas Islands before the summer travel season made those ferry reservations impossible, but top honors for a chill island getaway goes to two days on Lummi Island, thanks to a Hipcamp hookup. The huge space called Pumpkin Patch was steps from a beautiful beach. This island has a very laid-back vibe even though we pushed it by charging up to the highest point on the island for a jaw-dropping view of the Salish Sound. Already looking into booking for a longer stay next summer!
---
---