Fri., Sept. 17, 2021
Our five-month journey around the West begins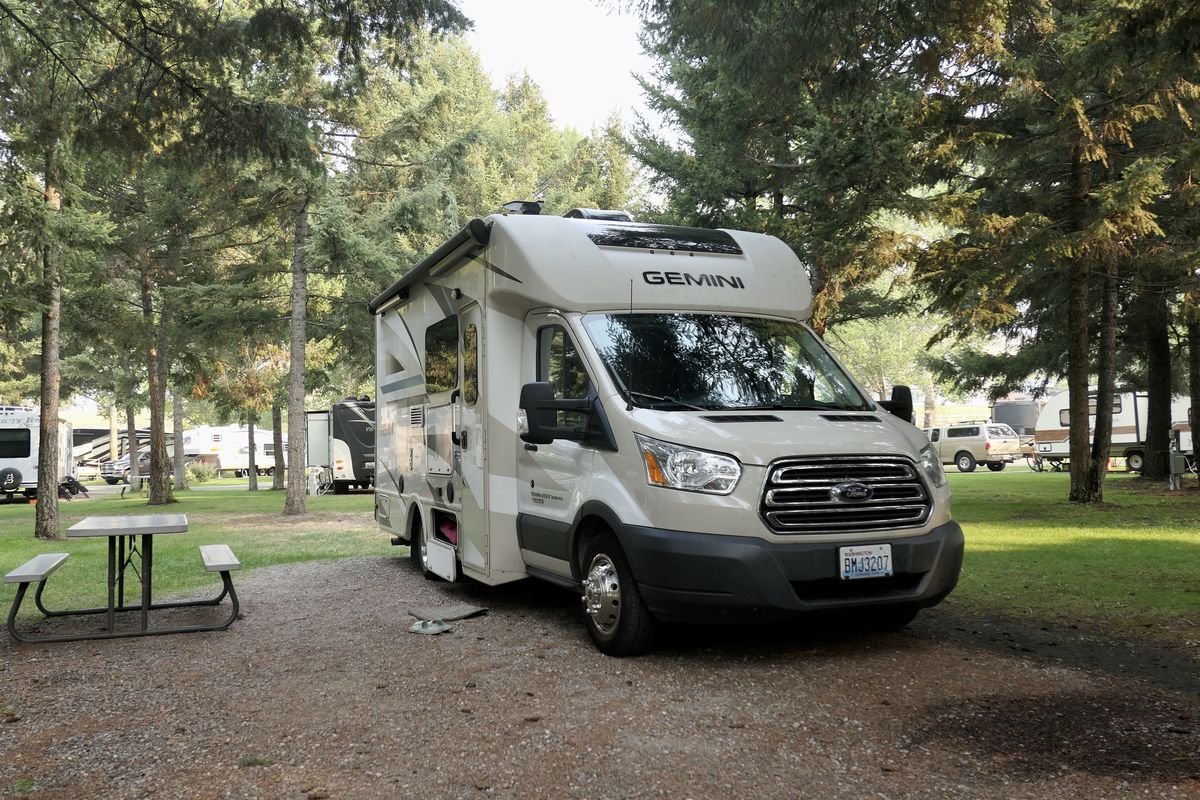 Jim and Mary's RV Park in Missoula is a well-kept and comfortable stopping point during a trip through Montana. (John Nelson)
We're on the road again another major road trip across the West.
This five-month journey is taking us far and wide, through the Rockies, New Mexico, Arizona and California.
It was quite an elaborate planning process. Suggested itineraries started flowing back in March and the calendar was mostly dialed in by summer.
Huge high fives go to the team's reservation specialist, John. He's the one who's up late or early, grabbing prime sites as soon as they're available online. One thing we've noticed this time around is that national park campgrounds fill extremely quickly.
We celebrated after snagging a prime site at the North Rim of the Grand Canyon in late September -- way back in April.
Maps were studied, personal goals assessed, risks weighed. Just how long could Leslie put up with being off the grid before needing a fix of retail therapy? We'll find out, but the early part of our journey is heavy on the hiking and adventuring. Lounging by the pool in Palm Springs is going to have to wait until December.
Here's a quick tour of our grand tour, year four:
Yellowstone
Grand Tetons
Bryce Canyon
North Rim of the Grand Canyon
Mesa Verde National Park
Northern New Mexico
South Rim of the Grand Canyon
Sedona
Central Coast of California
Malibu RV Park for the holidays
Palm Springs
Encinitas
San Clemente
Then, TBD after January 2022: John's going skiing somewhere, Leslie's all about swimming outdoors under the winter sunshine.
Sounds pretty ambitious, right? Well, we've made an effort to hang out longer in most of these places. And to do some exploring in our trailing car.
That's right. The biggest change in our approach this time around is to add another vehicle to the mix, driving our Toyota Camry. We aren't towing it behind our motorhome, but driving separately. So far, so good. Knock wood.
That second car gives us some much-needed storage space, which means we're hauling lots of gear in the car-top box up top and our beloved propane-powered firebowl in the trunk. We've also packed some extra clothes and various pantry items. Too much? Probably, but it feels like a true luxury to have that overflow option.
We've already had some absolutely wonderful experiences on the first leg of this epic road trip, including a sweet stop in Spokane to see friends and visit some favorite places. Said hello to Fery's, the rose garden at Manito Park and marveled at the makeover at Riverfront Park. Wow!
If we missed you, don't be angry. We'll be back.
From the 509, we busted a move to Missoula and stayed at one of the nicest RV parks ever. Read our review of Jim and Mary's RV Park on the Going Mobile blog.
In Bozeman, we celebrated Leslie's birthday with a memorable meal from Dave's Sushi and thoroughly enjoyed the energy of the last art walk of the summer season in the vibrant downtown.
Before hitting Yellowstone National Park, we recharged our batteries with a couple of nights at Yellowstone's Edge RV Park.
So, was all that advance-planning and worrying and wondering if we were overpacking or forgetting something worth the sometimes headache-causing stress? All that angst melted away like the summer snow on Mount Rainier as soon we got back on the road.
One thing we've learned from our previous three years of traveling to appreciate every moment of this grand adventure.
Do you have any trips on the fall and winter calendar? Tell us about it at goingmobile@spokesman.com and we'll share your plans in the next column. And if you'd like to see more photos from our trip around the West, check out our Instagram feed at instagram.com/ourgrandtour. Who knows? Maybe our paths will cross.
---
---