Fri., April 1, 2022
Visiting with friends and family makes the journey extra special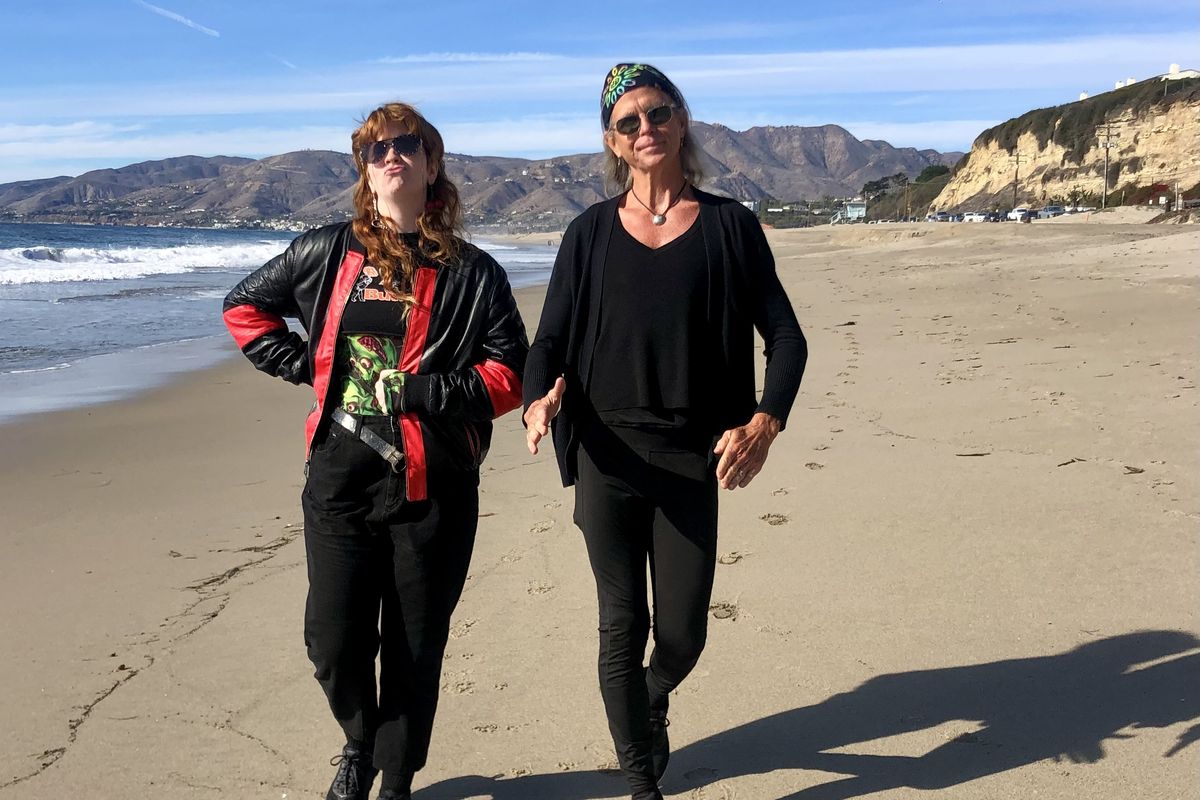 A Christmas walk on the beach in Malibu with grown-up kiddo Butter. (Leslie Kelly)
As much as we've enjoyed visiting state and national parks, hiking and biking and beach walking on our epic RV road trip, nothing tops time spent with friends and family along the way.
We've managed to connect with folks we haven't seen in years and make some new friends along the way. One nice lady from Spokane gave Leslie a fused glass heart after a short, but sweet conversation about Spokesman-Review colleagues Dan Pelle and Colin Mulvaney, who inspired her photographer daughter, Amanda Smith. Small world, indeed!
Here are a few of our favorite memories from this chapter of Our Grand Tour:
After missing the holidays together the previous year, celebrating Christmas with our grownup kiddo was really wonderful. We feasted on Memphis BBQ from Rendezvous while savoring the stunning view of the Pacific Ocean from our perch at the Malibu Beach RV Park.
And speaking of Malibu, we truly enjoyed visiting with Gary Blevins and Laurie Summers Blevins, who are Going Mobile readers and were parked there for a few days during our holiday stay. Recently, we met faithful readers Gayle and George Brown from Cheney at Bullard's Beach State Park in Bandon, Ore. Thanks for saying hey. Hope y'all enjoyed the rest of your time on the road.
Leslie's sister, Laurel, made the trip from Pasadena to Palm Springs in January to spend a couple days roaming around the desert. That included a visit to Joshua Tree National Park and a very cool hike around the beautiful oasis at Indian Canyons.
In New Mexico, it was a pleasure to reconnect with John Sale, former photo editor at the S-R. He and his wife Deb retired in Albuquerque and have become experts on the trails in the region. While there, we were treated to a hike out into the nearby desert hoodoos and didn't see another soul.
While camping at Usery Mountain Regional Park near Phoenix, we had our friend Tahirih over for dinner. It was wonderful to catch up and have a meal on a warm day in November. That sunny weather is one of the reasons Tahirih relocated from Seattle a few years ago.
Leslie's BFF from college days, Leita, and her husband, Dave, made the trek from their home near San Diego to hang out with us at San Elijo State Park in Encinitas. Seared prosciutto-wrapped dates and grilled salmon was on the menu at the campsite, accompanied by a lot of laughter and a heaping helping of nostalgia.
Just up the 101, we were thrilled to reconnect with John's BFF from high school days. Randy and his partner, Kathy, moved to San Clemente a couple of years ago and it was a treat to see their new home. They even let Leslie mess up their huge kitchen to make roasted chicken and mashed potatoes, a meal she can't quite pull off in the tiny home on wheels.
In the Bay Area, our pal Janie McCauley came out to the coast for a lovely lunch. We've known Janie since she was a cub reporter in the S-R sports department. For more than 20 years, she's been shining brightly for the Associated Press in the Golden State. She exudes an infectious positive spirit -- one that has helped her land interviews with some of the greatest athletes of all time, from Steph Curry to King James. Wow!
Last week, we were welcomed back to Washington state by John's cousin Tom and his extended family in Longview. It felt so good to be "home," sitting around the dinner table, passing roasted asparagus, baked salmon and Halibut Olympia. Thanks for cooking for us, Faye! They also let us park the rig in the driveway, serving up the ultimate compliment. Bringing our own accommodations makes us the best houseguests.
---
---