Fri., April 15, 2022
Back on the road for a ski trip to Whistler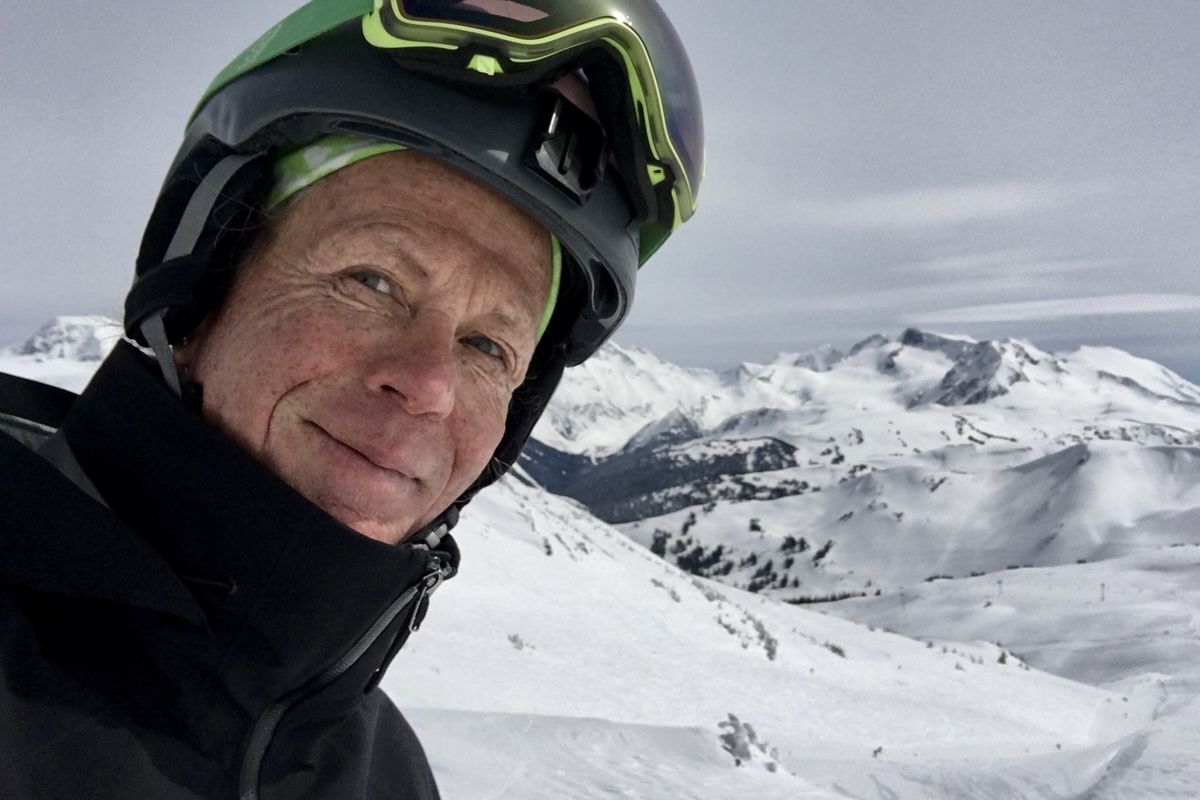 The view from the top of Whistler Blackcomb resort in British Columbia. (John Nelson)
After more than six months on the road in the Southwest, you'd think we might want to take a break for a while.
But an early April snowstorm hit, and the slopes of Whistler Blackcomb ski resort beckoned, so John took our Thor Gemini north of the border for a few days.
Here's his report:
I love the beaches of California, but they don't offer the chance to rack up vertical feet and shred powder.
So when a late-season snow storm came through the Pacific Northwest, I packed up the RV and headed for Whistler, British Columbia. I'm so glad I did. This world class ski town is pretty well set up for RV travelers, and prices for overnight stays are reasonable, especially when you compare them to the pricey hotels of Whistler.
It's much easier to cross the U.S.-Canada border these days, thanks to reduced Covid protocols. Starting in April, Canada no longer requires vaccinated travelers like me to get a Covid test before entering the country. (The unvaccinated are still required to have a negative Covid test.)
So I followed the ArriveCAN directions and skated through the border crossing in Blaine, Wash., and onto Whistler, which at that moment was receiving more than 30 inches of snow. Wow!
I stayed at Riverside Resort in Whistler, operated by a company called Parkbridge that has properties scattered around Canada. It was about two miles from the lifts in Whistler village, and I figured I could ride the bus to and from Riverside Resort.
Not so.
A transit strike has halted all bus service in Whistler, so I pulled out the bike and rode to the lifts with all my gear loaded in a huge backpack. I got more than a few bemused looks -- but I was on a mission to shred.
The upper alpine slopes of Whistler Blackcomb were awash in fresh pow, and the sun even came out during my three days of skiing. The slopes were empty of big crowds and I loved the feeling of being back in deep snow, PNW style. Welcome home!
For RVers, Riverside Park is a comfortable location. Off-peak rates were in effect, about $53 USD a night for a full hookup. The public facilities were clean and well-kept.
The only snafu was on my second night, when my water hose froze in the chilly temps. As a solo RVer, I could only blame myself for the mistake, which was easily resolved when temps warmed up during the daytime.
With Canada easing its Covid travel restrictions, consider heading north of the border soon. The warmer days of spring and summer are just starting, and it's high time we get reacquainted with our neighbors to the north.
Other quick trip ideas
Speaking of warmer weather, the Columbia Basin might be a good location for a quick RV trip in the next couple of weeks.
Two of our favorite state parks are west of Spokane just off of U.S. Highway 2: Sun Lakes and Steamboat Rock. Nearby is the highly recommended Potholes State Park, one we'd love to visit someday.
A quick check of the Washington.goingtocamp.com reservation website shows availability at all of these fine state parks in late April. Check the weather forecast and consider a quick trip west.
---
---