Fri., April 22, 2022
Greatest hits from our RV kitchen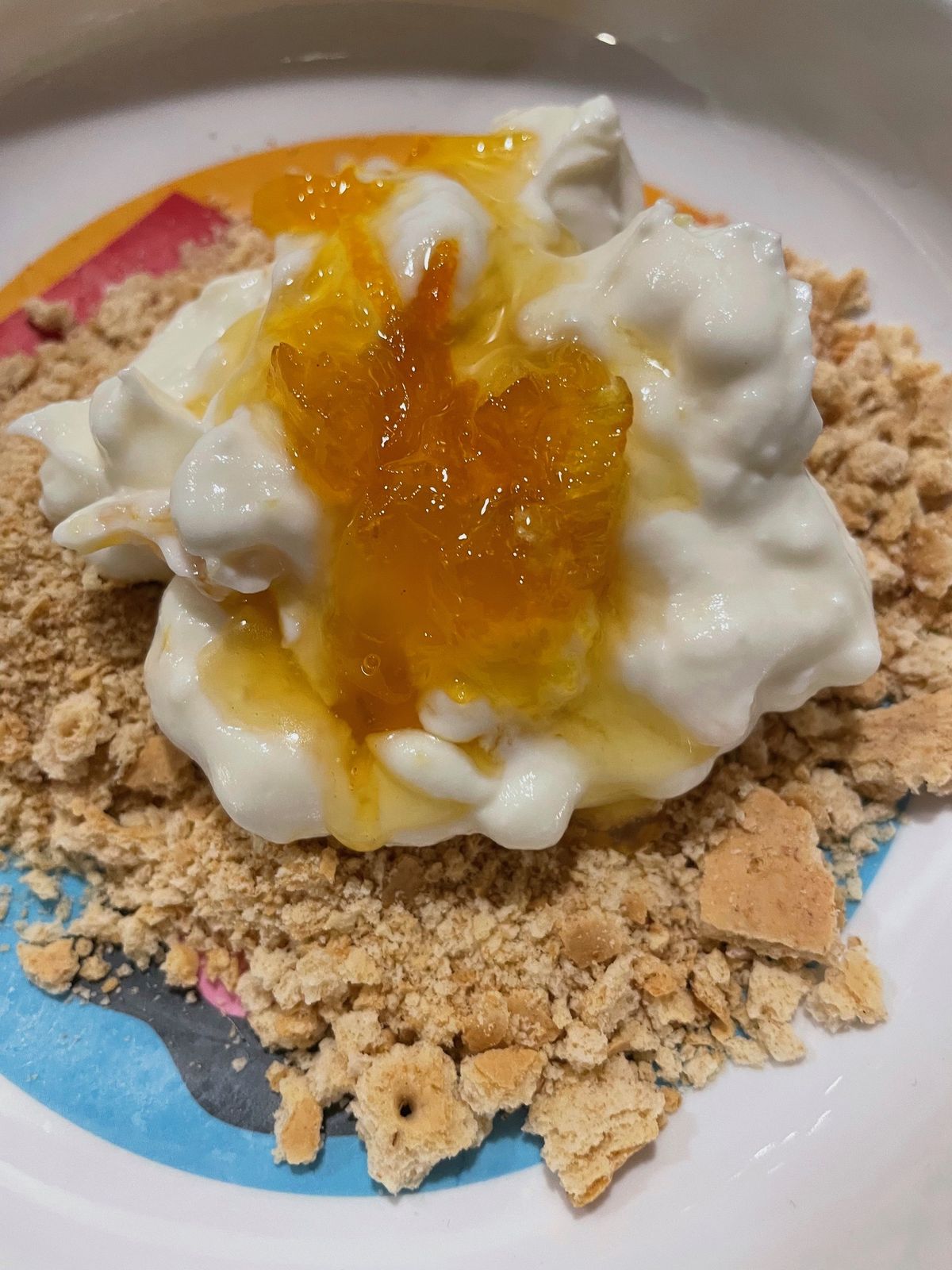 Inspired by "The Golden Girls," this cheesecake hack is made with yogurt, goat cheese, orange marmalade and graham crackers. (Leslie Kelly)
Some people eat to live, we live to eat. At the end of the day, whether it's been hours on the road or the hiking trail, we look forward to sharing a meal.
Here are a few of our favorite feasts so far this year, recounted by the chief cook and mess maker, Leslie:
Family meals: While John spent a week in January skiing around Lake Tahoe, I was thrilled to chill in the sunshine in Palm Springs. Visits from our grownup kiddo now known as Butter and my sister, Laurel were so much fun. Butter and I actually collaborated on a poem about our fantastic dinner built on a simple foundation of pinto beans. And Sissy was game when I offered to make her my latest crazy casserole creation: cheeseburger enchiladas. Verdict? Kinda weird, yet yummy. (Find those recipes online at spokesman.com/blogs/going-mobile.)
One-bowl wonders: Over the past few years, we've spent a lot of time downsizing stuff so we can travel light and keep things simple. Not surprising, then, that one-bowl meals have become the delicious default. We're not talking about throwing random ingredients together, though. There's some method to the madness. Take the tuna noodle toss that's joined the regular rotation. To cooked pasta, I add a can of tuna in olive oil, some marinated artichoke hearts, a tablespoon of capers, a generous squeeze of lemon and toss. Served on top of arugula or baby spinach and it's the full meal deal.
Go green or go home: Building on the one-bowl theme, salads are often the crunchy, colorful counterpoint to a savory protein component. Allow me to humbly brag about my brilliant Caesar hack. After being gifted some of Sissy's backyard-grown lemons, I decided to try making a shortcut dressing for that classic salad. I started with a generous squirt of mayo over the top of chopped romaine. Then, I added lemon juice, a couple of dashes of fish sauce and a drizzle of olive oil. Grated parm and croutons go on top and it's all tossed. That's it. Easy, right? Grilled salmon for the big finish and that's dinner. If it's Taco Tuesday, I'll probably serve a ranch dressing slaw with grilled shrimp or ceviche, tostada shells on the side. Or, if we're craving the flavors of Italy and I've got some of those marble-size mozzarella balls in the fridge, I'll mix in some bottled pesto, sun-dried tomatoes and serve that over greens. So satisfying, especially alongside some rustic bread.
Farm-to-picnic table: No matter where we're parked, I'm always going to try and find a local farmers market. Not a challenge in California, where I picked up sweet strawberries in January and pristine greens in Fort Bragg in March. While spending one night at the Orange Grove RV Park near Bakersfield, I took full advantage of the park's u-pick privileges and amassed a huge bag of citrus. That juicy fruit became the inspiration for a small batch of orange marmalade, which later became the star of an impromptu dessert.
The final course: We typically don't do dessert after dinner, instead we snack on chocolate while playing our nightly cribbage game. (John won the winter season, BTW, and I'm still smarting from the sting of that defeat.) However, while watching an episode of "The Golden Girls" on antenna TV, I got a wild hair when the ladies sat down to devour yet another cheesecake. On a whim, I mixed equal parts goat cheese and plain yogurt, adding a generous tablespoon of my homemade marmalade to bring on the bittersweet. Crumbled graham crackers into a bowl, spooned the creamy mixture on top and quicker that Ma could crack wise, that instant cheesecake has now become a go-to treat.
What about you? We'd love to hear about some of your most memorable moveable feasts. Send us the deets at goingmobile@spokesman.com.
---
---