Fri., April 29, 2022
We hit a few bumps on the road to Leavenworth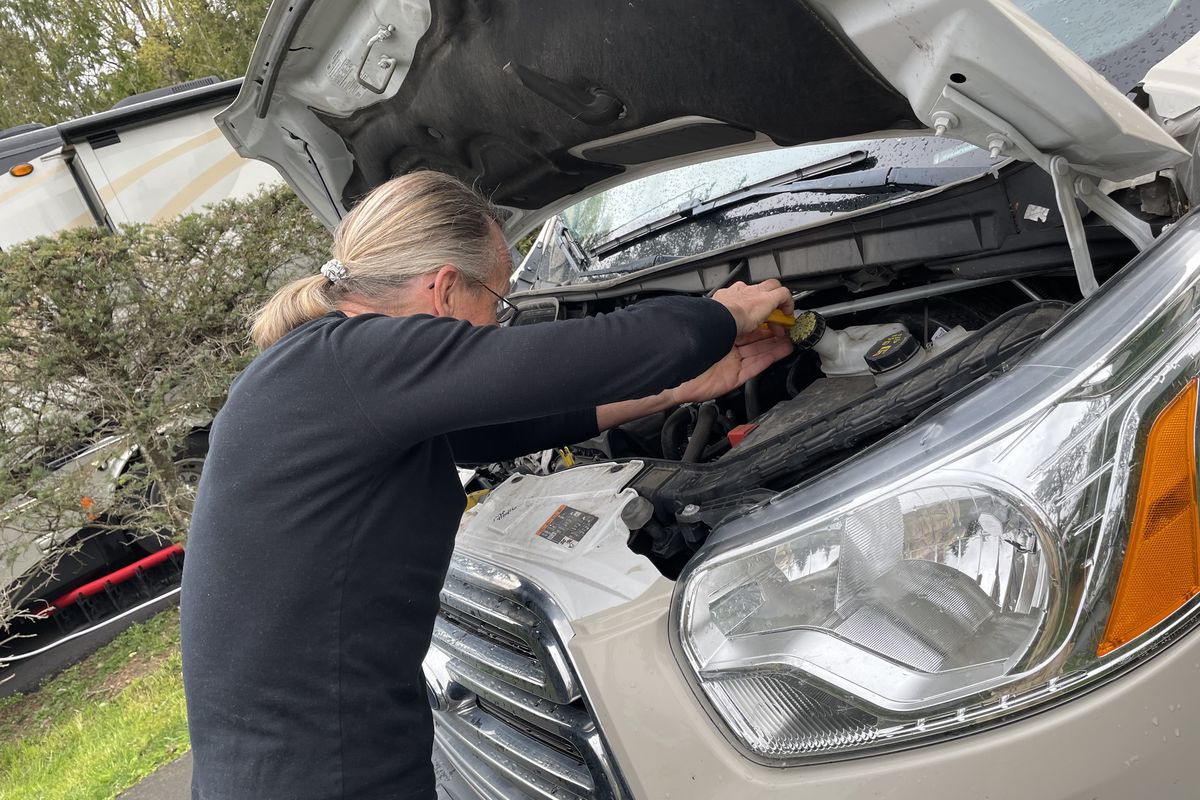 Removing the mouse nest from the engine area of the Thor Gemini RV. (Leslie Kelly)
We're so grateful our recent 7,000-plus mile road trip around the West was free from drama on the motorhome front, but that magical run came to an abrupt end recently. Don't worry, we will keep calm and RV on, but here's how it went down.
Mariners, here we come: We were so excited to hit an early season Seattle Mariners game with friends on Easter Sunday, driving south on I-5 to our favorite RV park in the metro area. But as we got closer to Lake Pleasant, the check engine light came on and the Ford Transit began to run rough. By the time we pulled into our spot, an indicator light said the engine was running on reduced power. Yikes!
We put a pin in the search for a root cause while we went to the game – the M's beat the dreaded Astros 7-2 and we had a blast. Later, we popped the hood and found what we believed to be the culprit: a mouse house tucked behind the engine block.
After pulling out the rodent den, Leslie called her cousin B.T., who knows a lot about diesel engines and he suggested we check our fluid levels. Sure enough, the coolant was low. We added some, the check engine light went off, and we were back in business … Except, shortly after driving out of the park, smoke began pouring out of the tailpipe. Double yikes!
On the phone again, this time to the Bellingham Ford dealer who reassured us that it would probably dissipate after running the engine for a while. "That's creosote burning off, drive it for 10 miles and it'll clear," said David, the very helpful Ford repair tech. He was right.
Soaking up the Icicle River: Shortly after setting up in a sweet spot – No. 59 at the Icicle River RV Resort – we drank in the magnificent view. Fresh snow up on the jagged peaks, signs of spring along the raging river. So beautiful. And guess what? We had the entire riverfront row to ourselves. That's the beauty of shoulder season travel.
But our bliss was interrupted by a whiff of something stinky. What could that rotten egg smell be? Was it the corpse of the mouse left behind? We searched and searched but found nothing.
The next day, Leslie's brother Chris came for a visit and he called it almost immediately: That's propane. Sure enough, as soon as we turned it off at the source, the stink dissipated. But propane is a key player in the RV lifestyle, and getting into a repair place at this time of year is almost impossible.
Enter our latest hero: Omar's RV in Wenatchee, who squeezed us in the next day. Hooray! Thank you, Ryan, and high fives to the crack service team at Omar's. We were back on the road again in a few hours, propane repaired.
These bumps in the road reinforce the importance of finding a trusted RV repair shop and we talked about how we might just make Omar's our go-to, though it's not exactly convenient. It's not far, however, from the awesome Entiat City Park, a destination along the Columbia River.
One last hiccup: And it's a doozy. Before we headed back over the mountains, we checked the coolant again and the levels were dangerously low. Could we make it back over Stevens Pass?
We picked up another gallon of coolant, filled up and held our breath as the check engine light came back on. We limped home, dropped off the Gemini with David at Bellingham Ford and hoped it turned out to be a fairly easy fix.
What's next? May brings us to a new adventure: working as volunteer camp hosts at Spencer Spit State Park on Lopez Island. Yeah, how cool is that? More details coming up in next week's Going Mobile. And you can always follow along on our journey on Our Grand Tour on Instagram.
---
---