Fri., Aug. 26, 2022
Some sage driving tips after 50,000 miles on the road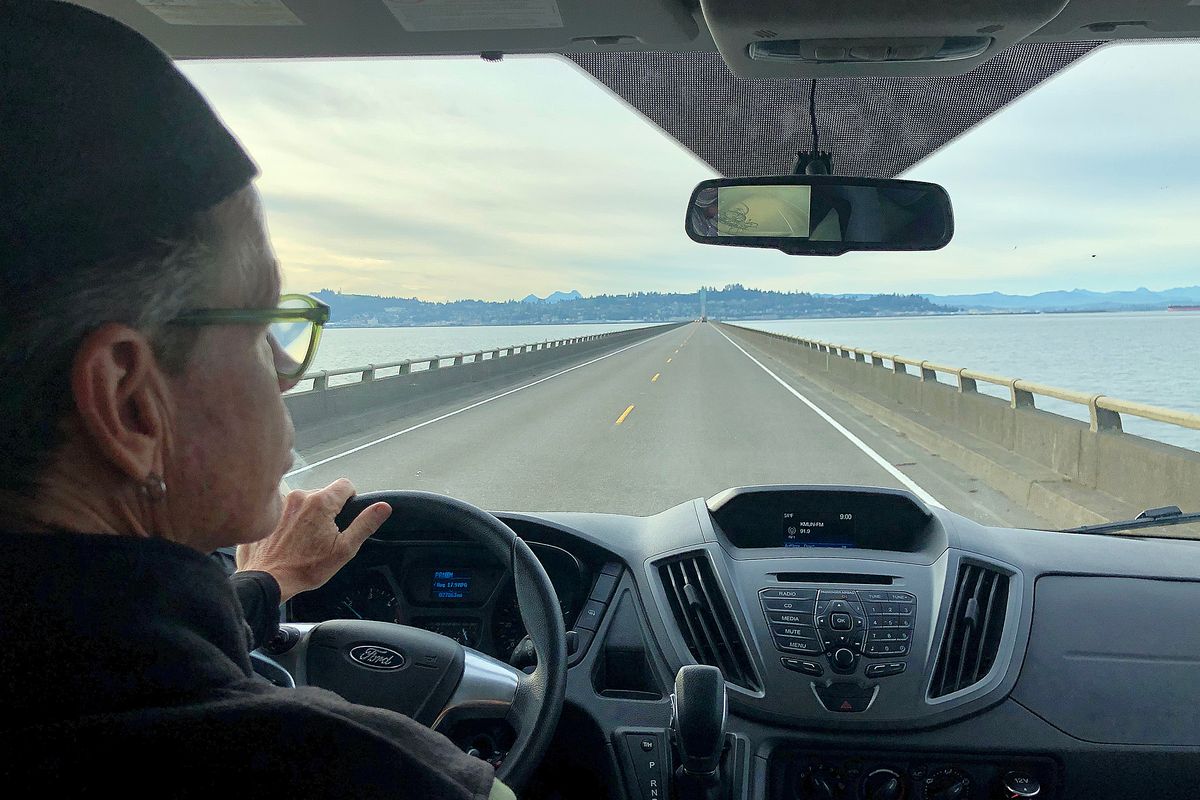 The road stretches out as we cross the Columbia River near Astoria, Ore. (Leslie Kelly)
Baby, you can drive my car … beep, beep, beep, beep yeah!
OK, so that Beatles classic certainly does not mention getting behind the wheel of a motorhome. It's still one of our favorite road trip tunes, an eclectic mix that includes cuts from Red Hot Chili Peppers, Prince, Willie Nelson and David Lee Roth. We can't drive 55 either. It's more like 49, plugging along in the right lane. Go ahead and pass us, speed racer.
Ha!
After a few years of spinning yarns about our favorite destinations, meals made in teeny quarters and hitting rough patches on the journey, it occurred to us that we've never tackled the thorny subject of driving. So, here goes, buckle up. It could get a bit rough.
Lesson learned: The very first time we hit the road with our 23-foot Thor Gemini back in the fall of 2018, disaster struck before we'd even pulled out of the parking lot of our old Shoreline condo complex. The speed bumps caused a shaking shimmy that was dramatic and unexpected. A bottle of olive oil came crashing out of the cupboard. Ugh, what a mess. We learned the hard way to double check all cupboards are secured and to take those bumps extra cautiously.
Three cheers for the mirrors: Those side mirrors have been crucial for safe merging, lane changing, backing up. We also have a rearview camera, but we don't use it as often as our side mirrors. The importance of those key players was reinforced when we witnessed a minor fender bender on a ferry: Don't tuck those mirrors in when parking. They work as effective "bumpers" keeping other vehicles from getting too close.
Cruise control: Whenever we're doing some long-haul freeway driving, that feature is almost always in play. Not only does it take some of the stress out of the trip, keeping it steady means improved fuel efficiency. We sometimes approach 20 mpg, not bad for a motorhome.
When the co-pilot is the MVP: Full disclosure time, John does the lion's share of the driving. That's not to say Leslie is a total wimp. She's pretty proud of negotiating the tangle of freeways around Los Angeles in January to make the solo trip from Dockweiler Beach Park near LAX to Palm Springs. Leslie steps up as chief snack purveyor and CD changer on those epic trips when John's driving. High fives all around. Wait a minute mister: Keep both hands on the wheel!
Take a break: One of us – hint, the head driver – will always go pedal to the metal to get to where we're going. But he's slowly come around to the idea that it's perfectly fine to stop along the way and soak up some scenery. On our most recent exploration of the Big Sur coastline, we pulled off at a rest area where we were the sole vehicle. That breakfast was really memorable, helping to ease the pain of a pre-dawn alarm. Also, don't forget to pull over if/when you're holding up traffic. That class move helps bust the myth that RVers are clueless about those cursing at them from a long string of cars as they poke along.
The big picture: Like driving any car, driving a motorhome involves paying attention. It's easy to get distracted by the landscape or the antics of other vehicles. It sounds so basic to say STAY FOCUSED, but that's our best intention. We try to follow the wise advice of every driver's ed teacher we've ever met: Take in the big picture and always – we mean ALWAYS – do a head check before changing lanes or taking a right turn when you're next to a bike lane.
What did we miss? We're happy to share your advice. Drop us an email: goingmobile@spokesman.com. Please follow our travels on Instagram at Our Grand Tour and check out the Going Mobile blog for our ultimate road trip playlist.
---
---