Fri., Dec. 2, 2022
The challenges and rewards of dry camping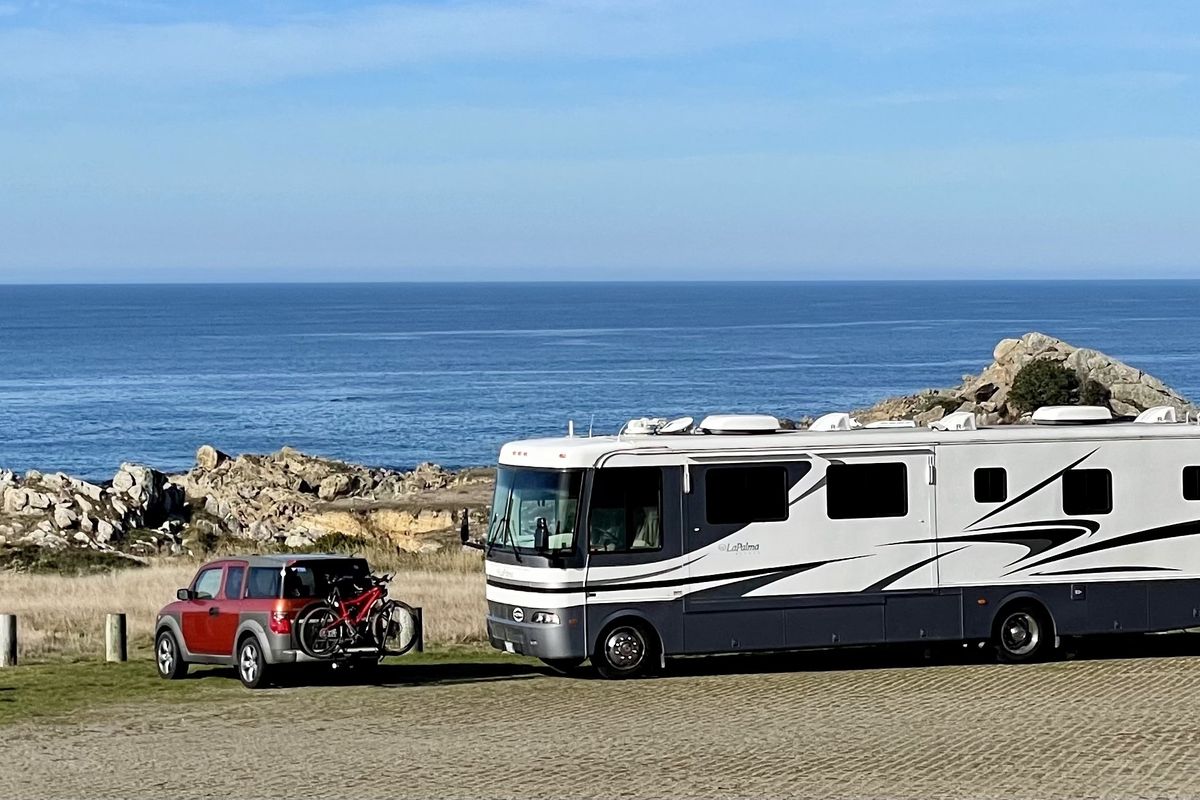 The overflow RV camping area at Salt Point State Park offers expansive views of the Pacific Ocean. (Leslie Kelly)
We're hooked on the hookup. There's something downright comforting about being plugged in, starting with the purr of our army of tiny space heaters and ending with the glow of a nightlight in the closet-sized bathroom.
Yet, some of our favorite state campgrounds in Northern California don't offer the power option, so we're game when it comes to dry camping for a few days. It makes us truly appreciate the return to power.
Our most recent off-the-grid experience was at the remote Salt Point State Park off California Highway 1. That two-lane road is a real bear with more twists and turns than a true-crime story. Whodunnit in terms of getting us from Point A to Salt Point with only a minor case of queasiness for the passenger? John's stellar skills behind the wheel deserve a prize.
We pulled in for our first visit to this expansive park and we were a bit bummed to find our campsite deep in the woods and not far from the road. We know the ocean's out there, but where? Though John diligently studies campground photo websites for a preview, it's not always easy to tell what the site will look like until you get there.
After setting up (a much shorter process without a hookup), we climbed on the bikes to explore the seashore about a mile down the road. Wow. It was absolutely mind-blowing.
Just when we think we've seen it all on the California coast, there's something even more stunning than the last place we'd visited. The sandstone formations along the shore at Salt Point were unlike anything we'd seen, almost otherworldly. It turns out a fair bit of these rocks were quarried and ended up being used in some of the first buildings erected in San Francisco.
We sat on those rocks and watched the sun sink, turning the sky pink. We admired the handsome rocks and cheered the cacophonous waves breaking. Who needs power when you're in a setting like this?
Fortunately, our new coach batteries held their charge until the next day when we finally fired up the generator. That puppy sounds like a cross between a lawn mower and a leaf blower, but we've developed a strategy for coping. While we're temporarily powered up, we hit play on a DVD for entertaining background noise.
During our two-night stay at Salt Point, we watched "The Godfather" for the umpteenth time, but this go-round, we listened to the commentary by director Francis Ford Coppola. We learned a lot, including all the tricks Coppola used while filming on the cheap. True Hollywood magic.
Speaking of magic, there's an overflow RV parking lot at Salt Point that enjoys a spectacular view of the ocean. We thought about moving there on our second night, but by that time, we were feeling settled in our site, especially around the firepit.
The visit marked the first time we'd had a crackling campfire in a long time. In the autumn chill, we usually go for a quick warm-up by the propane-powered Outland Firebowl. We had loaded up on wood back in Fort Bragg and our campsite glowed in the flickering orange that comes from carefully constructing a bunch of kindling and split logs and setting it ablaze. So cool.
Before heading out to our next destination – a posh hotel in Sonoma County – we talked about whether it was worth it to go off power. Heck yeah was the consensus. Though maybe not for more than a couple days at a time.
---
---