Fri., Dec. 9, 2022
Taking another run at RVing in the Bay Area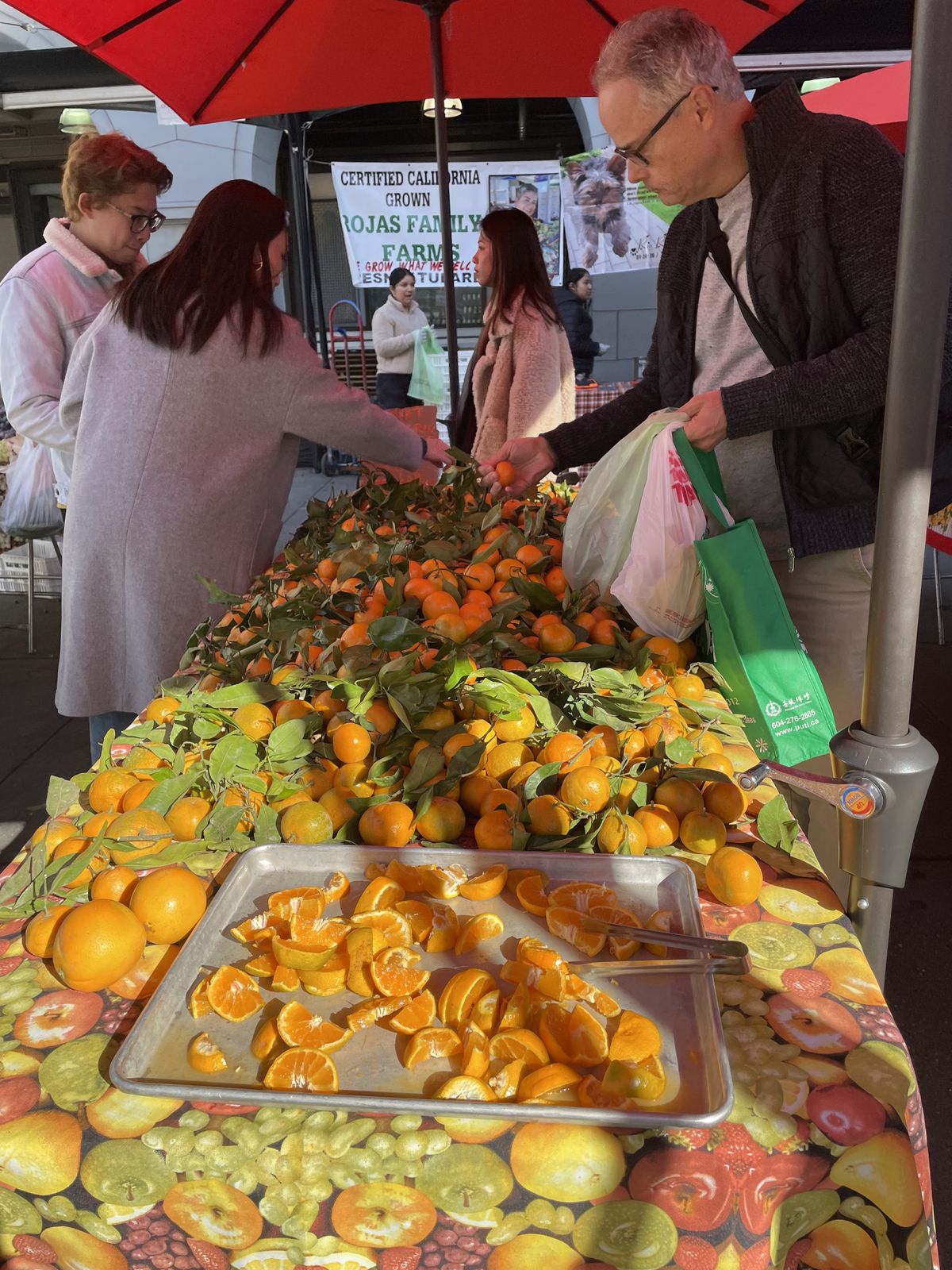 The Ferry Building Farmer's Market offers a bounty of local produce in downtown San Francisco. (Leslie Kelly)
Yes, we know we're living the dream, exploring beautiful areas and camping in gorgeous natural surroundings. But sometimes, we crave the bright lights of the big city and that doesn't necessarily work well for our tiny home on wheels.
That's been the case during visits to San Francisco in recent years. When we roll across the Golden Gate Bridge, we've typically found parking elsewhere and booking a hotel room for a few nights. Those experiences have certainly been fun, but we wanted to take another run at staying in The Bay while sleeping in our own bed.
We booked a few nights at the Marin RV Park, located in Greenbrae, just off U.S. 101. We thought it could work because there's a passenger ferry about a mile from the RV park in Larkspur that travels to downtown San Francisco after a scenic 30-minute ride. What could go wrong?
Turns out, nothing.
We pulled into our super tight spot on Thanksgiving Day after a visit to John Muir Woods. (Where we paid $45 to park, a spot that must be booked in advance. And just FYI, the road into that impressive national monument is as winding and narrow as we've traveled in our 50,000-plus miles on the road.)
After setting up, we took out the bikes to explore the uncharted territory and we were instantly impressed with the vast network of bike-friendly paths and bird-friendly waterways in this section of Marin County. Plus, there's a Trader Joe's right next door to the RV park -- so score!
The next morning, we hit the city with the same intention. We were going to see San Francisco on two wheels and guess what? Leslie's new e-bike came through like a champ, as we ventured on Market Street to The Mission neighborhood to pick up some pastries at the lovely Tartine Manufactory and then headed cross-town on Polk to the Marina District and Presidio, ending up at the base of the Golden Gate.
You see the city in a whole new way when traveling on a bike. John's known this for years, a seasoned vet of the tiny saddle, but it was a true eye-opener for the other member of the Going Mobile team. Sure, she took a spill while looking at her iPhone, but no bones were broken in that slow-motion tumble.
We had planned on an early dinner at Hog Island Oyster Co. at the Ferry Building before hopping on our ferry back to Marin County, but the line at this popular spot was daunting. So, we got on the 4:30 ferry back and had dinner at the Hog Island restaurant on the Larkspur side. It was outstanding.
The next day, John took an ambitious ride to the Marin Headlands while Leslie hit the ferry to head back to the city for the Ferry Building Farmers Market and lunch with her friend, Janie McCauley. They've known each other for many years since Janie went to school with Leslie's brother, Mike. And then, they worked together at The Spokesman-Review in the 1990s. Janie's been covering sports for Associated Press in the Bay Area for more than 20 years. It was a wonderful visit, especially since she brought along her kiddos, Emma and Lily.
Our city-adjacent stay was such a success that as we checked out of the RV park, we asked about monthly rates. It's $1,800, which isn't out of line considering the location. Can we see ourselves enjoying an extended stay in The Bay? Maybe, though we'd probably be pining for the call of the wild.
Next up, Half Moon Bay's Francis Beach Campground should satisfy that. Be sure and check out Our Grand Tour Instagram feed for more photos of our journey.
---
---