Fri., Dec. 16, 2022
Our pivot to Pinnacles delivers peak experiences on the fly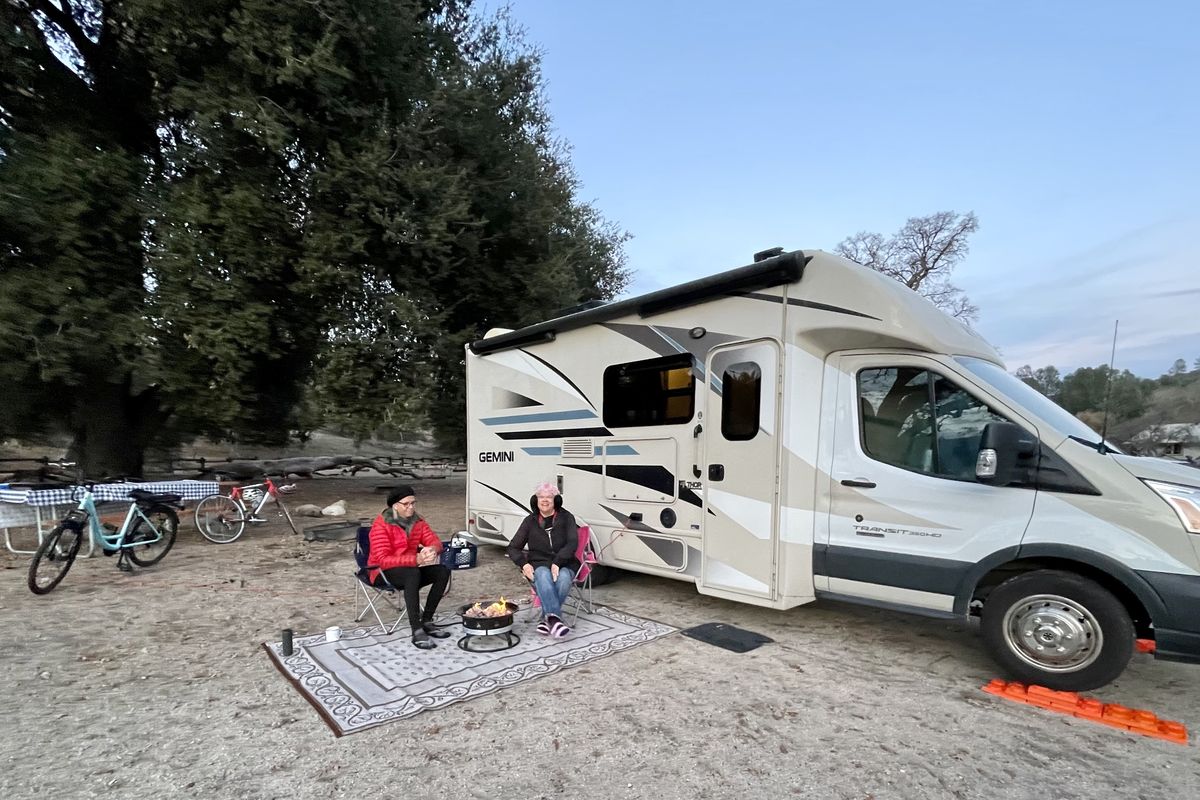 The Pinnacles campground was uncrowded during an off-season visit.
Pinnacles National Park in California isn't on a lot of people's radar. It should be.
In a state with Yosemite, Death Valley and Redwoods national parks, Pinnacles -- tucked away in a remote section of the coastal range 80 miles south of San Jose -- doesn't get the same attention.
On this trip, Pinnacles delivered our most memorable experience so far on our Going Mobile tour south. Amazingly, our visit almost never happened.
We had planned on staying along the coast to visit the scenic Big Sur area. Six months earlier, we had booked a spot at the Kirk Creek Forest Service campground on the cliffs above the Pacific Ocean, and we were on track to stay for two days.
What could go wrong? Well, this is Big Sur and for us, that usually means drama. Sure enough, a late fall storm dumped several inches of rain, causing a rock slide and closing the scenic California Highway 1, leaving us with no way to get to Kirk Creek.
This isn't the first time we've had plans derailed on Big Sur. Planned visits in 2019 and 2020 were also canceled either by road closures or the pandemic.
"When it comes to Big Sur, we're cursed," John said as we sat dejectedly around the fire in Santa Cruz.
We started talking about backup options. When John threw out the idea of detouring to the east to visit Pinnacles, Leslie immediately perked up.
"Ooh -- I'd love that!" she said immediately. We quickly pivoted. After a two-hour drive through the Salinas Valley and into the coastal range, we were there.
We immediately knew we'd made the right decision. The park was pleasantly empty of visitors, and we had our choice of dozens of campsites.
Pinnacles is one of the rare national parks that offers an electrical hookup. For $27 a night (thanks to our half-off America the Beautiful national parks pass), we had electricity and lots of room.
Over the next two days, we rode our bikes on the lightly traveled roads to trailheads in the high country of the park, where we hiked through caves and around the volcanic rock formations, keeping our eyes peeled for rare California condors.
On our second day, we took the thrilling High Traverse trail, climbing the steep and narrow route along cliff sides into condor country.
Fewer than 120 of these majestic birds live in the wild, and Pinnacles is one of the few places you can see them. As Leslie was hiking along the ridge line, a huge prehistoric-looking creature swooped 20 yards above her and then landed on a rock nearby.
We were in awe. The condor was number-tagged and we made out a purple "92" on his wings. We later learned that he was born in 2013 in the Oregon Zoo, and had later been released at Pinnacles.
Old 92 hung out for several minutes, then soared off with his friends in the skies around the national park. Magic.
Beautiful trails and rare birds are reasons enough to visit Pinnacles. If you can visit in the off-season, as we did, you'll truly make the most of your time. The park was delightfully uncrowded -- a beautiful surprise thanks to the RV lifestyle.
---
---