Fri., Dec. 23, 2022
We're having a very coastal Christmas in Cali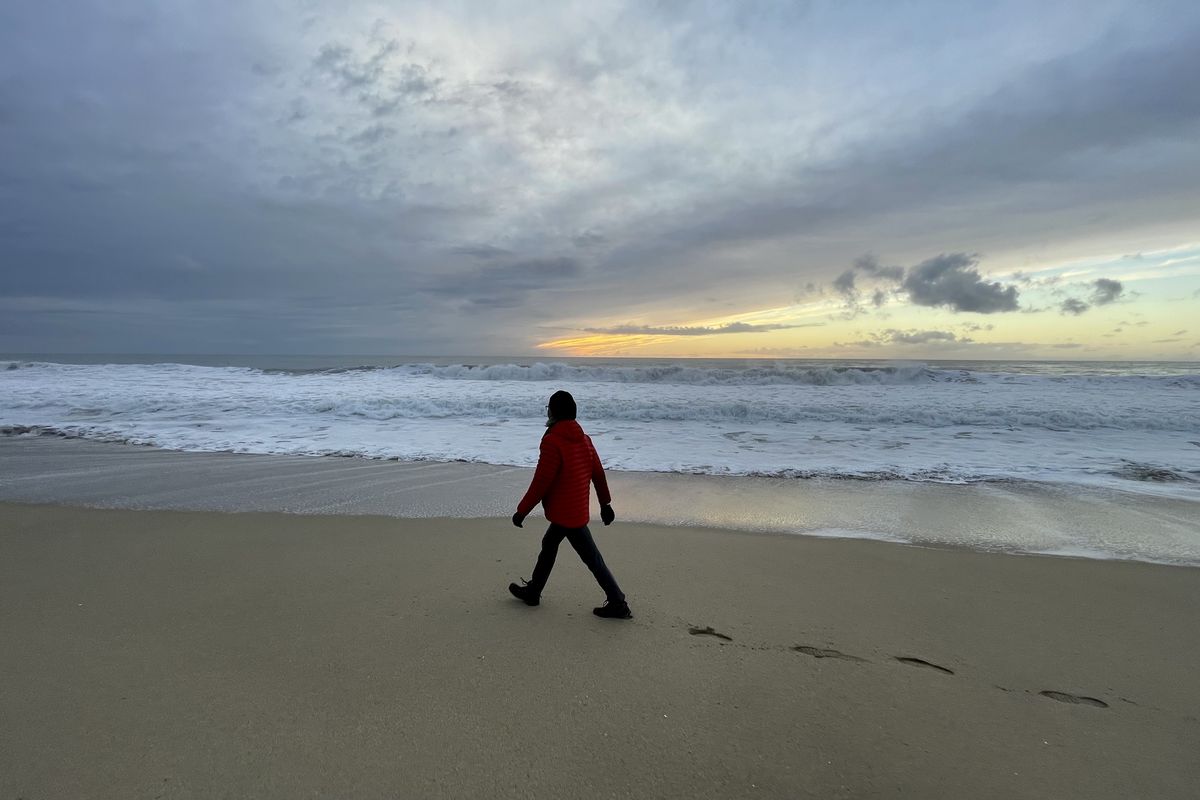 After the storms, a walk on the beach at Half Moon Bay State Beach. (Leslie Kelly)
For us, the holidays are about the journey. And we've spent the runup to Christmas rambling down the coast from San Francisco to SoCal.
It's been an action-packed month filled with exceptional stays at five state parks, dodging wild weather and discovering some new finds to go along with our old faves. We also lavished in luxury at a splurge-worthy commercial park on the Central Coast.
So here's the dish from our very coastal Christmas:
Half Moon Bay State Beach: We booked a week in this state park set on a picturesque bay not far from the famous Mavericks surf break. We've stayed here several times and it always speaks to us because the Francis Beach Campground offers amazing access to a lovely stretch of shoreline. We hit the bikes to explore the California Coastal Trail when we weren't getting flooded out of our campsite during one stormy night. Hey, it all worked out -- we got an upgrade to one of the Half Moon Bay's best beachside sites.
New Brighton State Beach: This park sits in the cute and touristy village of Capitola, near Santa Cruz. Our stay here was a first for us -- we've never before managed to get into this popular park offering views of majestic Monterey Bay, plus electricity and water. Bike rides and Uber took us on area explorations, and we spent a day kicking around funky-cool Santa Cruz.
Morro Strand State Beach: After a brief side trip to Pinnacles National Park, we drove around the closed Big Sur area and settled into Morro Bay, one of our favorite Central Coast stops. This was our first stay at Morro Strand -- a park right on a long, flat beach north of town. Campsites were tight but adequate, and you can get a full hookup here, something many coastal state parks in California lack. We had a lovely afternoon before being pounded by two days of rain and wind and a rare power outage. Wild times, but that's December on the coast, baby.
Montana de Oro State Park: This gorgeous park near the town of Los Osos is on our list of best locations on the California Coast. It features fantastic hiking and biking to go along with some of the state's most beautiful coastline. We hiked miles of trails through the dunes and mountains, and rode the Bluff Trail to dramatic views of the crashing waves. If you visit, the only catch is that the Islay Creek Campground is rated as primitive -- meaning it has pit toilets and no running water -- so come prepared. Bonus! We had a drop-in visit from Spokane-based readers Barbie Davies and Jim Brown, who stopped by to say hello. Nice to meet y'all!
Flying Flags Avila Beach: This swanky resort is brand new and it has everything: Incredible views, top-notch facilities, and it even offers propane-fueled fire pits. What about the WiFi? Incredible -- the best internet connectivity we've ever had at an RV park. You'll pay about $100 a night, but it's worth it.
Carpinteria State Beach: As Christmas neared, we found ourselves visiting this old favorite park in an idyllic beach town south of Santa Barbara. Sites are right on the beach with wonderful views of the Channel Islands. Best of all, it brought us to a reunion with our grown-up kiddo, Butter, who visited from Los Angeles.
We're in SoCal now and it's feeling like the holidays -- Merry Christmas everyone!
---
---