Fri., Dec. 30, 2022
The RV highlights of 2022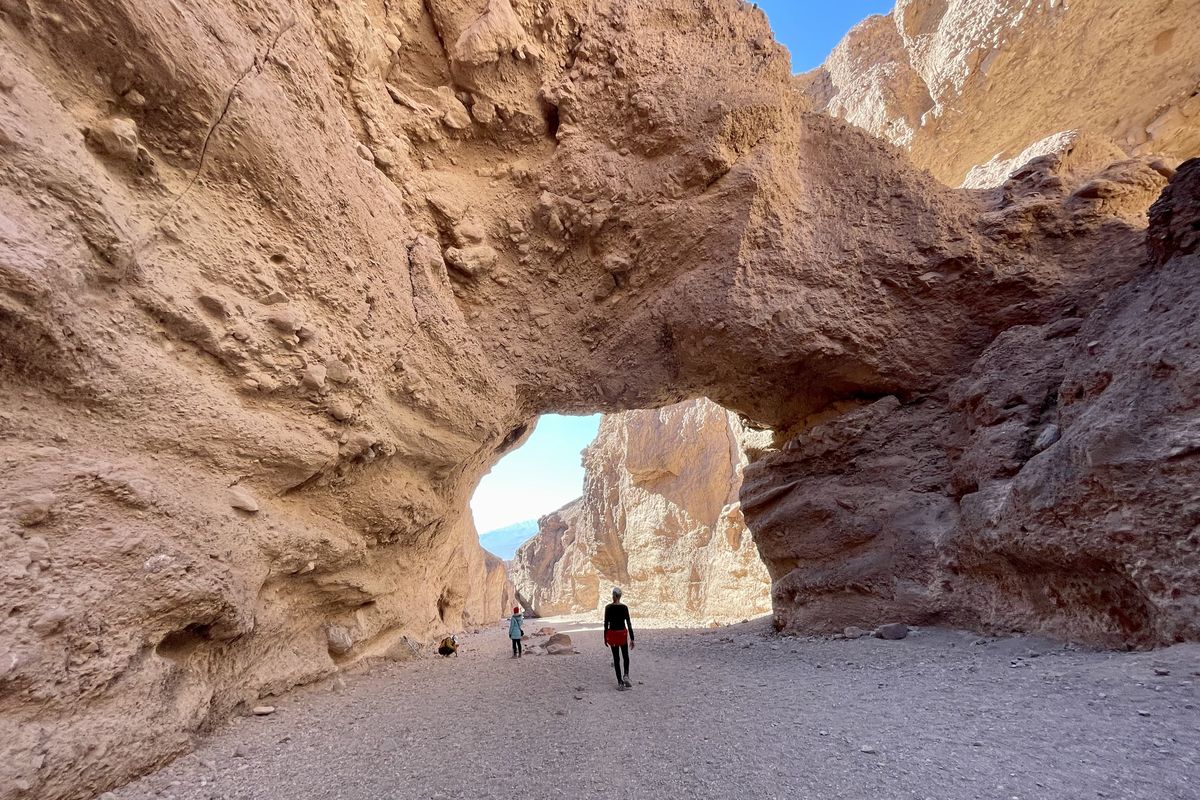 Hiking the canyons of Death Valley National Park. (Leslie Kelly)
Happy New Year from our tiny home on wheels! Let's roll the highlights reel from 2022 for some of our fondest memories along the way.
San Diego area: Last winter, we spent two weeks in Encinitas at San Elijo State Beach, one of our fave California state parks, enjoying sublime sunsets and long beach walks.
Leslie's highlight: Cooking a Northwest inspired salmon feast for my BFF, Leita, and her husband, Dave. It's always a blast to have company.
John's highlight: On top of a picnic table at our bluff-side campsite, I created a "crow's nest" where we spent endless hours watching the waves.
Death Valley National Park: This winter stop was a pleasant surprise that unfolded like the bloom on a desert cactus.
Leslie's highlight: While I was awe-struck by the geologic beauty of the slot canyon hikes, the overnighter at Tecopa Hot Springs was a muscle-soothing treat.
John's highlight: A mind-blowing walk to the lowest point in North America at 282 feet below sea level in Badwater Basin.
Mammoth Lakes, Calif: After the stark beauty of Death Valley, Mammoth Lakes was a shock to the system in the best possible way.
Leslie's highlight: I absolutely fell in love with Bleu Market and Kitchen, a stylish restaurant with a fantastic butcher shop/gourmet grocery. I'm still thinking about that magnificent Harris Ranch ribeye I grilled outdoors in the frigid winter temps.
John's highlight: I had four excellent days of skiing but I particularly loved day 3, when we Nordic skied in the morning, then I hit the downhill slopes at Mammoth Mountain until closing time.
Redwood National Park: On the spring trip back to the PNW, we made a detour to the stunning Redwoods.
Leslie's highlight: I'm always humbled when standing next to these ancient trees, but the walk through Stout Grove in Jedediah Smith State Park has a few that top 300 feet. Breathtaking.
John's highlight: A mountain bike ride on the California Coastal Trail.
Camp hosting: Our summer/fall of camp hosting for Washington State Parks was spectacular, letting us get to know a place while volunteering for an organization we admire.
Leslie's highlight(s): Adored the farmstands on Lopez and the island's friendly vibe, but the best moments of the year happened when our Spokane friends Dan Webster and his wife Mary Pat Treuthart visited us in Port Townsend to celebrate his 75th birthday. His daughter, Rachel, flew in from New York City as a surprise, and I captured the emotional moment on an Instagram reel. (Which currently has more than 1.5 million views!)
John's highlight: Power tools! The gas-powered hedge trimmer I used on Lopez Island made me feel like Tony Montana in "Scarface" … "Say hello to my little friend!"
Wenatchee: A family reunion at Wenatchee's Confluence State Park in September was a joyful experience.
Leslie's highlight: Catching up with three sisters, nieces and nephews and cousins was a blast. Let's do this again soon became the mantra among those in attendance.
John's highlight: Riding "The Loop" along the Columbia River.
Coastal California: We've savored our relaxed trip along the California coast, returning to places that seem like old friends.
Leslie's highlight: It was wonderful when our grownup kiddo showed up in Carpinteria and again at Dockweiler RV Park in Los Angeles. We even survived the challenge of squeezing three into the 23-foot motorhome for an overnight sleepover.
John's highlight: Million-dollar views from state parks along the California coast for $50 a night or less -- the wonder of RV living.
---
---