Fri., Feb. 11, 2022
Death Valley is at its loveliest when it's winter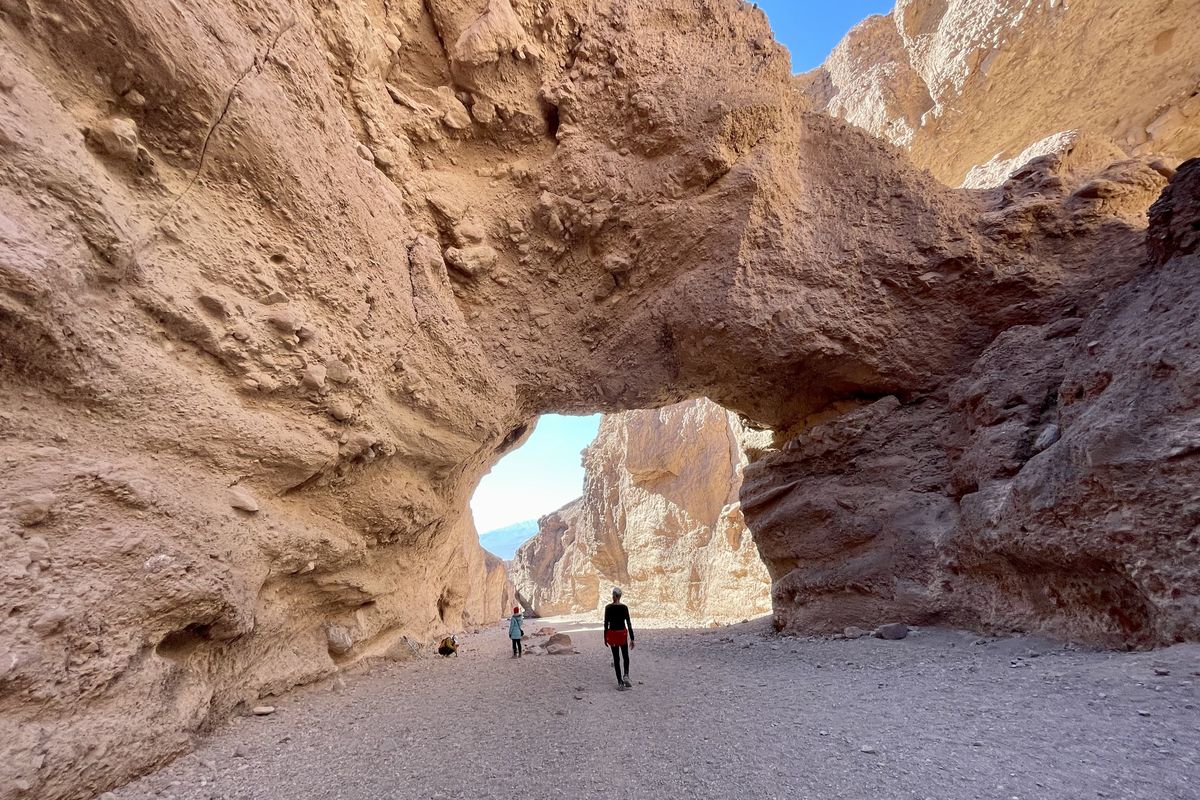 The Natural Bridge hike delivers gorgeous views in the southern portion of Death Valley. (Leslie Kelly)
In winter, Death Valley isn't dead at all. It's fully alive.
That means the valley's scorching temperatures and punishing dryness are in check, replaced by pleasant 70-degree days filled with broad views, hiking and cycling.
For RVers, there's no better time to be here.
We headed to Death Valley National Park after nearly two months in Southern California. We had lovely stays in Palm Springs and along the coast, but it was nice to trade the craziness of the SoCal metro area for the solitude of the desert.
Over the course of a week, we saw Death Valley from top to bottom. We started just south of the park at Tecopa, a funky spot with several commercial RV parks centered around hot springs pools. We chose Delight's Hot Springs Resort and were mostly happy -- the resort camping was a bit rough, but the views and the pools were top notch.
The next day we headed for the heart of the park at Furnace Creek, where a large visitor center and three campgrounds are located. We didn't have a reservation and lucked out by snagging a cancellation at Furnace Creek Campground, the nicest facility in the park.
Once settled in, we took in the otherworldly views. Furnace Creek is 190 feet below sea level and regularly posts the hottest temperatures in the U.S. on any given day during summer. It holds the U.S. record at 134 degrees, set in 1957, and it gets a paltry 2.2 inches of precipitation in a typical year.
Those extremes create a stark landscape, so desolate that it has been featured in several movies, including the "Star Wars: Return of the Jedi."
One of the amazing things about the views is just how far you can see in the clear desert air. Huge mountains ringing the valley appear to be only a couple of miles away -- instead, you're often looking at 40 or 50 miles.
We used Furnace Creek as a base to explore the southern portion of Death Valley National Park, and descended to the lowest point in North America in a place called Badwater Basin, a salt flat that sits at 282 feet below sea level. Mind-blowing.
Next, it was onto Stovepipe Wells in the middle of the park, where we enjoyed some of our favorite hikes. We booked a two-night stay at Stovepipe Wells Resort.
We could have stayed in the rig -- Stovepipe Wells has a primitive campground, and the resort has a few RV spaces -- but we decided to splurge on a motel room. Who doesn't love a bathtub and a pool in the desert?
We finished up our exploration on the western edge of the national park in Panamint Valley, staying at Panamint Springs Resort. Again, the camping was a bit rough, but we had a full-hookup and -- wow! -- more amazing views.
Over the course of our stay, we hiked a lot. Canyon-country hikes scattered through Death Valley National Park take you into wild, twisting mountain gorges, with dramatic walls surrounding you. Among our favorites were Mosaic Canyon near Stovepipe Wells, Golden Canyon near Furnace Creek, and Darwin Falls near Panamint Springs.
Then there were the sand dunes. The Mesquite Dunes hike near Stovepipe Wells is a classic -- put it on your must-do list when you visit.
And you absolutely should visit. Death Valley is a special place -- huge, raw, and a perfect winter getaway for RV adventurers.
Seattle RV Show
Head west next weekend, RV shoppers. The Seattle RV Show is Feb. 17-20 at Lumen Field Event Center. Rigs from 20 local dealers will be available to tour and check out.
Four years ago, we attended the Seattle RV Show and look what happened to us -- we hit the road for good six months later.
---
---