Fri., Feb. 18, 2022
Mammoth Mountain in winter tests the mettle of fair-weather RVers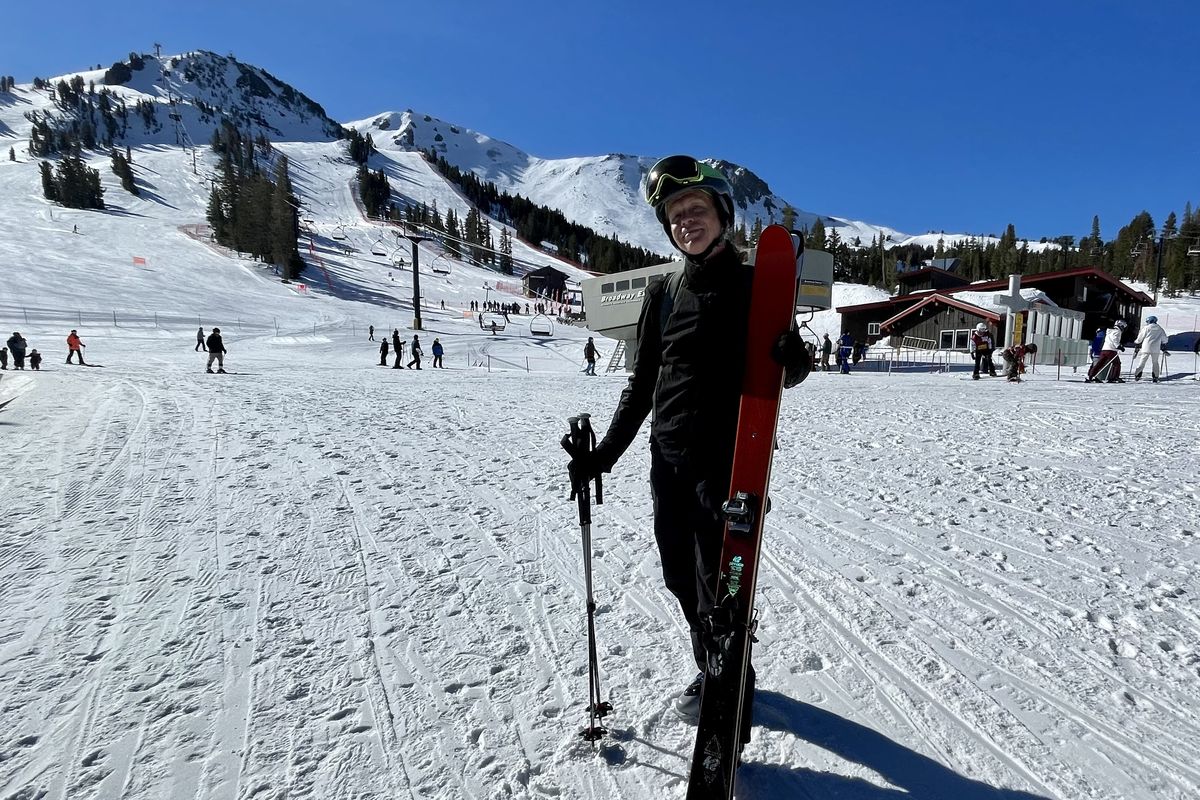 Mammoth Mountain is among the best ski resorts in the West, rising high in the Eastern Sierra. (Leslie Kelly)
When it comes to using our RV as a ski lodge, we've had a run of bad luck.
During one ill-fated winter trip to Colorado in 2019, heavy snows blocked high-country access through the San Juan Mountains, forcing a detour through eastern Utah. Later on the same trip in Aspen, the Gemini's coach plumbing system froze solid, destroying a water pump and two faucets.
So we were a little hesitant about trying it again, this time in the Eastern Sierra of California. Turns out we didn't need to sweat it.
Our week of skiing in Mammoth Lakes, Calif., was amazing. No freeze-ups. No major winter storms to battle. Just the staggeringly beautiful snow-covered peaks for us to admire.
It helped that sunny afternoon temperatures were in the 40s under cobalt blue skies, so the nights in the teens were easier to take. But wow, 14 degrees is mighty cold, even in a heated RV.
We got through it by staying at the excellently located Mammoth Mountain RV Park, just 2.3 miles from one of the base areas at the magnificent Mammoth Mountain.
The RV park remains open all year, even during big winters like this -- 23 feet of snow pounded the Sierras in December. This makes Mammoth Mountain RV Park one of the few powered camping options for skiers at a major resort.
Winter campers get an electrical hookup and easy access to a sanitary dump and water station. You also get access to a nice, warm shower house and laundry facility.
Sites are in a paved parking lot setup, facing the slopes of Mammoth. It wasn't full, so we had lots of space. One of our neighbors a few sites away was from Leavenworth, Wash.
Then there's the skiing. John enjoyed four days on the downhill slopes of Mammoth, arguably the best ski resort in California. And just down the road from Mammoth Lakes, we enjoyed a day of Nordic skiing at Tamarack Lodge and Resort, a gorgeous place to strap on the skinny skis and take in the views of the high Sierras.
The town of Mammoth Lakes is a comfortable place to hang out. It offers an array of mountain town diversions, and Leslie spent many hours exploring shops and markets. She absolutely loved the gourmet goodies at Bleu Market & Kitchen. Hello, Harris Ranch ribeye! Best steak we've eaten in forever. The house-made chimichurri truly elevated that tender and flavorful cut of beef.
As for those frigid nights, well, we did our best to stay warm. Having an electrical hookup meant we could run space heaters in the front of the rig and in the bathroom, keeping the pipes from freezing. It was only five nights, and then we were down the road to warmer weather.
If we were to attempt a longer stay, skirting along the base of the RV would be helpful in keeping out the cold air. We saw one fellow Mammoth camper who had created a DIY skirt around his Airstream trailer, using a roll of packing foam and duct tape.
Another option for warmer nights is the town of Bishop, about 40 miles away and more than 3,000 lower than Mammoth Lakes. But that means a long commute every day to the slopes, something we didn't want to do.
Our introduction to Mammoth Lakes has us thinking about a return in summer. The Eastern Sierra region is stunning, and Mammoth Lakes isn't far from beautiful Yosemite National Park.
Please consider adding it to your list of must-visit locations in California. For details, check out the Visit Mammoth website. (visitmammoth.com)
---
---